Following an almost year-long process of business nominations, shortlisting and voting by the expert panel of judges, SGGBA 2021 culminated with a hugely successful awards evening staged in an aircraft hangar at Gloucestershire Airport – where almost 300 guests gathered to enjoy a special evening of networking, supper, drinks and the thrilling live reveal of winners by compère Steve Knibbs, Gloucestershire reporter for BBC Points West.
Having cemented its position as Gloucestershire's definitive business awards in year one, and again being supported by a high calibre roster of industry sponsors in year two, SGGBA 2022 is set to be another exciting annual highlight on the county's business calendar.
SGGBA 2022 key dates
Wednesday 2 March 2022: Nominations open
Wednesday 1 June 2022: Nominations close
Wednesday 15 June 2022: Entries sent to judges for review and scoring
Tuesday 5 July 2022: Judges panel meeting at The Ivy Montpellier Brasserie Cheltenham
Wednesday 6 July 2022: Finalists announced
Tuesday 19 July 2022: Sponsors and finalists drinks event at Gloucester Brewery
Thursday 20 October 2022: Gloucestershire Business School at Oxstalls Campus
SGGBA 2022 headline co-sponsors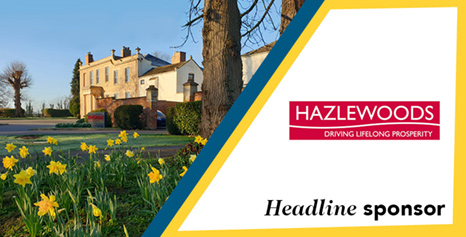 Hazlewoods
Hazlewoods is a UK Top 30 independent business advisers and chartered accountants, with an established sector expertise that is hard to find elsewhere. We pride ourselves on a highly personal service, strong values and new ideas. Our experts provide specialist accountancy, tax, audit and business advice to individuals and businesses of all shapes and sizes. The firm has more than 420 staff who enjoy working with our wide range of clients locally, nationally and internationally.
hazlewoods.co.uk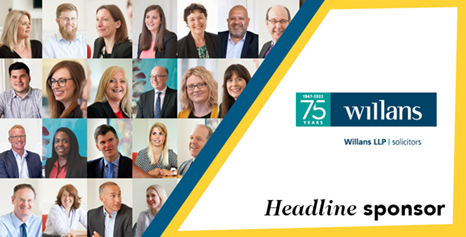 Willans LLP solicitors
A leading South West law firm, Willans provides businesses, people, charities and not-for-profit organisations with expert, practical and personal legal advice. The firm is ranked by independent guides Chambers UK and The Legal 500 and in 2022, celebrates its 75th year in business, acting for local, national and overseas clients from its Cheltenham offices.
willans.co.uk
SGGBA 2022 categories & sponsors
SGGBA 2022 compère and partners
We are delighted to be working with a dream team of amazing partners to make the SoGlos Gloucestershire Business Awards evening the celebration of the year.
SoGlos Gloucestershire Business Awards successes
SGGBA frequently asked questions
Who is eligible to enter?

Sensational businesses of all shapes and sizes, new or long established, which are based in Gloucestershire or the surrounding area and fit with one of the categories are invited to enter.
How do I nominate my business?

SGGBA nominations will open in March 2022. Monitor this page for exact dates. Nominations must be made by an official representative of the business who will be the point of contact through the process.
Can I nominate my favourite business for an award?

No, but you can recommend your favourite business enters for themselves. Send them a link to this page.
Who will decide the shortlist before it goes to the judging panel, and what's the criteria?

The panel of judges will be made up of representatives from SGGBA's headline and category sponsors. They'll be looking at each nominee's application, as well as their website and social media, and also drawing upon first-hand experiences to create the shortlist which then goes through to the judging panel. We will be ensuring only the very best quality nominees are selected, with a tight shortlist expected again in the second year of the awards. Please note, SoGlos advertisers won't be given preferential treatment.
There isn't a category suitable for my business, would you consider adding one?

Please email info@sopublishing.com with any requests or feedback for 2023.
Can I enter more than one category?

Yes, you can enter any category which fits your business, but we would recommend choosing one or two which are most relevant. You'll need to create a separate application for each.
What will the winner of each award receive?

Glory and fame! Plus, a coveted trophy to display at their business, as well as a winner's certificate, official winner badge to use on their website, and editorial coverage on SoGlos, its email newsletter and social media channels.
Will there just be one winner per category?
Why didn't I make the shortlist?

The number and quality of entrants is expected to be particularly high again in the second year of the awards, so our judges will be looking for businesses which stand out through their nomination form and have a strong chance of winning their category.
I'm just on the Gloucestershire border, can I still enter?
What's the format of the SGGBA awards evening?

Expect a relaxed party atmosphere with the chance to meet other businesses and network, enjoy supper and drinks on arrival, before the live reveal kicks off at 8pm. This informal structure is at the core of both our business awards and lifestyle awards.
How do I get tickets for the SGGBA awards evening?

The headline sponsor will receive 10 tickets, category sponsors five tickets, and shortlisted businesses will each receive two tickets.
Can I get extra tickets for the SGGBA awards evening?

To make SGGBA as inclusive as possible for all the shortlisted businesses, sponsors and partners – and to work within the size limitations of the special venues we're working with each year – numbers are very limited and we are unlikely to be able to offer additional tickets. We will, however, have a waiting list once tickets to the awards are opened for RSVPs.
Can I reserve a table at the SGGLA awards evening?

Due to the nature of the special venues which play host to SGGBA each year, spacing for seating is limited so we are only able to reserve tables for the headline sponsor.