Client Case Studies
We thrive on inspiring our readers and helping our clients' businesses grow. Check out a few of our success stories.
Gloucester Cathedral
A story 1,3000 years in the making

The challenge
To maximise the impact of 'Pilgrim', an ambitious project of development, regeneration and community engagement – devised to engage audiences and ensure Gloucester Cathedral remains at the very heart of the city and county.
Our solution
An extensive two-year campaign to reconnect with people of all ages who may not have visited Gloucester Cathedral for years, and reach new audiences who have never visited, through a combination of SoGlos services to create multiple touch points.
---

Display Advertising
Delivered across SoGlos's Culture & Heritage section, Children & Family section and lifestyle newsletter, focusing on brand awareness and key events taking place throughout the campaign.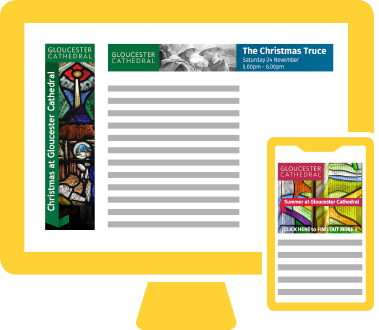 ---

Content Marketing
Highlights included a hot list to uncover '20 things you didn't know about Gloucester Cathedral,' inclusions in SoGlos's seasonal guides to reach readers at key times of year and enhanced event listings to highlight specific events.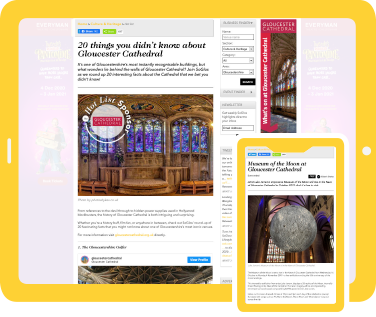 ---

Video
We planned, shot, edited and promoted an epic video which gave visitors a fast-paced insight into Gloucester Cathedral, and the many ways different audiences interact with this iconic county institution.
---

Social Media Support
Ongoing Facebook posts to remind SoGlos's loyal followers of all the reasons to visit Gloucester Cathedral through the year.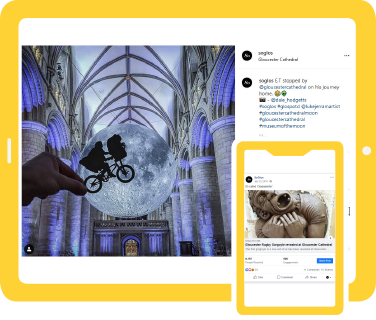 ---

Editorial
Gloucester Cathedral benefited from a suite of added value editorial support, including news articles about its development highlights, and inclusions in hot lists about everything from fun places to take the kids when it rains, to filming locations to spot in Gloucestershire.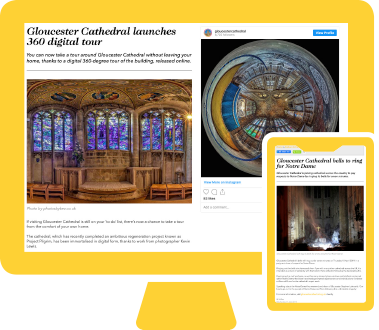 "Working with the SoGlos team is a joy. They understand exactly what we are trying to achieve and have put together compelling packages of the highest quality to help us to engage with new audiences from across Gloucestershire and beyond. The whole process has been straight-forward, which is crucial for a small team like ours, and their ideas and advice are second-to-none.."
Theo Platt, Head of Development & Communications | Gloucester Cathedral

Display Advertising
1,033,727

Content Marketing
178,143

Video
11,871

Social Media Support
500,194

Editorial
307,453