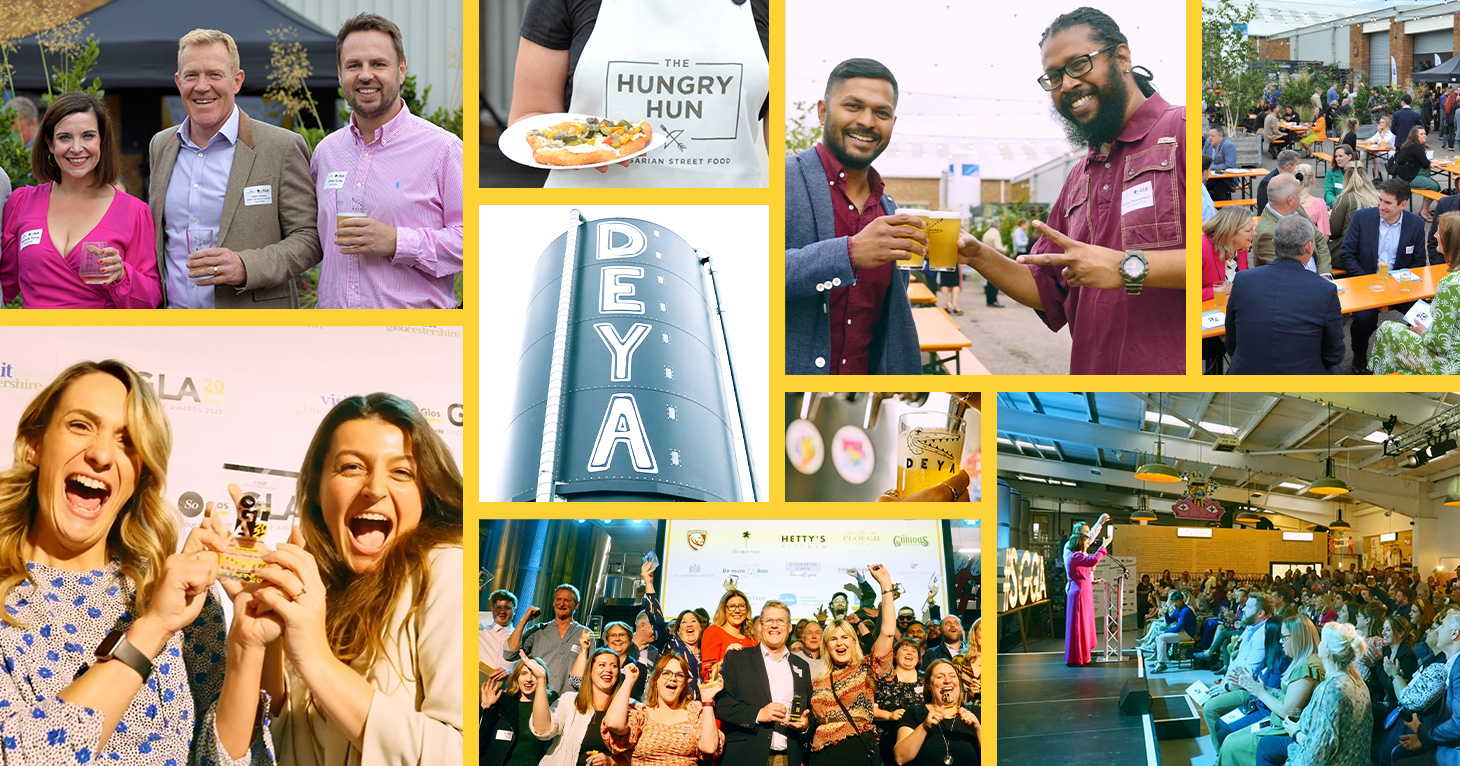 In 2023 Gloucestershire's exceptional cultural venues, restaurants, pubs, independent schools, sporting venues, independent shops, events and more are invited to put themselves forward for a coveted SGGLA, before SoGlos readers cast their votes to determine a list of finalists and a panel of experienced judges then decide upon the winners and highly commended businesses in each category.
The SoGlos Gloucestershire Lifestyle Awards culminate in a fabulous celebration evening at a unique venue, when finalists, sponsors and special guests come together for the exciting live reveal of the results – crowning the best of the best of Gloucestershire's lifestyle sector.
Welcome to SGGLA 2023...
SGGLA 2023 key dates
Monday 23 January 2023: Nominations open
Friday 31 March 2023: Nominations close (10am)
Monday 3 to Thursday 6 April 2023: Shortlisting phase
Tuesday 11 April 2023: Shortlisted businesses revealed, voting opens to members of the public
Friday 26 May 2023: Voting closes (10am)
Tuesday 30 May 2023: Finalists revealed and invited to awards evening
Thursday 29 June 2023: Awards evening at Dunkertons Organic Cider
SGGLA 2023 headline co-sponsors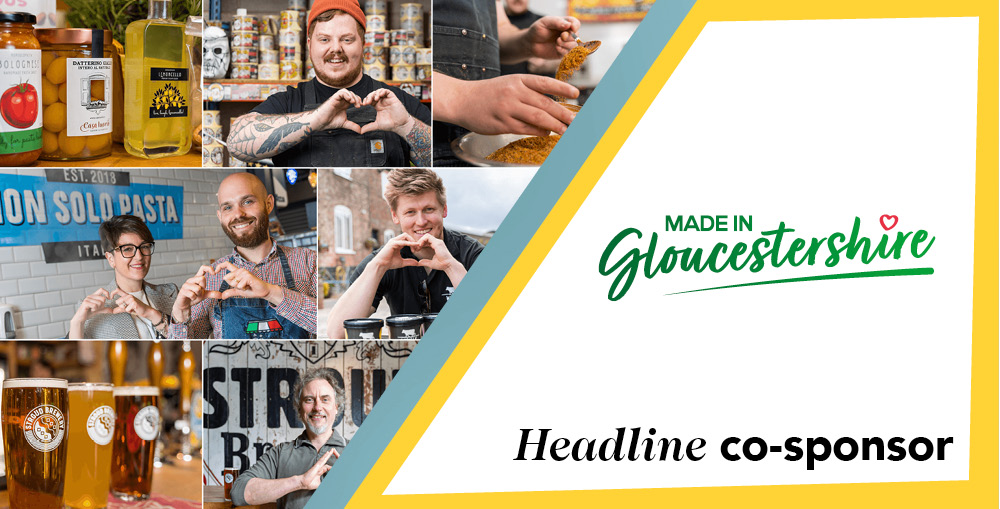 Made in Gloucestershire
Made in Gloucestershire from influential business group GFirst LEP champions the county's food and drink producers, connecting them with locals, tourists and hospitality businesses to facilitate procurement. The initiative is fully funded until August 2024, so members can sign up and enjoy the benefits free for the first two years.
madeingloucestershire.com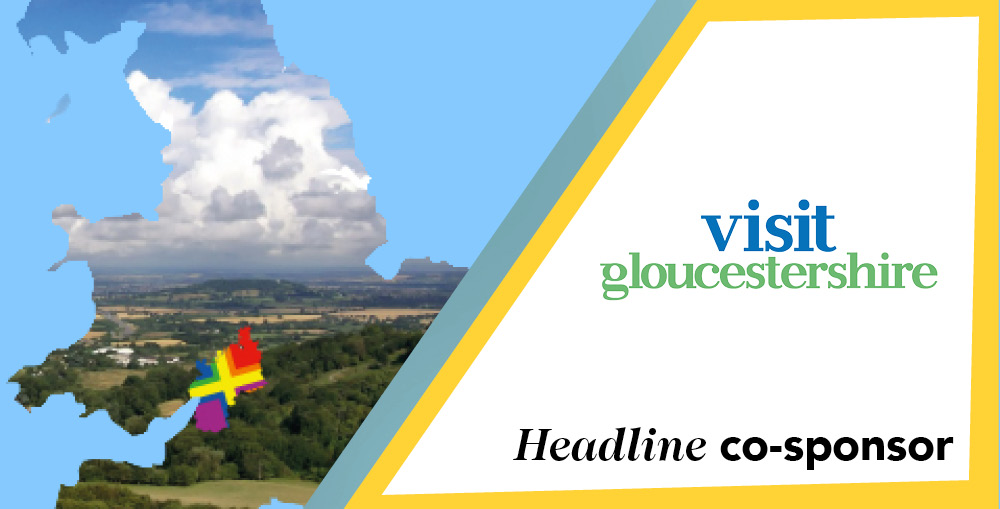 Visit Gloucestershire
Visit Gloucestershire is the county's Strategic Management Organisation (SMO) established in 2020 to forge a comprehensive vision for the development of the visitor economy and leisure and tourism business sector in Gloucestershire. It comprises eight divisions and represents stakeholders including consumers, trade, attractions, accommodation providers, tour guides, retailers, restaurateurs, venues and more.
visit-gloucestershire.uk
SGGLA 2023 categories & sponsors
SGGLA 2023 partners
We are delighted to be working with a dream team of amazing partners to make the SoGlos Gloucestershire Lifestyle Awards evening the celebration of the year.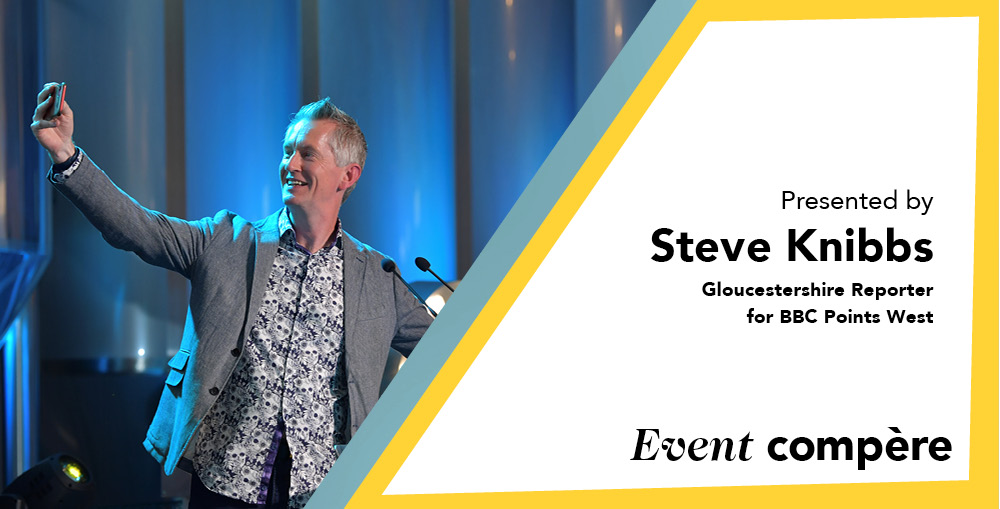 Steve Knibbs
We are delighted to welcome back Steve Knibbs, the well-known BBC regional news reporter and presenter, as compère of the sixth annual SoGlos Gloucestershire Lifestyle Awards. Steve, who has been a face of BBC Points West for more than 15 years, joined the SGGLA team in 2021, and will have the honour of unveiling the latest winners on Thursday 29 June 2022 at the official venue, Dunkertons Organic Cider.
Dunkertons Organic Cider
Dunkertons is an organic cider and perry producer with a state-of-the art cidery and tap room on the outskirts of Cheltenham, which hosts regular events, live music and exclusive street food vendors, alongside cidery tours and masterclasses. Originally founded in Herefordshire in 1980, Dunkertons has been producing organic cider and perry for over 40 years – pressing, fermenting and bottling its award-winning ciders at its home in Charlton Kings, complete with on-site shop and deli.
dunkertonscider.co.uk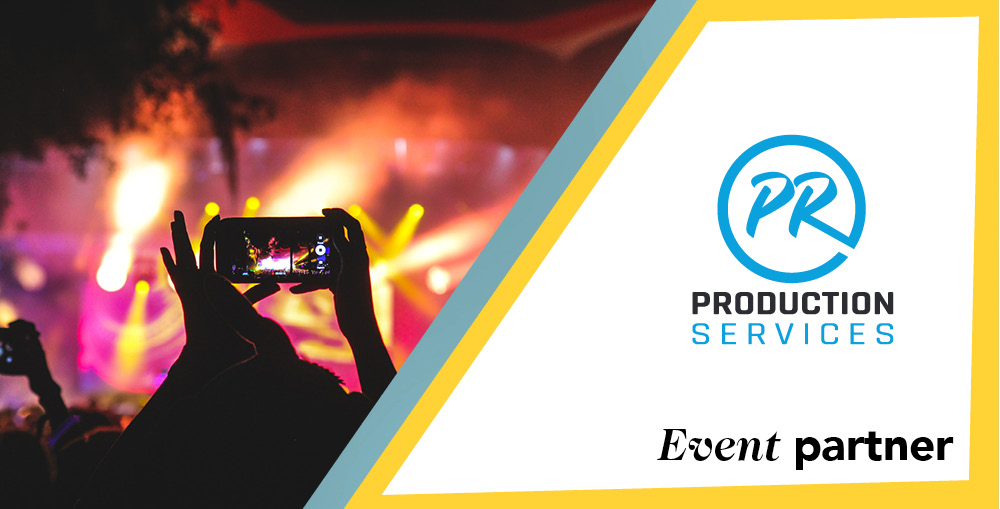 PR Production Services
From a festival field to a found venue or traditional performance space, Gloucestershire-based PR Production Services specialises in bringing its clients' vision to life through affordable and high-quality sound, staging, lighting and AV solutions. Its team of experienced and friendly technicians can assist with the design and installation of equipment, as well as operation, helping your special event run as smoothly as possible
pr-productionservices.co.uk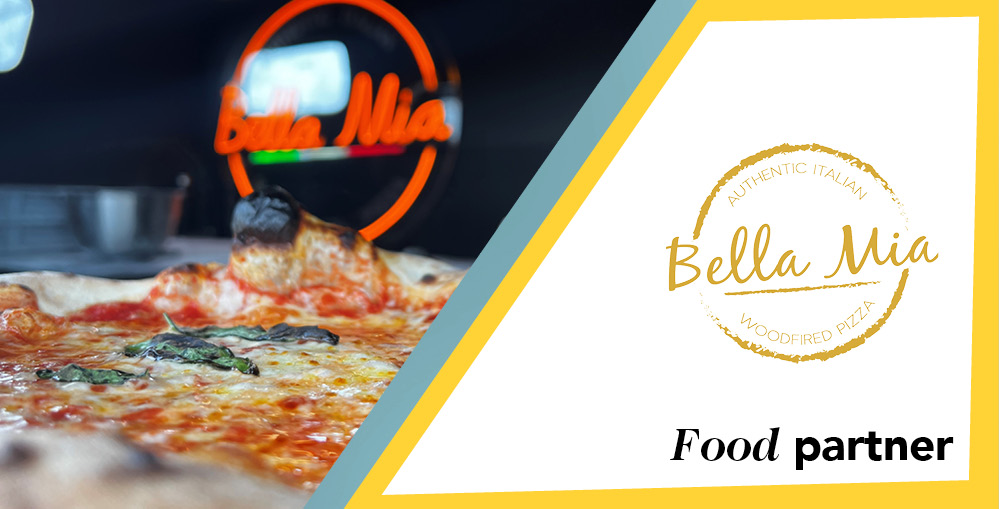 Bella Mia
Bella Mia serves hand-stretched, wood-fired sourdough pizzas using only authentic Italian ingredients. Its selection of delicious toppings includes a classic Margherita with fior di latte, San Marzano tomatoes and fresh basil; field mushrooms, garlic oil, fior di latte and San Marzano tomatoes; and salami with Italian sliced pepperoni, fior di latte, chilli oil and San Marzano tomatoes — with vegan options available, too.
bellamiapizza.co.uk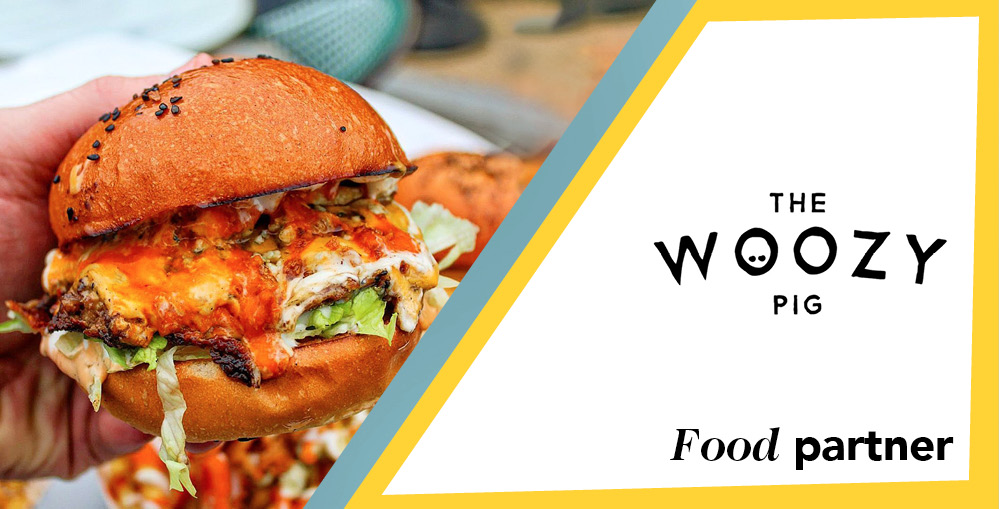 The Woozy Pig
The Woozy Pig is a household name in and around Cheltenham and has taken its street food to festivals and events up and down the county. Its menu includes epic smashed burgers made using aged meat from ex-dairy cows, loaded hot dogs and smoked pulled meats, to dirty fries, tater tots and even brunch. It is proud to use produce sourced from local, independent butchers, bakers and suppliers in and around the Cotswolds.
woozypig.co.uk
SGGLA 2022 highlights
The fifth instalment of the annual SoGlos Gloucestershire Lifestyle Awards was arguably the best yet, with finalists, sponsors and special guests coming together to enjoy the electric atmosphere as winners were revealed, all again chosen by SoGlos readers, in the unique setting of DEYA Brewing Company in Cheltenham.
SGGLA 2022 awards night photos
SGGLA 2021 highlights
The SoGlos Gloucestershire Lifestyle Awards returned to its real life form with a bang in 2021, as finalists, sponsors and special guests gathered at the breath taking Cheltenham Ladies' College to find out who would be crowned SoGlos readers' favourites. Following a very challenging 20 months for the lifestyle sector, SGGLA 2021 was all the more important as an opportunity to reflect on the hard work, determination and adaptability it took to survive the pandemic. It was also a chance to recognise and celebrate the achievements of the outstanding individuals, teams and organisations who made it through to the final stage of the awards – and to raise a glass to us all continuing to make Gloucestershire a wonderful place to live, work and visit.

SGGLA 2021 awards night photos


SGGLA 2020 highlights
While the coronavirus pandemic meant many awards across the UK were cancelled in 2020, the third annual SoGlos Gloucestershire Lifestyle Awards forged ahead with an innovative virtual awards ceremony in October 2020, held via Facebook Live. The anticipated online event was the culmination of nomination and voting phases held earlier in the year, and saw more than 2,400 people tune in to see which businesses has scooped a coveted award.
Thanks once again to our sponsors, finalists and to SoGlos readers for helping making SGGLA 2020 such a storming virtual success, in a year when is was more important than ever to support Gloucestershire's amazing lifestyle sector.


SGGLA 2019 highlights
SGGLA went from strength to strength in 2019, cementing its position as Gloucestershire's definitive lifestyle awards. Hugely popular nomination and voting phases were followed by the anticipated awards evening at the world-famous Gloucester Cathedral – this time attended by 400 Gloucestershire business representatives, sponsors, partners and special guests. SGGLA has taken the Gloucestershire businesses community and social media by storm.
SGGLA 2019 Facebook Photo Gallery

SGGLA 2018 highlights
SoGlos's new awards and flagship event launched with a bang in 2018, with exciting nomination and public voting phases followed by a thrilling awards evening at Blackfriars Priory in Gloucester – attended by 300 Gloucestershire business representatives, sponsors, partners and special guests. The SGGLA reputation for a new kind of awards quickly spread across the county.
SGGLA frequently asked questions
Who is eligible to enter?

Sensational businesses and organisations of all shapes and sizes, new or long established, which are based in Gloucestershire or the surrounding area and fit with one of the categories are invited to enter.
How do I nominate my business?

See the top of this page for link to enter, which will be live throughout the nomination period. Nominations must be made by an official representative of the business who will be the point of contact through the process.
Can I nominate my favourite business for an award?

No, but you can recommend your favourite business enters for themselves. Send them a link to this page.
What about the Outstanding Contribution Award?

Nominations for this special new individual award can be made by anyone, and there is a specific field on the entry form to provide details about why you think the individual should be considered. This category will not go to public vote, as the winner will be chosen by the category sponsor.
What is the entry, voting and judging process in 2023?

Businesses will be invited to nominate themselves for this year's awards via a form at the top of this page, live throughout the nomination phase.

A shortlist from all entries received will be published on Tuesday 11 April 2023 and will be put to the vote by SoGlos readers to decide a upon the finalists.

New for 2023, in order to continue the evolution of SGGLA as Gloucestershire's leading lifestyle awards and provide fair opportunity for businesses of all shapes and sizes to gain recognition, winners and highly commended entries will be selected by an esteemed panel of judges who will be looking closely at nominees' full applications – as well as their websites and social media. Please note, SoGlos partners will not be given preferential treatment.
Who will decide the shortlist before it goes to public vote, and what's the criteria?

The SoGlos team will decide on the shortlist from all entries received. They'll be looking at each nominee's application, as well as their website and social media, and also drawing upon first-hand experiences to create the shortlist which then goes to public vote. We will be ensuring only the very best quality nominees make it through to the public vote, with another tight shortlist expected for SGGLA 2023. Please note, SoGlos advertisers won't be given preferential treatment.
There isn't a category suitable for my business, would you consider adding one?

Please email info@sopublishing.com with any requests or feedback.
Can I enter more than one category?

Yes, please feel free to enter any category which fits your business - just remember to include relevant supporting information.
What will the winner of each award receive?

Glory and fame! Plus, a coveted trophy to display at their business, as well as a winner's certificate, official winner badge to use on their website, and editorial coverage on SoGlos, its email newsletter and social media channels.
Will there just be one winner per category?

Yes, but there will also be a highly commended business per category, which will receive a certificate and official badge to use on their website too. All finalists will also receive an official certificate.
Why didn't I make the shortlist?

The number and quality of entrants increases every year, so we'll be looking for businesses which represent the best of the best in each specific category.
I'm just on the Gloucestershire border, can I still enter?
What's the format of the SGGLA awards evening?

Expect a relaxed party atmosphere complete with a chance to meet other businesses and network, supper and a welcome drink on arrival, before the live reveal kicks off at 8pm.
How do I get tickets for the SGGLA awards evening?

The headline sponsor will receive 10 tickets, category sponsors five tickets, and finalists will each receive two tickets.
Can I get extra tickets for the SGGLA awards evening?

To make SGGLA as inclusive as possible for all the shortlisted businesses, sponsors and partners – and to work within the size limitations of the special venues we're working with each year – numbers are very limited and we are unlikely to be able to offer addition tickets. We do, however, run a waiting list each year.
Can I reserve a table at the SGGLA awards evening?

Spacing for seating is limited, so we are only able to reserve tables for the headline sponsor.