Paragon Gallery features an appealing range of artists drawn from across the UK, as well as those based in and inspired by Gloucestershire.
Ranging from watercolours to striking oil paintings and an array of mixed mediums, as well as ceramics and glassware – there's plenty to entrance the eye.
Here, SoGlos discovers what's available to buy this spring at Montpellier's Paragon Gallery and takes a closer look at 12 new pieces gracing its gallery walls.
---
Upper-price artwork from Paragon Gallery
---
1. 'Charbon et Grenadine' by Pierre Clément
Through a love of mark making and colour, the lyrical paintings of Pierre Clément seek to capture the living essence of his subject.
Expressionistic and vibrant, they possess a dreamlike intensity and keen psychological charge.
Oil on canvas, image size 71 × 92cm
£3,700
---
2. 'High Summer Rhythm' by Jerry Browning
A natural, instinctive painter, Browning's stunning abstract canvases vibrate with a raw energy that draws the viewer in and provokes an emotional response.
His work is powerful and full of energy and light, drawing upon his experience of living in wild and remote areas on the west coast of Ireland, Morocco, America and Cornwall.
Oil on canvas, image size 91 × 122cm
£5,250
---
3. 'Borne My Breath Away' by Melanie Cormack-Hicks
Cormack-Hick's paintings speak of colour, energy and light. She paints the landscapes she loves, working from her studio in the Cotswolds.
Her subject matter includes the majestic woodlands and sweeping meadows that surround her home. She frequently travels to Scotland, Devon and Cornwall to paint and gather inspiration for her breath-taking river scenes and powerful seascapes.
Acrylic and acrylic ink on board, image size 110 × 110cm
£3,750
---
4. 'If Only I Could' by Iryna Yermolova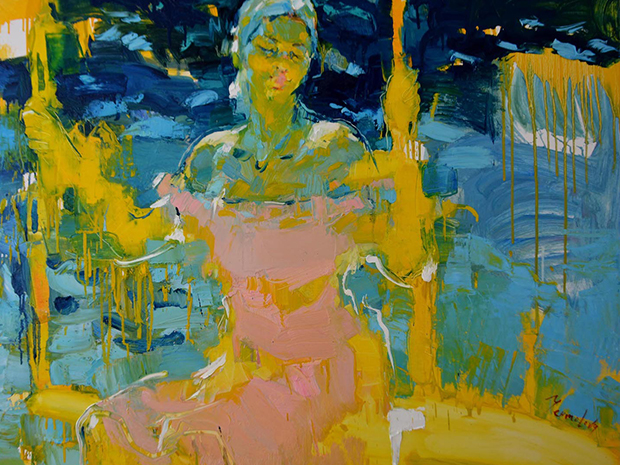 A colourist of exceptional skill, Yermolova offers up jewel-like knots of reality and emotion that immediately unravel as soon as they are gripped too tightly. Hers is an art that underscores the ephemeral nature of each moment.
Oil on canvas, image size 120 × 150cm
£6,050
---
Mid-price artwork from Paragon Gallery
---
1. 'Uprising' by Jessica Bleasby
Bleasby works predominantly in oils, producing paintings that celebrate and explore the endless technical possibilities of the process.
Her works vary dramatically in treatment from photorealism to pure abstraction, but the consistent theme is her understanding and passion for colour, form, composition and nature.
Oil on canvas, image size 100 × 120cm
£1,250
---
2. 'Flowers and Oranges on Blue' by Kip Kavallares
Kavallares is a self-taught artist living in Gloucestershire. He enjoys producing interesting brush strokes, scrapes, lines, textures and colours.
He works mostly from sketches and photographs, but tries not to be too influenced by the colours, leaving him free to experiment.
Acrylic and acrylic ink on canvas, image size 80 × 80cm
£1,625
---
3. 'Bring Me to the Shining Light' by Melanie Cormack-Hicks
A breath of fresh coastal air, Cormack-Hicks has used her love of light to beautifully reflect her adoration of the ocean.
Cormack-Hicks completed her fine art degree in the late 1990s in Cheltenham, before working as a secondary school art teacher for 20 happy years.
In recent years, Melanie has served as the Artist in Residence at WWT Slimbridge.
Acrylic and acrylic ink on board, image size 60 × 60cm
£1,395
---
4. 'The Three Sisters – Gandhi (A Shower of Blessings)' by Natasha Kumar
Kumar's work is a dazzling exploration of colour and line, as seen through the prism of contemporary Indian life.
She pops up in less traditional art venues, such as the Heathrow VIP Lounge, the Science Museum, and the Institute of Neurology, as well as at specific Indian events in The Taj Hotel, Asia House, Alchemy (Southbank) and at Saatchi.
Hand-drawn screen print (unique colour variant), image size 59.5 × 89.5cm
£2,200
---
Lower-price artwork from Paragon Gallery
---
1. 'Peony Platter Midnight', original hand-blown sand carved glass sculpture by Louise Hawkins
Hawkins works from her studio at The New Brewery Arts Centre in Cirencester.
Her true appreciation of the foibles and follies of glass was gained early in her career by working alongside some of the last great 'gaffers', the traditional artisans of the British glass-making world.
Dimensions: 11(H) x 32(W)cm
£720
---
2. 'Show Me' by Melanie Cormack-Hicks
Cormack-Hicks evokes a lust for the coast with the moody darkness of rocks contrasting cleverly with rays of sunlight and aqua blue waters lapping at the shore.
Her paintings pulse with her love of light, quality of surface and sensitive mark-making. This strong stylistic feature in her work has led to it being described as both impressionistic and expressionistic.
Acrylic and acrylic ink on board, image size 40 × 40cm
£750
---
3. 'Another Green World' by Rod Craig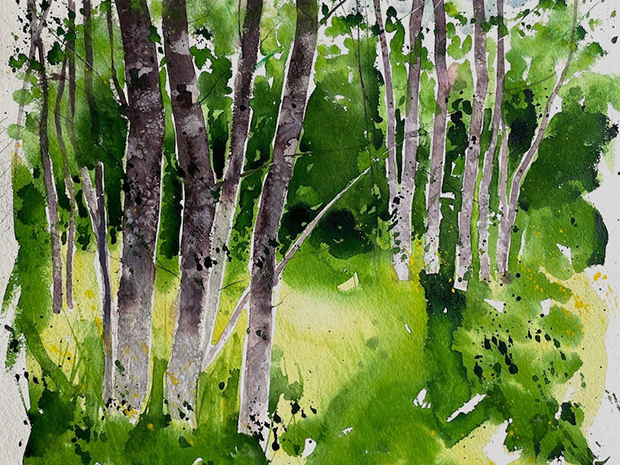 Craig's passion for architecture, landscape and the elements are the chief inspirations for his work. He is most interested in trying to create a mood of time and place, rather than representational study.
Craig currently works in watercolour and ink, painting from memory or from his own photographs.
Watercolour on paper, image size 66 × 52cm
£795
---
4. 'Blue Falls 2' by Rod Nelson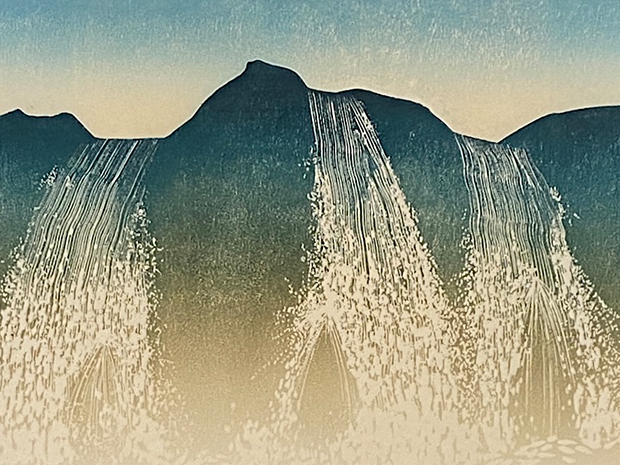 Nelson is a self-taught printmaker based in Gloucestershire, where he works as a full-time artist. Specialising in woodblock prints, he has a unique approach using tools and techniques that he has spent 30 years developing.
Nelson was a founder member of the printmaking cooperative Pine Feroda and currently teaches woodcut technique at the renowned college of arts and crafts at West Dean in Sussex.
Woodcut on paper, edition of 50, image size 35 × 41cm
£495