A home-grown circus that's become a true Cotswolds institution, Giffords Circus will set off on its 2018 summer tour, My Beautiful Circus this spring, touring the county and beyond between Friday 4 May to Sunday 30 September 2018.
With this year's show promising a wonderful celebration of the birth of circus, SoGlos talks to Giffords Circus' founder, Nell; Circus Sauce's head chef Ollie Halas; and the hugely popular Tweedy the Clown, to get an exciting insight into what this year holds…
Nell Gifford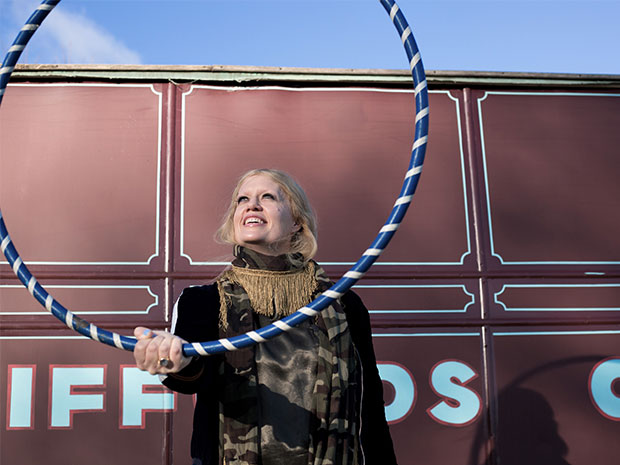 Image © Gem Hall
When you first dreamt of starting your own village circus, did you ever think Giffords Circus would ever be this successful?
I have always thought that Giffords Circus would be successful because I just love the circus and I want everyone to enjoy the circus, I've never considered that people would not want to see a circus!
Lots of decisions must be made every day and you just hope that you can keep making the right decisions because we are only as good as the show tomorrow.
How are you getting involved with Circus250?
We are celebrating Circus250 with a new tent, new seats and we have repainted all the wagons – I feel like we are throwing a party so please join us to celebrate!
I feel like we are throwing a party so please join us to celebrate!
In your opinion, what makes Giffords Circus so unique?
I think Giffords Circus is unique because it is a handmade show. Everything is made and designed by us. Toti Gifford and myself started Giffords Circus in 2000 with the aim of starting a beautiful circus to fall in love with and lose your heart to.
What can your fans expect from My Beautiful Circus?
Fans can expect beauty and comedy and romance, more love and more heartbreak, tears and laughter and a feeling of being transported away on a flying carpet to the never never land of circus.
What favourite performers can we expect to see this year?
You will see the saucer-eyed funny girl Nancy Trotter Landry with her talking turkeys, Tweedy, me on a horse, golden-toothed strongman Pozo.
And finally, where do you imagine Giffords to be in 10 years?
I very much hope that Giffords Circus wagons will still be rolling in 10 years' time and that I am putting my feet up outside the wagon whilst my children run the show.
Ollie Halas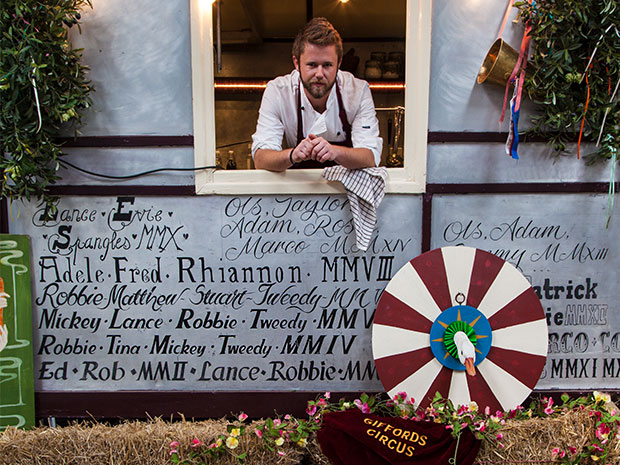 Image © Jonathan West
Can you tell our readers a little about the concept of Circus Sauce?
We are a traveling restaurant that follows a circus, but much more than that. We travel from ground to ground sourcing local and seasonal produce from local small holdings, butcher, bakers, greengrocers, fishmongers, loyalty boxes and hedgerows.
All this contributes to the evening banquet after the last show of each day. We serve four courses under candle and starlight to cap a truly unique and memorable night. There's nowhere quite like it!
How do you create your menus with seasonal and local produce?
It took a while. A lot of us have been here for five or six years now and we know each area, county and ground like the back of our hands. We match up the season with the good local producers and where we are and what season we're in.
There may be elderflower in the hedge rows or a good loyalty box on the side of the road we can ravage, and we take all this into account when devising our weekly changing menus!
What kind of atmosphere and service can guests expect?
If you have never dined with us before picture a candlelit tent lined with circus tapestries, festoons and grand oak tables. Two magnificent circus wagons parked up alongside with several chefs running around sending out course by course of locally sourced dishes exclusive to the venue.
We serve everything on grand Emma Bridgewater platters, bubbling gratins, fresh allotment vegetables that you help serve to your neighbour. You will be sitting with people you do not know and as the evening draws on the conversation begins to flow as does the wine. It's quite wonderful.
We serve four courses under candle and starlight to cap a truly unique and memorable night. There's nowhere quite like it!
Do you have a favourite dish to prepare?
We love making things from scratch in the restaurant. Sauces, bread, condiments and especially butchery. Last year we purchased six whole lambs from the local butcher Taylor and Sons in Minchinhampton and spent the day breaking them down.
We braised, roasted, made stock from the bones and serve a different cut in a different way each night. Life is boring without a little variety!
What makes the Circus Sauce restaurant so unique?
I was obsessed with cooking programmes growing up and I always wanted to do what Keith Floyd and Rick Stein were doing, travelling and cooking. I suppose that's why I love this place so much. We travel around the country, cooking and eating then get five months to travel and eat our way around the world.
As far as we can tell we are the only travelling restaurant of its kind in the UK, we use more suppliers than I can count and we're all best friends; I think you can see that when you come into the restaurant. We're also part of a circus…
What are your menu highlights for the 2018 tour?
Every ground has its own menu but for me it's the meatier ones. Dry rub brisket from Andrews Quality Meats in Marlborough cooked slow so it melts with celeriac cream, crisp toast and pickles… that's to start.
In Cirencester we're doing our chicken leek and truffle suet pies where the pastry blows up like a balloon and steam bellows out on entry. For dessert a queen of puddings with lemon, berries and toasted meringue.
Don't fret if you are vegetarian or have any dietary requirements, we phone every single booking and create a dish especially for you.
And finally, can we expect puppet entertainment again this year?
You most certainly can! The team and I have just been travelling around South America during the winter and spent many a night devising our new show, however it's going to be tough beating last year's madness.
Ursula our resident artist is building our quite unusual puppets for the sixth year as we speak. Be prepared!
Tweedy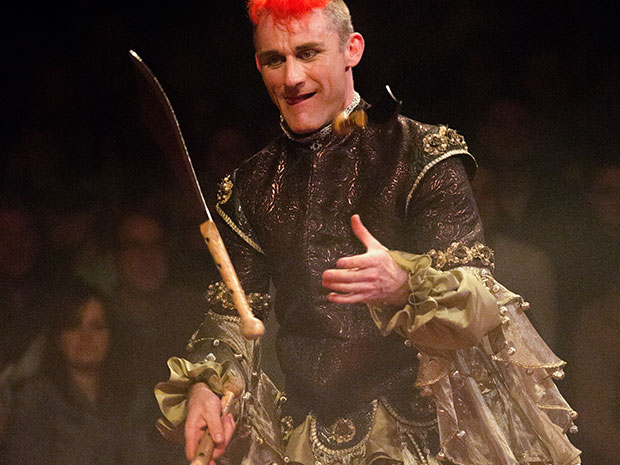 Image © Gem Hall
What are you most excited for with this year's show?
The new tent, it will give us more space and mean we can do things we haven't been able to do before. Also seeing all the newly painted and sign written wagons.
Some years you'll see a whole gang of us doing a variety of weird exercises across Minchinhampton Common first thing in the morning.
How does it feel to be such an integral part of Giffords Circus?
It's an honour to be such a big part of this beautiful circus but I also feel a great responsibility to do the show justice.
How do you keep your energy levels up throughout the tour?
I'm very lucky that I naturally have a lot of energy. Louisa (front of house manager) does fitness club most mornings, last year it was mainly just me and her but some years you'll see a whole gang of us out running, doing a variety of weird exercises across Minchinhampton Common first thing in the morning.
Do you create your own solo acts for Giffords?
Mainly I do, then Cal McCrystal (the director) will look at them and work his magic, some we come up with together, it works very well because we are on the same wavelength.
What's your personal highlight of touring with Giffords?
The audiences, they are always so receptive and warm, I just love being there with them.
And finally, what have you got up your sleeve for My Beautiful Circus?
My arm.
---
By Kathryn Purvis
---
For more information about this year's tour, see My Beautiful Circus, 0845 459 7469, or visit giffordscircus.com directly.