We're all feeling the effects of the rising cost of living and electric vehicles could be a route to making crucial savings.
SoGlos spoke to Cheltenham-based Cleevely EV about the ways in which swapping your petrol or diesel car for an electric one could be good news for your wallet.
---
About the expert – Matt Cleevely, owner of Cleevely EV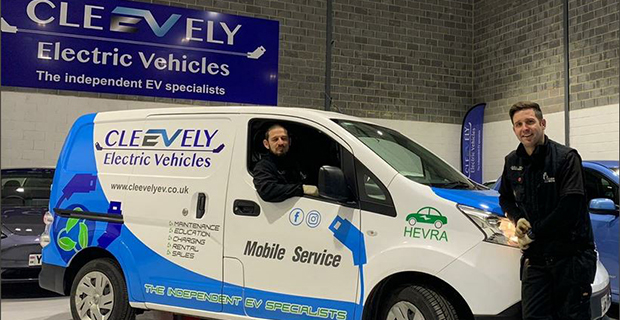 Matt Cleevely is the owner of Cheltenham-headquartered Cleevely EV – an independent, family-run, electrical vehicle specialist set up in 2018.
Cleevely EV sells new and used electric vehicles. The team also carries out servicing and offers Tesla rental for those wanting to dip their toe in the electric vehicle waters.
For more information, visit cleevelyev.co.uk.
---
New research suggests electric vehicles are cheaper to run than traditional vehicles. What is your experience of this saving?
Who doesn't like an opportunity to save money or reduce their cost of living? Our customers have multiple reasons for moving to electric vehicles.
Electric vehicles have zero road tax, so they're definitely a tick in the savings box. That's even before we come to the cost savings based on current fuel prices.
Many of our customers have solar installations on their homes, so running an electric vehicle is a link in the chain to utilising their own power generation and saves them plenty of money.
With so many supermarkets and retail outlets adding free charging facilities to their car parks, factoring in free charging opportunities alongside daily tasks that easily fit into day-to-day life is a bonus.
A key factor in reducing the costs of vehicle ownership is by using an independent garage.
Block exemption allows smaller independent garages to service and maintain vehicles whilst maintaining the manufacturer's warranty. This can be a very cost-effective way of vehicle maintenance that is a fraction of the cost of main dealers.
Electric vehicle servicing costs are also lower overall, as there are fewer service items to attend to.
Do you foresee greater demand for EVs?
The cost-of-living crisis and huge hike in fuel prices really has driven the demand for electric vehicles, with many people re-assessing how they use their vehicles.
Many of our customers have swapped to a pre-loved, second-hand electric vehicle as their second car, for the shorter local journeys.
Customers who already have solar at home, or can take advantage of workplace charging, have also made the switch to EV.
It's a much easier swap when you know you have the charging infrastructure available. This can be as simple as access to an outdoor three pin socket, through to having a charge point in the work car park or the local supermarket.
Once people can see how charging can fit into their lifestyle, it's an easy swap to make.
With the government recently ending the electric vehicle homecharge scheme have you noticed any additional surge in EV uptake?
While the government grant has now finished, it's something that could be raised with your place of work. Providing charging infrastructure could become part of the corporate social responsibility of the business. It's worth an ask!
At our workshop in Cheltenham, we have a large 30kwh solar array, consisting of 88 panels, so our staff and customers can charge whilst with us.
Is EV maintenance any cheaper than petrol or diesel vehicles?
Electric vehicles are noticeably cheaper to service and maintain than a petrol or diesel vehicle.
A major saving cost is that there is no requirement for the annual oil and filter replacement, which is always a large proportion of the service cost. With a lot fewer moving parts on an EV, there is a lot less wear, however it is still a car, so inspection of the steering, suspension, brakes and tyres is still important for road safety.
To give a clear idea, an inspection service costs around £130 including VAT, which is around half that of a petrol or diesel equivalent.
What kind of feedback are you getting from your customers concerning car costs?
We see multiple cases where customers who bought their first electric car as a small local mileage car choosing to upgrade their family car to a longer-range EV.
Most customers find that once they have driven an EV for a while, they don't want to return to a petrol or diesel vehicle. This is not only due to the cost savings, but also the ease of use and they find the driving style is more relaxed and enjoyable.
In a recent conversation with a customer, he told us he had spent just £63 across the year on charging. His charging needs were met by his weekly trip to the local shopping centre and workplace charging.
Are you seeing a change in buying behaviour with the cost-of-living crisis?
The lockdowns and rise in people working from home had more of an impact on car sharing or having just one vehicle.
As of yet, the impact of the cost-of-living rise has only opened the door to more people considering or making the switch to EV.
What are your overall thoughts on how EVs can save you money?
For me, switching to EV was an easy win, we had solar at home – therefore free fuel. A lot of my miles were local – for school runs, after-school clubs and work.
The cost saving was very noticeable after the first month. At the time, we also had a plug-in hybrid as our family car and we very soon begrudged putting fuel into the plug-in hybrid.
We became a two EV family and we haven't looked back since. Even more so in the last six months, when fuel shortages and rocketing prices have been seen on the fuel station forecourts.
The electricity price rises that are forecast are a concern, but those driving EVs are still saving on petrol and diesel prices.
With many electricity suppliers providing specific rates for overnight EV charging, when the grid is still producing electricity, but home and businesses are not consuming as much, drivers can be strategic with managing costs.
The National Grid has confirmed there is definitely enough energy and the grid can cope easily with the transition of people swapping to electric vehicles, which is good.
The growth in renewable energy means the grid is always developing to meet future requirements.

In partnership with Cleevely EV | cleevelyev.co.uk