Staff at engineering giant Renishaw woke to a shock this morning as the 'for sale' sign went up outside the Gloucestershire business.
Since its foundation in 1973 by former Rolls Royce engineers John Deer and Sir David McMurtry, the firm has grown into a world-wide success story under their stewardship, employing 2,200 staff in the county and 4,400 world-wide.
But now in their 80s the pair have decided the time is right to sell their 53 per cent stake – and the board of the Wotton-under-Edge listed company have decided the best option is to seek a new owner.
In a joint statement Sir David, executive chairman of Renishaw, and Mr Deer, non-executive deputy chairman, said: 'We are both grateful for our continued good health, however we recognise that neither of us is getting any younger.
'Now finding ourselves in our 80s, our thoughts have increasingly turned to considering the future of our shareholdings in the company and how we can actively contribute to securing the future success of the business.
'As the founders of Renishaw, we understand the importance of Renishaw's culture, our place in the communities in which we operate, our commitment to research and development, and the loyalty of our staff, our suppliers, and the customers we serve; these together have been the foundation of our success for almost 50 years.
'With the board, we are therefore focused on ensuring that we find the right new owner for our business – one who respects and will continue to nurture these important attributes.'
Shares in the firm were reportedly up 17 per cent by midday.
Sir David Grant, senior independent non-executive Director at Renishaw, commented: 'David and John have been exceptional stewards and majority holders of Renishaw as evidenced by the Company's long-term track record of innovation, success and value creation.
'The Board has unanimously concluded that it would be appropriate to investigate the sale of the Company and is therefore launching a formal sale process.
'The Board intends to seek a buyer who will recognise the value of Renishaw as an innovation-led business and respect the unique heritage and culture of the business, its commitment to the local communities in which its operations are based, and who will enable the company to continue to prosper in the long-term.'
Renishaw operates from five sites in Gloucestershire, three in Wotton-under-Edge and Kingswood, one in Stonehouse and one in Woodchester.
Since its foundation Renishaw has grown into one of the world's leading engineering and scientific technology companies, with expertise in precision measurement and healthcare.
Interested parties are being asked to contact the firm's bank, UBS.
By Andrew Merrell
---
Early history of Renishaw – and how two men changed the world
Renishaw itself starts the story of its birth back in 1972 at another engineering giant – Rolls Royce – with a young engineer called David McMurtry, then assistant chief of engine design of all Rolls-Royce engines manufactured at the Filton, Bristol works.
Dublin-born Mr McMurtry was asked for his advice on the problem of measuring some complex pipe runs for the Olympus engines used on Concorde.
The job was urgent so Mr McMurtry himself took a look at it, deciding what was needed was perhaps an optical probe, or something else that did not deflect the pipe.
He took the problem home with him, designing and building the first touch trigger probe over a week end.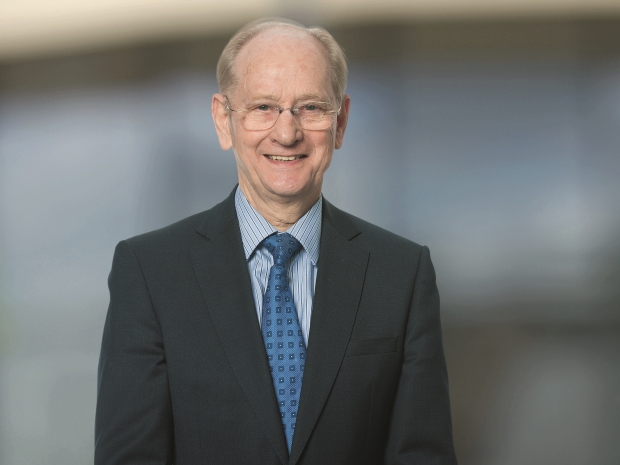 'I drew a circle and divided it into three with a pair of compasses, as any schoolboy knows. I put six ball bearings on the table at the three radii and embedded them in plastic padding (a moulding compound)," he recalled.
'I soldered up the connections between the balls and built up the plastic padding to form a body. Then I made a crucifix and stylus on a micro lathe.
'Next day I took it into the factory and it worked. The touch-trigger probe was quite a simple construction but because it employed fundamental kinematic location principles it did the job.'
Rolls-Royce took out a patent on the original design, which was filed on 21 September 1972 with Mr McMurtry acknowledged as the inventor.
But then came the conversation that changed everything.
Mr McMurtry discussed the matter with John Deer, who was also working at Rolls-Royce, on power plant aerodynamics.
Mr Deer's background was in machine shop engineering, but he wanted to have his own business.
The pair secured an order from a company called Nosta for 10 of the probes, and the pair acquired an 'off the shelf' company called Renishaw Electrical Limited to allow them to negotiate with Rolls Royce for a manufacturing licence.
The first Renishaw company, Renishaw Electrical Ltd, was registered on 4 April 1973 with the first prototype probe and development models being made in Mr McMurtry's garage at Alveston, near Bristol and some production Mr Deer's home in Chepstow.
It was not until 1979, when he had completed his responsibility at Rolls-Royce for the M45 "Quiet Engine" project, that Mr McMurtry joined Renishaw full-time.
As Mr McMurtry worked on developing the probes, in 1976 Mr Deer was able to establish joint proprietorship with Rolls-Royce of the original patents.
Renishaw's bought its first commercial premises in 1976, a former ice cream factory, in Gloucester Street, in the centre of Wotton-under-Edge, and began its journey with just nine employees.
Today its operation stretches over five sites in the county alone, where it employs 2,200 staff – 4,400 worldwide.
Among their accolades Sir David McMurtry and John Deer, have been honoured with the prestigious Swan Medal of the Institute of Physics, which annually recognises contributions to the organisation or application of physics in an industrial or commercial context.
Sir David remained a prolific inventor and is named on 47 patents at Rolls-Royce and over 150 at Renishaw.
He is a Fellow of the Institute of Mechanical Engineers, a Fellow of the American Society of Manufacturing Engineers, a Fellow of the Royal Academy of Engineering and in 2011 became a Fellow of the Royal Society.
His Knighthood was awarded "for services to Design and Innovation" and he was appointed a Royal Designer for Industry (RDI) in 1989.
An abridged version of an article from the vaults of Renishaw itself.
---
Follow SoGlos on LinkedIn and sign-up to the weekly SoGlos business newsletter for the very latest Gloucestershire business news stories.