As well as being one of the world's greatest gathering of literary lovers, the Cheltenham Literature Festival is undoubtedly one of the biggest events in Gloucestershire's calendar. Wild horses couldn't keep the SoGlos team away from the sparkling line-up of events around town.
With a phenomenal 141,500 tickets issued and more than 760 authors on site, not to mention volunteers stacking up more than 6,720 hours of incredible hard work, this year's Cheltenham Literature Festival was the biggest event yet.
Thousands of families took part in all-age activities, including the fun Beano Trail around town, with more than 9,000 school children from 97 schools also experiencing the festival.
With big names including David Attenborough, Gary Barlow, Jennifer Saunders, Darcy Bussell, Sebastian Faulks, Chimamanda Ngozi Adichi, Lionel Shriver, Ruth Jones, Ian Rankin, Chris Hoy, Tom, Daly and many, many more, the SoGlos team has been hard pushed to select our Lit Fest favourites from 2018. But, we've whittled the whirlwind fortnight of book bonanzas down to just a handful of our absolute highlights…
---
1. David Attenborough at Cheltenham Literature Festival 2018
---
Securing a standing ovation during both his entrance and exit to a phenomenal hour of entertainment, Sir David Attenborough further compounded his role as national treasure, as his dulcet tones rippled through The Times Forum's auditorium at 2018's Cheltenham Literature Festival.
Despite being asked about his own mortality on a number of occasions by interviewer and journalist, Emma Freud, Sir David proved he was the consummate professional throughout, taking each 'joke' as an opportunity to showcase his humour and humility, through self-deprecating retorts.
The interview was unexpectedly emotional at times, as the star relayed a story about his strict Father, running down the garden with a telegram to congratulate him on achieving a University scholarship; through to inspiring, as Sir David briefly discussed the future of the planet and why he'd chosen to stray from the path of an un-opinionated public service broadcaster, to a vocal environmental activist because it was 'simply too important to keep quiet.'
The audience discovered gems of information such as which species Sir David would choose if he had 'Dr Doolittle' abilities – he chose dolphins, by the way; and saw the icon visibly amused when Freud described his legendary persona as like being in a room with Jesus, much to the delight of the agreeing audience.
Quite possibly the most fascinating interview we've ever had the pleasure to watch, we could have quite happily sat to enjoy another hour hearing about the life of the country's most well-respected broadcaster, delivered in person, by that iconic voice. What an absolute honour.
---
2. Gary Barlow at Cheltenham Literature Festival 2018
---
After gaining more stage experience before the age of 17, than many people achieve in a lifetime, Gary Barlow told Cheltenham's audience that he found 'stepping onto stage like strolling into the living room.' Discussing the stratospheric highs of his early career alongside the lows – encapsulating bulimia, depression and weight gain, the Take That star was refreshingly honest and captivated the adoring crowd.
Admitting that his life legacy was simply to make people happy, the audience was even treated to a line or two of song from the great performer, as he revealed how he sings backing vocals alongside Rick Astley in Can you feel the love tonight? from Disney's The Lion King. Have a listen, he really does!
Most memorable was the heartbreaking tale of his wife Dawn, delivering their stillborn daughter Poppy, just two days before their due date; giving an insight into the raw and honest tone of his new book, A Better Me.
---
3. Ruth Jones at Cheltenham Literature Festival 2018
---
We were thrilled when SoGlos was offered the chance to sponsor Ruth Jones at the Lit Fest. From penning Gavin & Stacey with James Corden to playing the most eclectic range of characters on stage and screen (we love Nessa!), she's an instantly recognisable Welsh woman with many talents. We jumped at the chance!
Discussing her new book Never Greener, Jones compared the experience of writing a novel with writing for television and revealed that Never Greener had actually started out as a screenplay over a decade ago, which she re-visited (and changed the ending) for her debut release, published in April 2018.
Witty, humble and utterly charming, Ruth Jones has to be one of the most unassuming guests to take the Cheltenham Literature Festival stage and we thoroughly enjoyed the chance to share in her creative vision.
---
4. Rachel Joyce at Cheltenham Literature Festival 2018
Launched with the pop of Champagne corks and held in the stunning private dining room at The Ivy Montpellier Brasserie, the leisurely lunch with Stroud-based author Rachel Joyce was one of our absolute Lit Fest favourites this year – not least because The Ivy's three-courses were utterly fantastic: spanning a vibrant mozzarella and tomato salad; flat-iron chicken with crispy skin and creamed mash; and an excellent crème brûlée too!
Interviewed by the effervescent Faye Hatcher, Rachel Joyce gave the intimate audience of enthusiastic fans a glimpse into her writing career: spanning four novels and more than 20 radio plays. She described her life-changing move from London to Gloucestershire – when her friend asked in horror 'do they even have a SpaceNK?' and she bought a red lipstick just in case! She spoke with passion about her love of music and with tenderness about her beloved father, who had provided the inspiration for more than one of her central characters. Plus, she revealed two of her books are going to be made into Hollywood films, much to the audible excitement of the crowd – John Travolta was touted as a possible lead!
It was a rare pleasure to see local talent given the spotlight at this world-class literary celebration, all the more nicer that it was in such exquisite surroundings.
---
5. Graham Norton at Cheltenham Literature Festival 2018
Unusually entering the stage as guest rather than interviewer, Graham Norton captivated his Cheltenham audience with a quick-wit and likeable warmth, almost instantly.
Appearing to discuss his second Novel, A Keeper, Graham explained how One Day author, David Nichols gave him valuable advice about plotting a fictional timeline, and recalled the time his own sister refused to read his autobiography because there were 'so many other good books out there!'
Sending the audience into hysterics with a not-suitable-for-work anecdote about a gentleman caller, a missing piece of 'debris' and his dog, Graham morphed between serious author and comic presenter seamlessly, proving that maybe this man really can do it all.
---
6. Romesh Ranganathan at Cheltenham Literature Festival 2018
With his signature dry humour and talented quick wit, Romesh Ranganathan was every bit the humble comedian.
Tales of his average pre-fame days working in KFC, succeeding as a teacher and his mission to find the perfect vegan cheese, provided laugh-out-loud entertainment.
With an audience of all ages erupting in laughter, the brilliantly funny Romesh kicked off the first evening of entertainment at the 2018 festival, in the best way possible.
---
7. 30 Years Of Countryfile at Cheltenham Literature Festival 2018
Celebrating 30 years of Countryfile in 2018, the eponymous event attracted a sell-out crowd at Cheltenham Town Hall – appropriately sponsored by the Royal Three Counties Show – as series producer Joanna Brame and iconic presenters Anita Rani and local favourite Adam Henson talked to chair Tim Hubbard.
From humble beginnings on a Sunday morning to becoming Britain's favourite weekly factual programme, peaking at nine-million viewers in the winter, Countryfile has long brought the people, places and stories from the heart of the British countryside into our homes, both rural and urban.
BSE, Foot and Mouth, a man growing chairs and a lady with a pet leech, the audience were taken on a whistle-stop tour of the show's many highlights – with plenty of fascinating insights along the way and the show's two presenters proving themselves as true professionals in this live setting, despite some challenging questions from the audience.
---
7. Winnie the Witch at Cheltenham Literature Festival 2018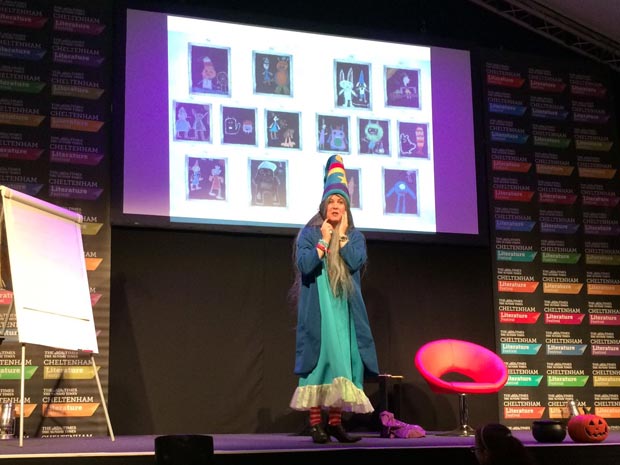 This family event took place in The Hive tent, and combined the excellent telling of Valerie Thomas and Korky Paul's latest children's tale, with a real-life appearance from Winnie the Witch herself!
Our young readers enjoyed taking their seats on beanbags in a carpeted area of the tent, as Winnie herself read aloud the tale of Winnie and Wilbur in The Monster Mystery. The story was also projected on screen, which was ideal for keeping the interest of those with shorter attention spans.
With Halloween treats, glittery pumpkins, joke telling and even a drawing competition, there was plenty to keep kids occupied, and the opportunity to meet Winnie and buy a signed book after the event. A delightful afternoon for fans of this wicked witch.
---
8. The Tiger Who Came To Tea: Birthday Party at Cheltenham Literature Festival 2018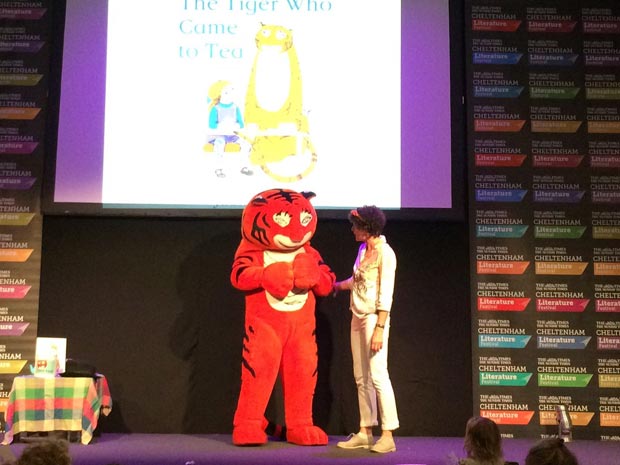 An absolute classic was brought to life at Cheltenham Literature Festival, as The Tiger Who Came To Tea made his long-awaited reappearance at The Hive tent, after 50 years!
Celebrating the anniversary of Judith Kerr's most famous children's book, children took their seats to enjoy a the tale of a very hungry tiger, who drank all the water in the tap, ate all of the food in the fridge, and never returned!
Our little readers were delighted to see the famous tiger on stage, alongside some yummy drinks and snacks, making it the perfect celebration of a children's classic.
---