In a nutshell
Nestled in the Cotswold village of Asthall, The Maytime Inn is a slice of countryside tranquillity offering scenic views, delicious freshly prepared meals and the most comprehensive gin menu we've ever encountered.
---
The review
Cotswold charm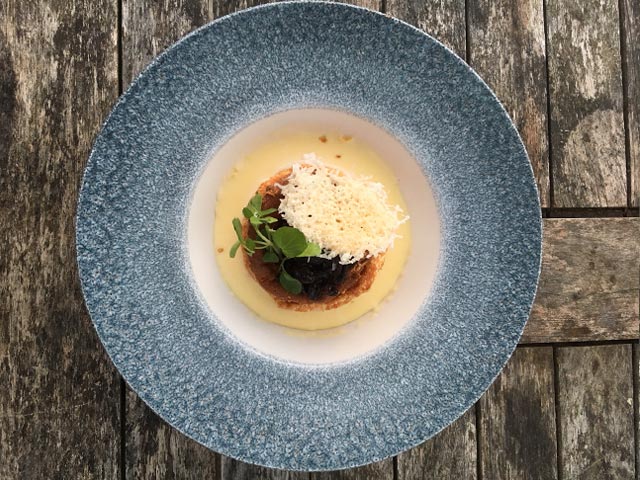 Just across the Gloucestershire border into Oxfordshire, but still firmly within the Cotswolds, lies the charming chocolate box village of Asthall. After journeying deep into the village, we discovered the traditional Cotswold stone Maytime Inn, bedecked in green foliage and surrounded by beautifully landscaped gardens, with undeniably stunning views of the surrounding countryside.
Already the perfect location for a romantic countryside meal, the balmy summer's evening on which we visited created an idyllic ambience, reminiscent of being on holiday.
Choosing a wooden table in The Maytime's beautifully cultivated garden, bees and butterflies flew around us as we perused the extensive drinks menu; a new calf and its mother wandered around the field behind; a family played boules in the remainder of the evening sunshine; and there was even the promise of a visit from the inn's resident barn owl, if we stayed past sundown!
In terms of its setting, The Maytime Inn has perfectly blended traditional Cotswold charm on the inside of the pub, with a contemporary English garden area, perfectly designed for enjoying the live music, garden games and sociable drinking events that the inn regularly offers.
---
A twist on tradition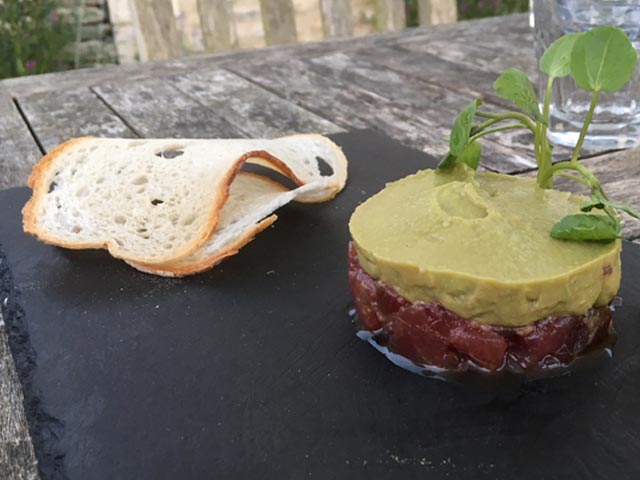 Combining some traditional pub favourites with its own signature flavours and unusual pairings, The Maytime Inn's summer menu for 2018 boasted a bounty of tempting dishes, making it hard to choose just one.
To begin we opted for twice-baked comté and rosemary soufflé served with raisin chutney; and tuna tartare with avocado puree, citrus oil and sourdough crisp (above).
The tuna was delightfully fresh, presented in a stacked tower and topped with a beautifully smooth avocado puree. Alongside the tuna was thinly cut sourdough slices which added a much-needed crunch to the dish.
The soufflé was an utterly stunning starter, which I could have quite happily eaten twice over! Sweet, sticky and cheesy, the souffle was baked to perfection and collapsed only when touched with my fork. Submerging into the mature cheese sauce and combined with the unexpectedly sweet raisin chutney, the dish was a flavour sensation which I can't recommend highly enough.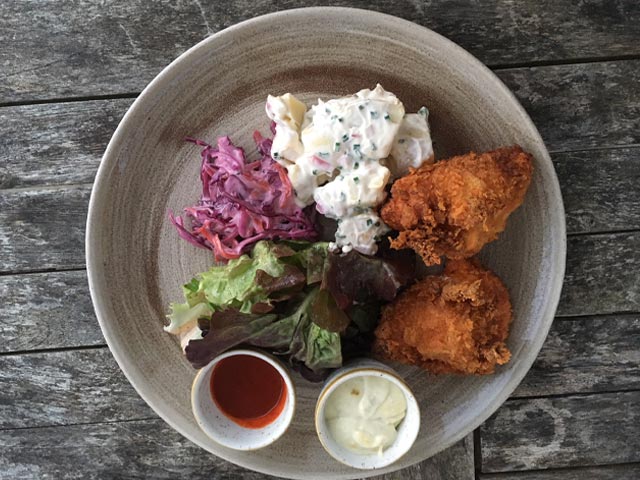 Moving onto the main course, we elected for lamb rump with parmesan risotto, spinach, roasted shallots and wild mushrooms (below); and buttermilk fried chicken with potato salad, red cabbage slaw, jalapeno mayo and hot sauce (above) – described by staff as The Maytime's take on KFC!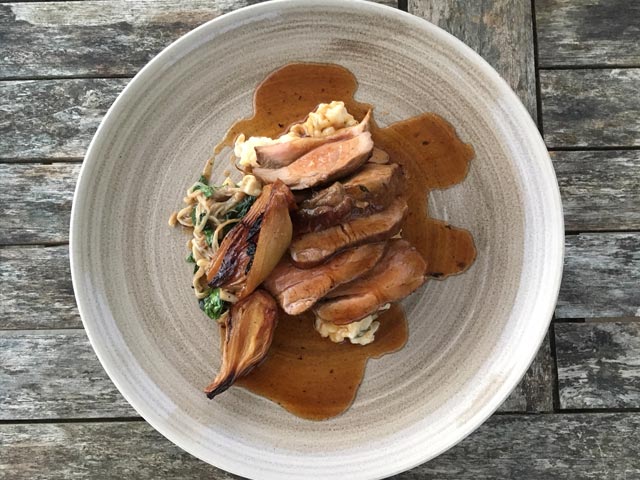 The chicken was crispy, flavoursome and was void of the grease you'd expect from the fast food chain this dish was emulating! My husband, a fan of all-things-spicy, enjoyed the jalapeno mayo and hot sauce, confirming that both contained a real 'kick' which added a depth of flavour to the dish. The meal was reasonably priced considering the quality of the ingredients, excellent seasoning and generous portion size.
The lamb was served atop a tasty mountain of cheese risotto with roasted shallots and shredded wild mushrooms to the side. Despite being told the dish would be served pink, it arrived medium. While this didn't detract from the delicious blend of flavours in the dish, I felt that its potential tenderness, which would have made this dish exquisite, was slightly lost.
Having enjoyed two courses, we perused the dessert menu, but didn't feel we had enough room left to devour a third course! Tempting choices included lemon posset with white chocolate and lavender; Maytime mess with strawberry gel, fizzy strawberry jelly, meringue and cream; treacle tart with fresh raspberries and clotted cream; and chilli and chocolate pot with homemade orange shortbread.
---
Gin time!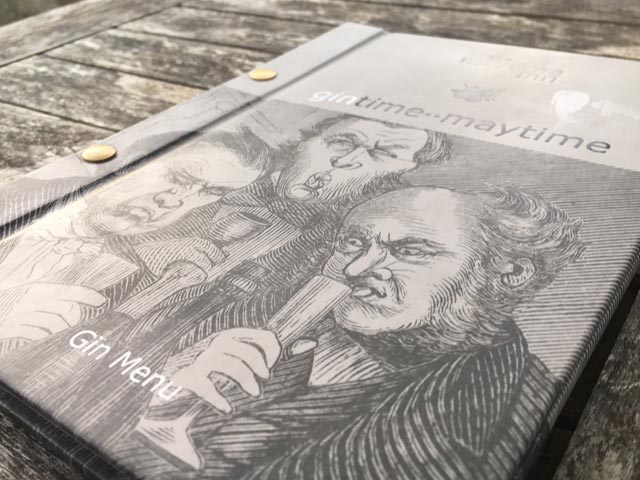 While looking through the drinks menu, we noticed a disclaimer under the gin section, explaining that The Maytime Inn's gin selection was so comprehensive, it has its own book!
Compiled by the inn's resident gin master, gins range from famous brand name spirits through to artisanal small batch gins from tiny distilleries, located both locally in the Cotswolds, and as far as the Outer Hebrides in Scotland.
Each gin is described in detail, alongside a short history of each brand, and a serving suggestion – to ensure even those new to gin tasting can enjoy the drink in its best possible form.
---
SoGlos loves
The Maytime Inn boasts a very clever dispensing system for its fine wines, meaning they are available to buy by the glass.
Regardless of when a wine is first dispensed, the inn's technique means that air never enters a bottle, keeping it fresh indefinitely.
This is great if you're driving home, but still want to enjoy one glass of high quality fine wine with your meal, without needing to buy the bottle.
---
Top tip
While the Maytime Inn's stunning Cotswold location is one of its biggest assets, it makes for a long drive home if you're based in Gloucestershire.
So, why not take the opportunity to enjoy that eclectic gin menu, by booking one of the inn's stunning bedrooms.
Styled around the theme of horse and country, each room benefits from luxurious Hypnos beds and 400 thread-count Egyptian Cotton sheets, ensuring you'll have a wonderful night's sleep.
---
What next?
For more information, see The Maytime Inn, call (01993) 822068 or visit themaytime.com.