In a nutshell
An exciting new menu, renovated seating area, and the same amazing range of ciders – SoGlos couldn't wait to test The Stable's summer dishes, including an incredibly tempting Pot of Gold cheese fondue…
---
Sharing starters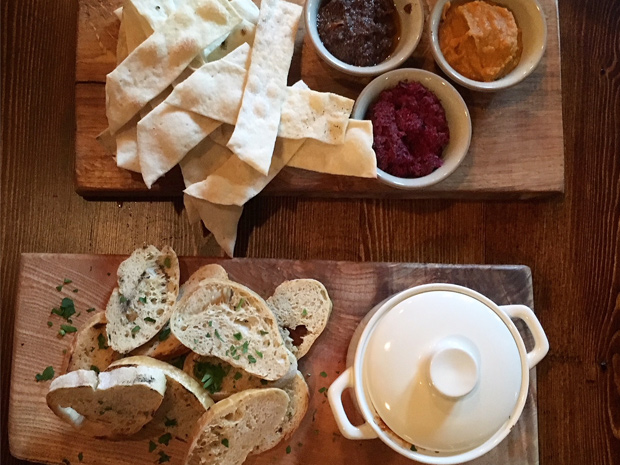 We couldn't wait to try out the all-new menu at The Stable, sampling a bit of everything; the new sharer boards soon caught our eye, with a seriously scrumptious offering.
Settling on the Pot of Gold, a heavenly concoction of West Country Cider infused into a tangy yet tasty strong mature cheddar, we definitely weren't disappointed.
Served up with perfectly baked sliced sourdough, Pot of Gold isn't your conventional fondue but went down a treat all the same and is a great option for sharing with friends.
Also, tantalisingly tasty was the Stix & Dips starter which features three melt-in-the-mouth tapenades, spanning beetroot hummus, butternut blitz, and a mushroom and olive dip, each bursting with flavour and accompanied by crispy sourdough sticks.
---
Save us a slice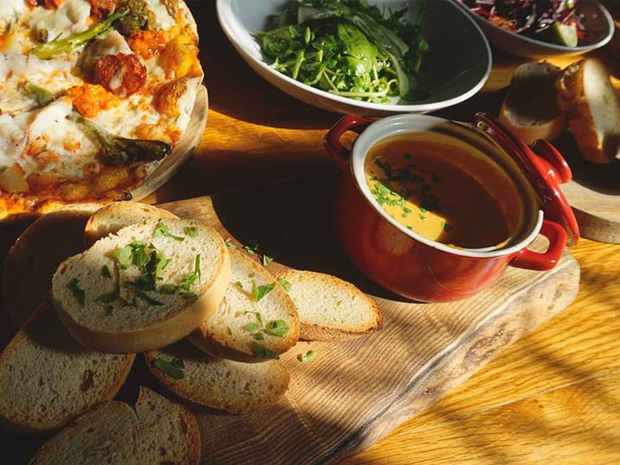 Lovingly handcrafted using The Stable's own fresh tomato sauce recipe and bespoke sourdough bases, it's no wonder that The Stable is best known for its delicious pizza offering, and Cheltenham's new menu doesn't disappoint.
The SoGlos team was recommended the Royale with Cheese; described by staff as 'a burger and a pizza mixed together', the Royale was a fun new addition to the eclectic menu. Made from marinated Longhorn ground beef, white onion and cheddar, with a sesame seed crust and finished with shredded baby gem lettuce and house pickles, the pizza was finished with a delicious burger sauce. The dish was an imaginative juxtaposition of fast food favourites, which we'd definitely order again.
Other members of our group were pleased to see firm favourites had remained on the menu. Notably, the Spy-cy GCHQ pizza, made up of spicy pork marinated in Naga chilli harissa, onions, mushrooms, mozzarella, basil and chilli; and The Posh Hawaiian featuring West Country ham, pineapple, fresh chilli and avocado.
Served alongside one of The Stable's delicious dips for dunking the sourdough crust, a perfect pizza feast awaits!
---
A lighter option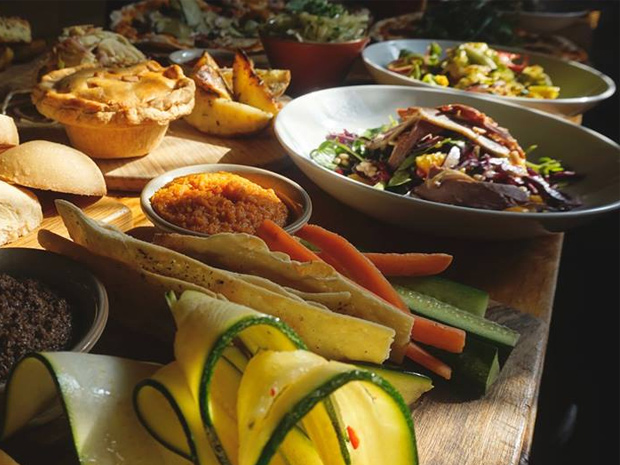 Perfect for a light but flavourful meal, The Stable cements its reputation for creating inventive dishes with its great salad options. Raising the bar on salad stereotypes, expect tasty plates that pack a punch.
One of our options was the smoked salmon salad; we were more than happy with the generous helping, piled high with avocado, rocket, orange, roasted mixed seeds, peppers, shredded white cabbage and onion, finished with a zingy citrus vinaigrette.
The second choice was The Big Haze; vegan friendly and very colourful, the salad was a towering combination of shredded red cabbage, sweetcorn, sprouting broccoli, fresh chilli, pine nuts and tomato, with a citrus vinaigrette to add a zesty flavour.
For anyone who fancies a salad that's not the main event, The Stable now offers side and starter options – we tried the chilli and lemon courgette side salad, and it got a firm thumbs up!
---
SoGlos loves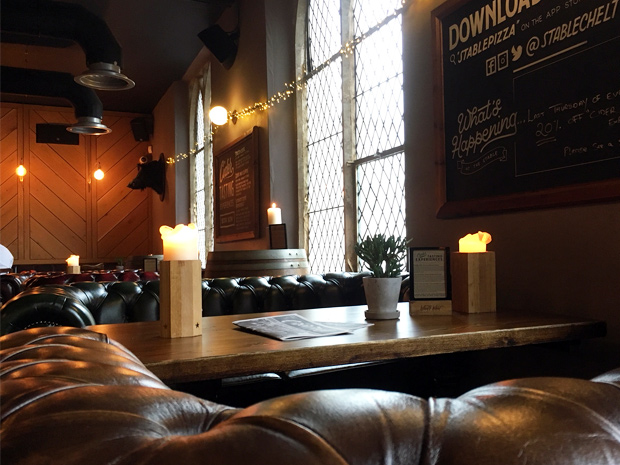 Along with its new menu, The Stable has recently renovated its seating area to create a more informal lounge area, separate from its main dining zone.
Previously dominated by a range of wooden tables and benches, these have since been exchanged for comfortable chesterfield sofas. They're perfect for slouching into after a long day and relaxing with a crisp, cold cider from The Stable's vast selection.
---
Top tip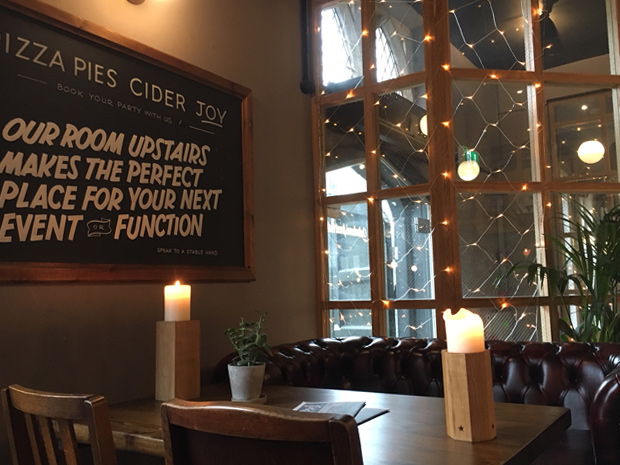 The Stable is known for more than just its great food and lively atmosphere – its excellent range of over 80 ciders is perfect for those that love a pint (or two) with their meal.
And if you just can't choose which to try, why not try a cider tasting board? Comprising five cider servings, it's the perfect way to taste them all and find your favourite.
---
---
What next?
For more information, see The Stable, call (01242) 514163, or visit stablepizza.com directly.
---