We could have been walking onto the set of an American rom-com, expecting to see the quirky antagonist in her stylish and expansive New York loft-style workspace. But in reality, we were in the heart of Cheltenham town centre, a world away from the Californian cool environment of SLG's new Cheltenham offices.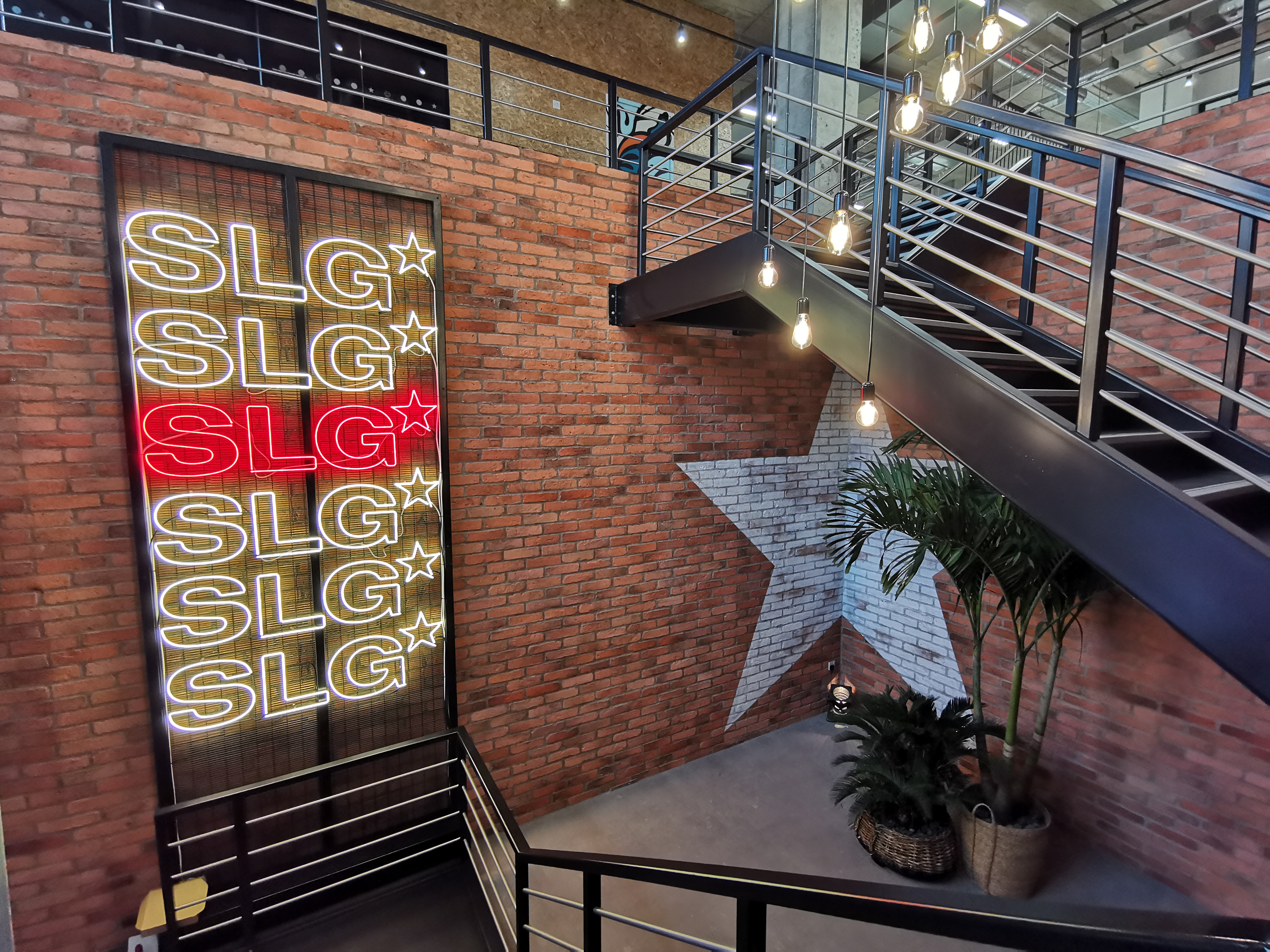 Studio 19, as it's known, is a passion project of CEO Miles Dunkley, whose influence, after a career in design and branding, is clearly visible throughout this fabulous new workspace. From the neon signage and cheeky graffiti visible from the street outside The Brewery Quarter, right through to the brand's products being on display and for use by its staff in the toilets, this is a workplace that Gloucestershire has never seen before.
Speaking to SoGlos, Miles explained how the style came to be: 'The décor vibe was very Californian-industrial, we wanted to bring Palm Springs to Cheltenham! These kinds of offices are always in films, or you see them on Pinterest boards and things like that; It's usually a tech company and it's usually somewhere like New York or San Francisco, but my thought has always been, why can't we have that in Cheltenham?'
Art work and Graffiti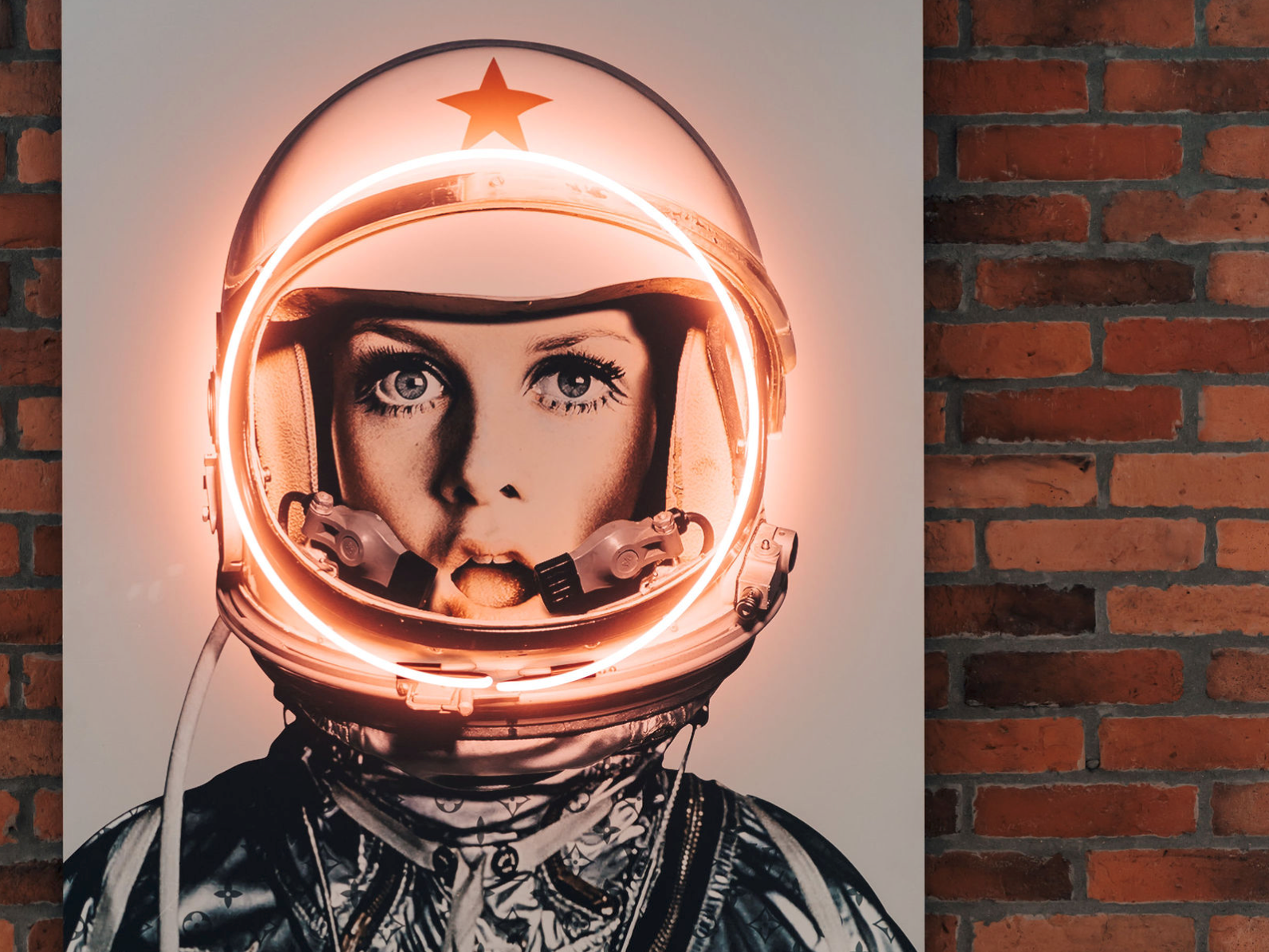 'Some pieces cost £20' explained CEO Miles Dunkley, pointing to a framed minimalist print of cherries, 'and others cost the best part of five grand' as he gestured towards a signed Wonder Woman piece by American pop-artist, Peter Mars.
Alongside its salon wall, the offices' working spaces and breakout zones are bedecked with street art, designed both in-house and by street artists chosen personally by Miles, after showcasing their work at the Cheltenham Paint Festival.
Perhaps the most poignant was a concrete column, sprayed with the words 'peace' and 'love', along with the names of three members of staff who had passed away. 'It seemed like the perfect opportunity to make reference to those ladies, and this is a way of bringing them into the building with us.'
Toilets and Kitchens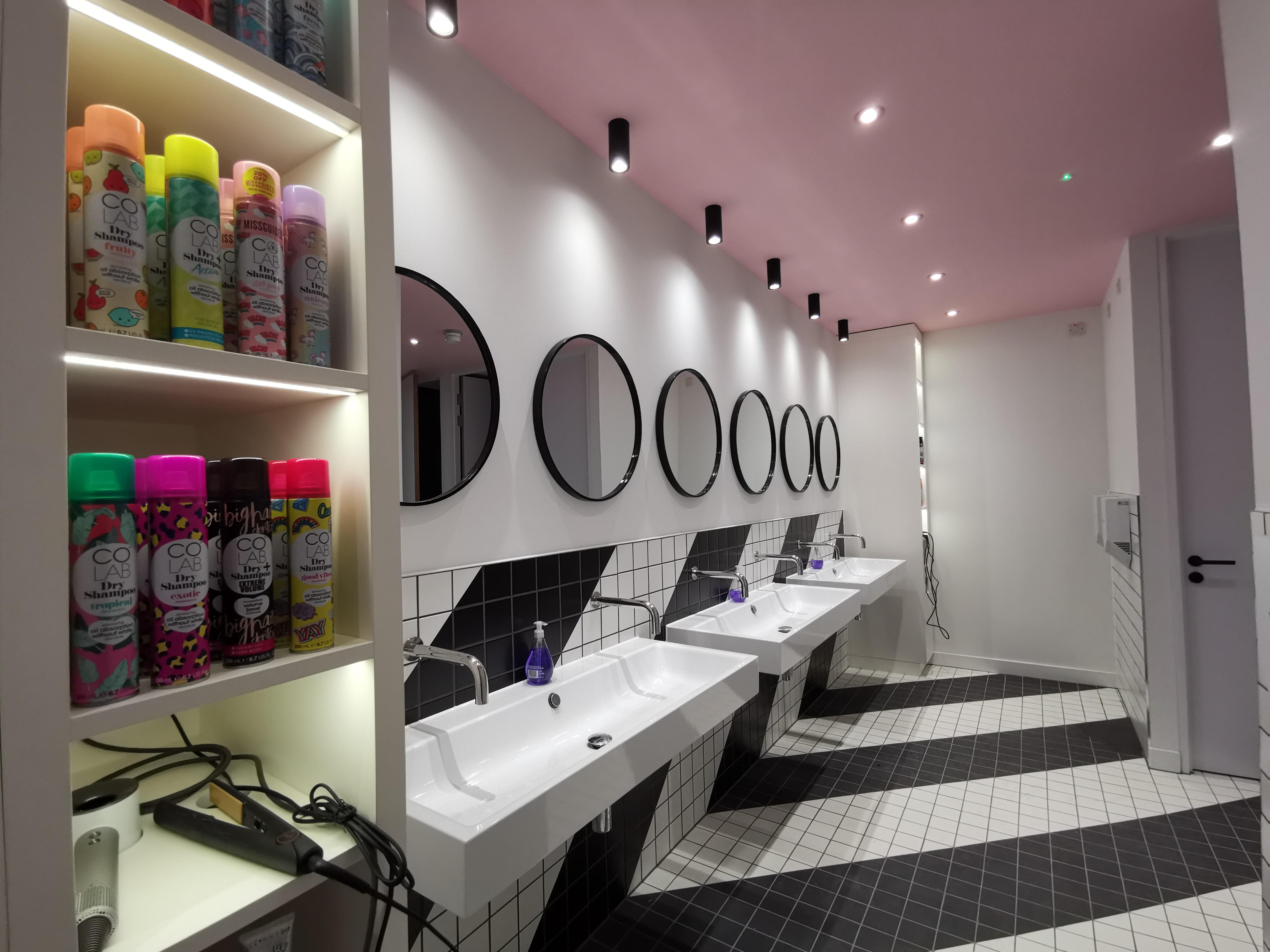 Dyson hair dryers, GHD straighteners, and enough SLG dry shampoo to sink a ship, the restrooms at SLG are reached under a neon entrance sign encouraging users to 'enjoy'.
Add to that stylish toilets, modern shower cubicles and a full wall mirror, it makes the ideal environment for sprucing up and taking a quick workplace selfie.
Meanwhile, the kitchen, designed to look like a bar, is a far cry from an office canteen. Providing its staff with posh coffee machines, modern appliances, built in microwave ovens, and no waiting around for a kettle to boil, thanks to the installation of hot water taps – it's the coolest work kitchen we've ever seen!
Neon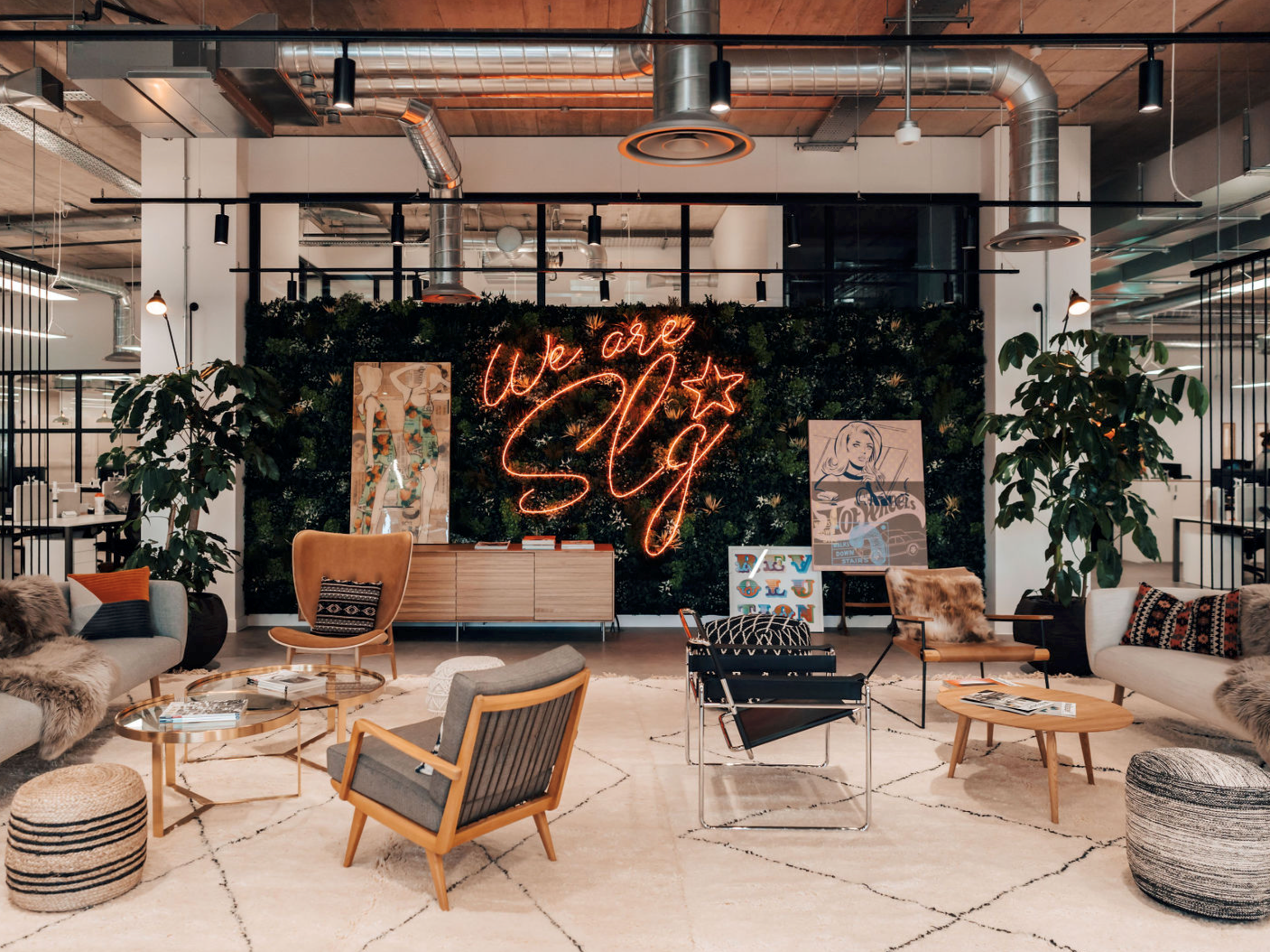 Entering SLG through the automatic doors on Cheltenham's lower High Street, it's clear to see that neon is an important design feature throughout the incredible office space.
Staff and guests are greeted by the company's logo in neon form, leading the eye up the industrial twisting staircase, before revealing a fabulous floral wall, emblazoned with 'We are SLG' compounding the teamworking culture of this open plan space.
The neon theme even continued through to Miles' office, which perfectly blended hipster-chic with 60s cool. Austin Powers would be proud.
Payday Fridays
It's not just the design aspect that's important, culture and staff happiness is also high on the agenda. Each payday Friday at 4pm, the Studio 19 bar opens to staff, serving up beer, Prosecco and soft drinks, with the first celebration of its kind taking place on Friday 8 March 2019.
To mark the inaugural Friday celebrations, there's even a special appearance from the team at The Botanist, who'll be serving up a special Studio 19 cocktail, featuring the brand's signature red colour and a test tube which represents the lab and SLG's development team, which is now based in-house.
Breakout spaces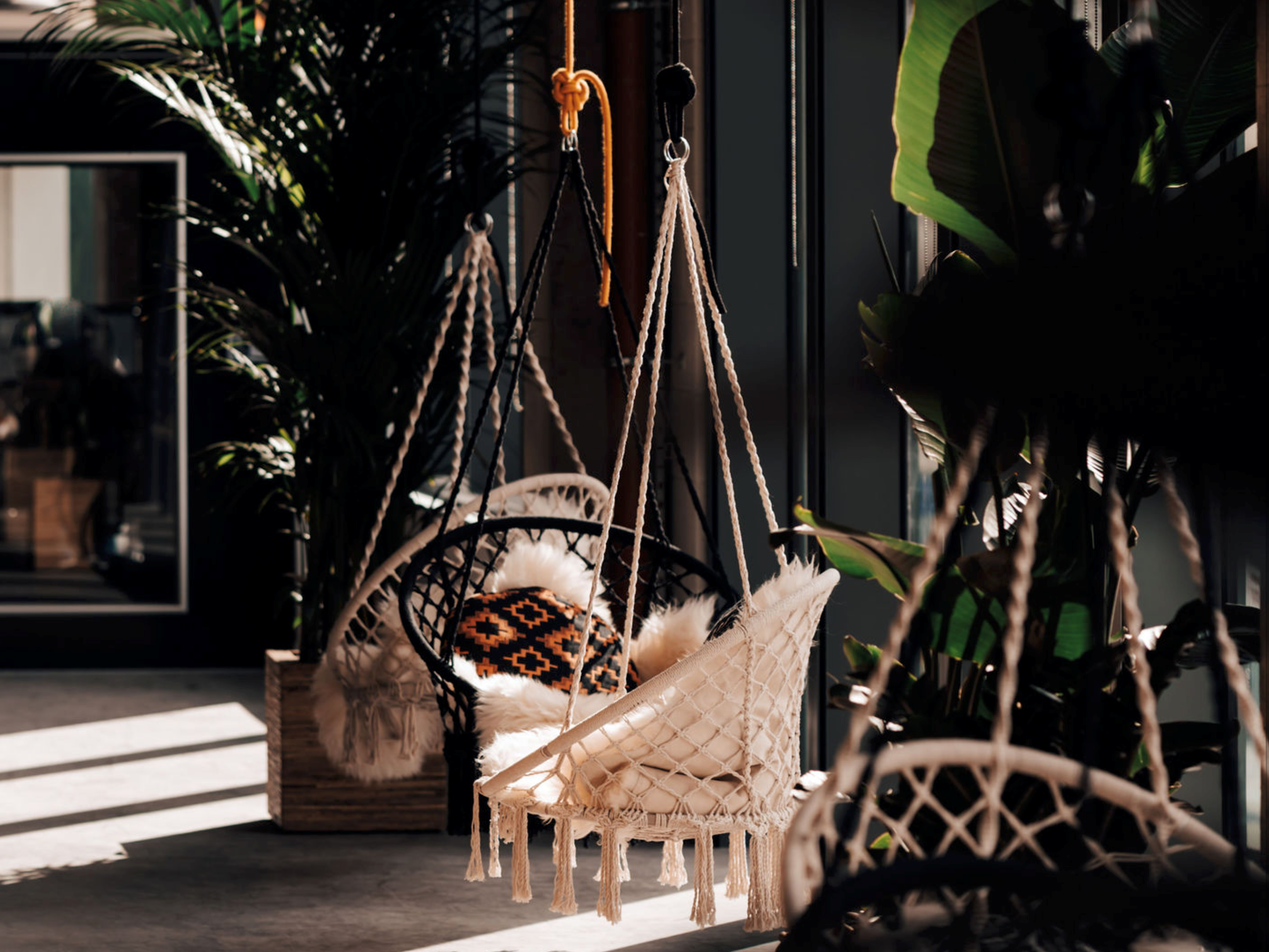 The team at SLG is encouraged to harness its creativity through meetings in one of its many breakout spaces. Our favourite is Hammock Avenue, which provides the chance to bring the outside in, as you laze in a hammock chair in front of floor-to-ceiling glass walls.
Other spaces included the Chilli Bean room, a darkened chill zone, adorned with fluffy rugs and bean bags, lit by industrial filament lighting, this room was strictly shoes-off at the door, creating a relaxing escape from the stresses of work as soon as you close the door.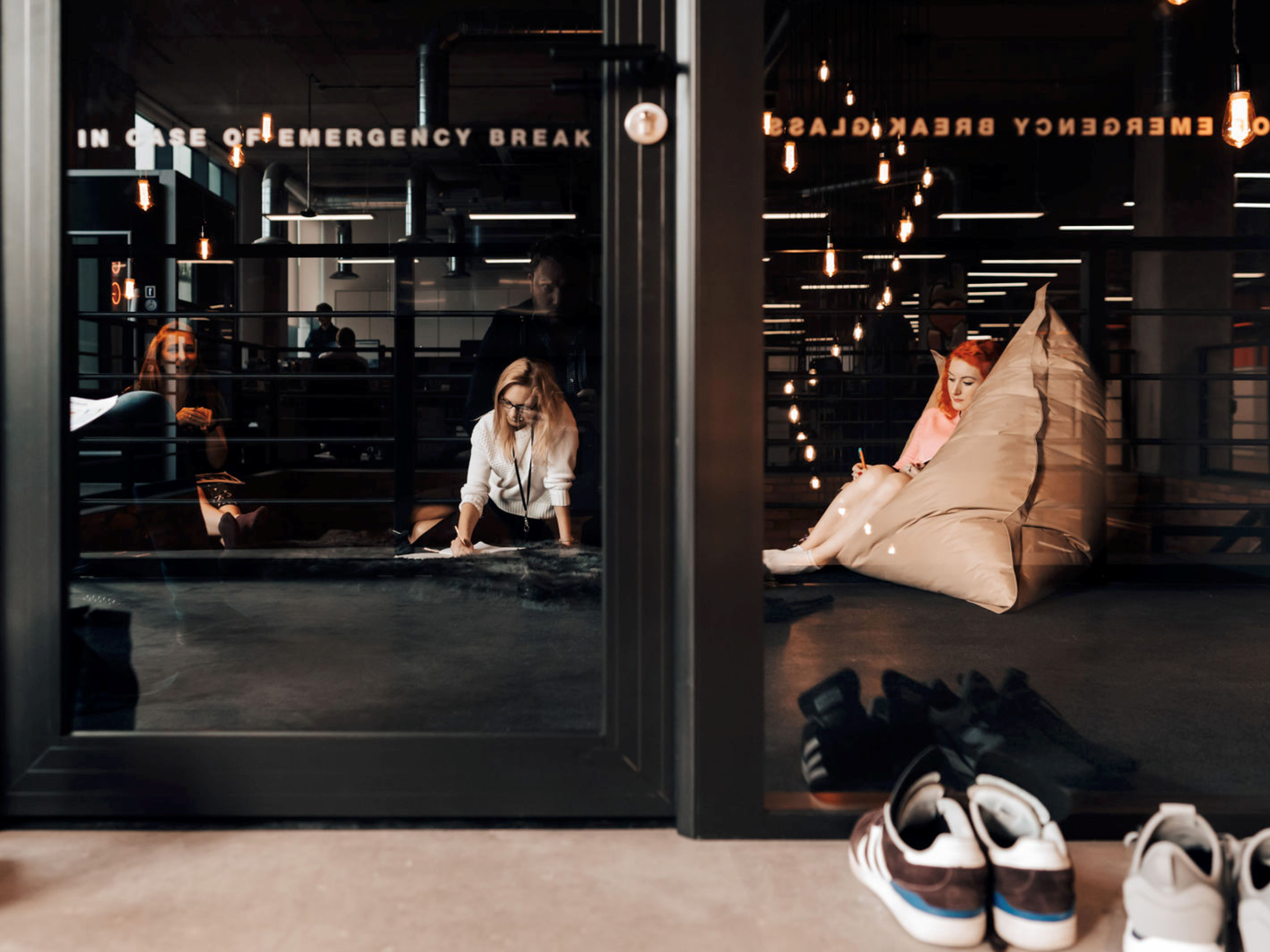 While eating lunch staff can play a quick game of pinball, or relax in the diner-style seating surrounded by plants and cacti hand-picked by CEO Miles, in Amsterdam.
While full team meetings for SLG's 120 staff can be held in front of a huge digital screen, complete with bleachers stand seating that's scattered with cushions.
Staff shop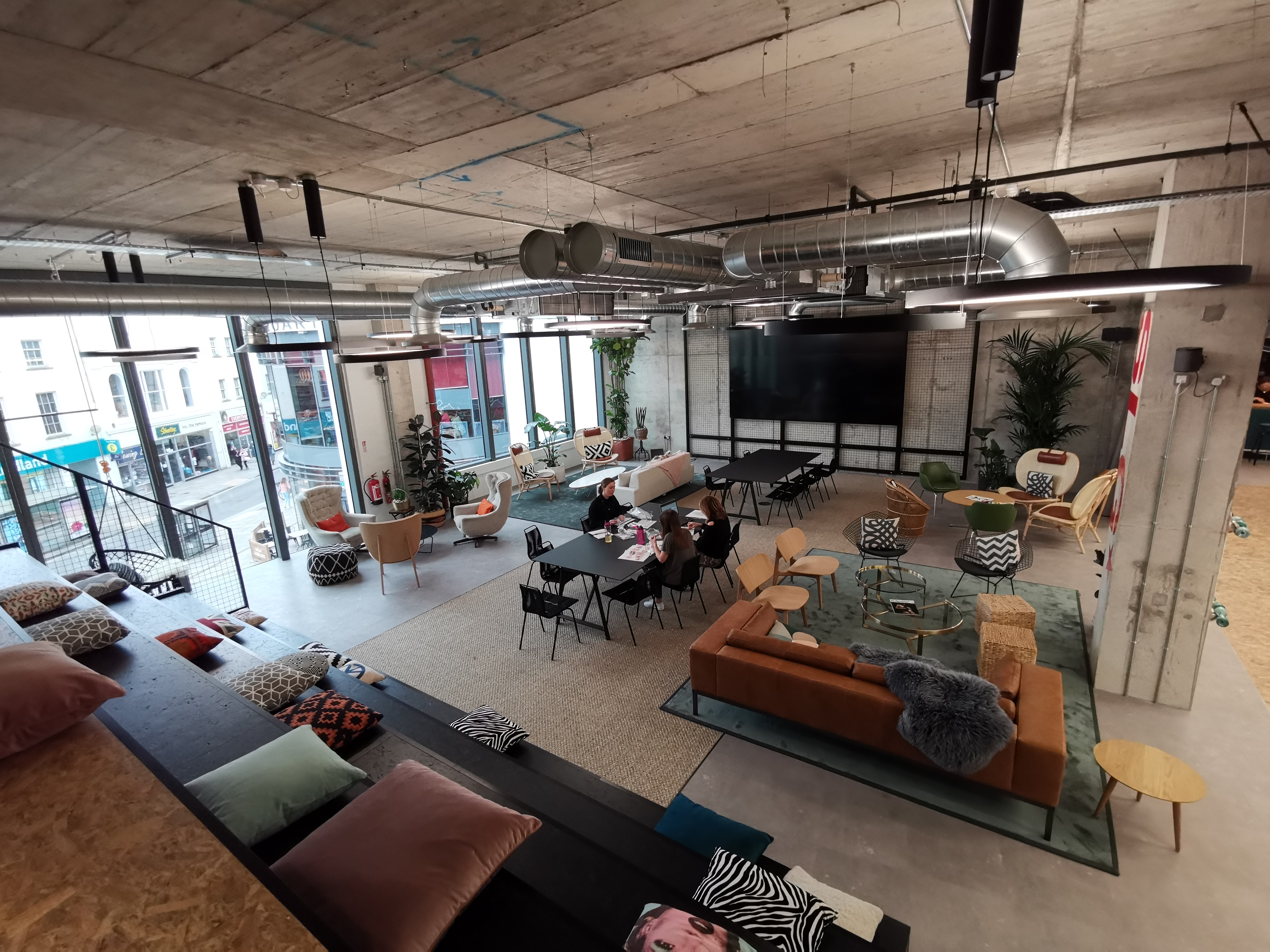 Each week, staff are invited inside the SLG shipping container adjacent to the kitchen to purchase goodies from the staff shop at half-price.
Bargain beauty buys include a number of SLG's top products including Superdry, Zoella, Skinny Dip and CO LAB.
Meeting rooms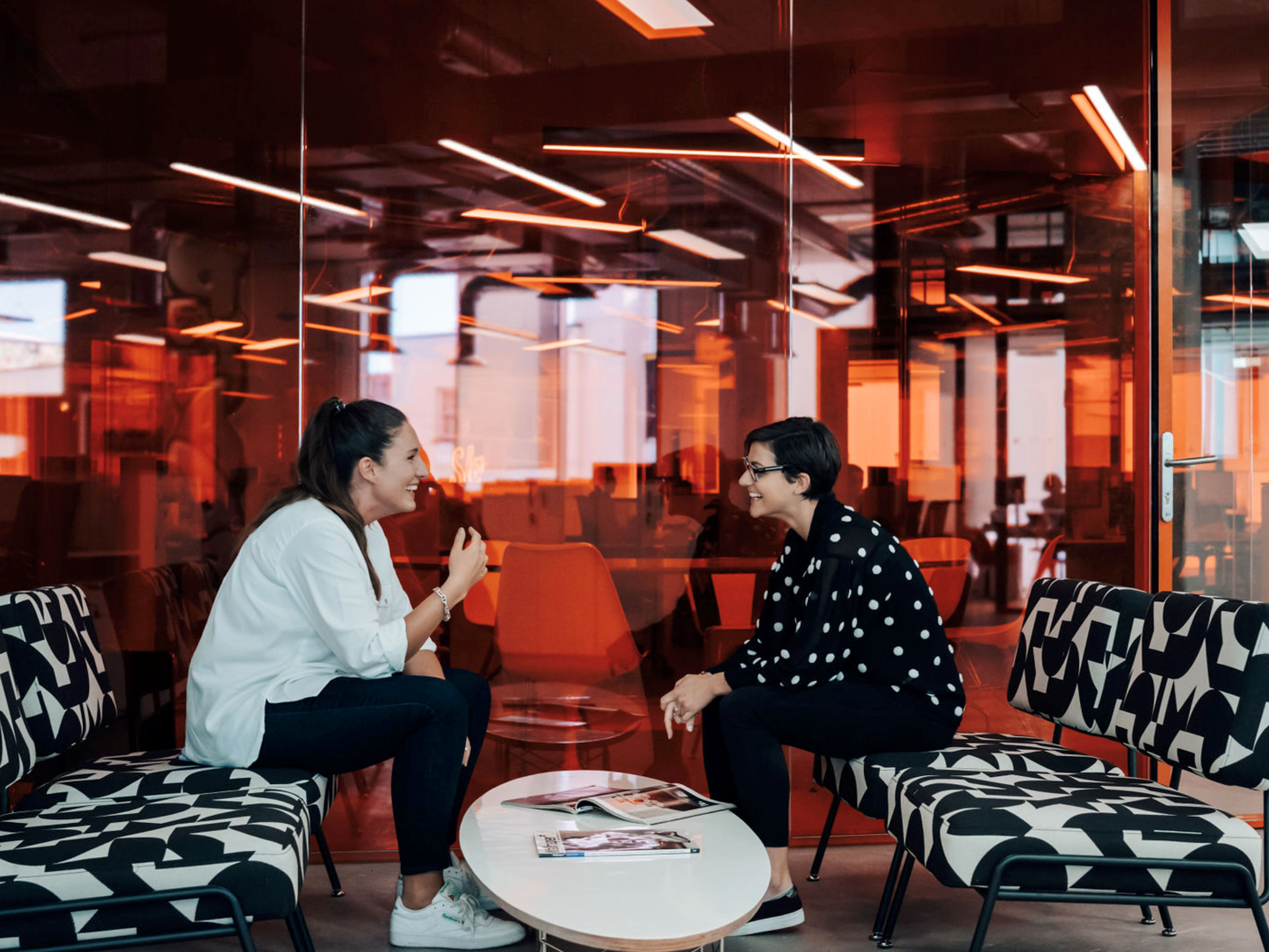 As much fun as the office is, it's still a place of work. 'Board rooms are important, right? But even the name doesn't spark much excitement' explains Miles. 'It just sounds so boring! So, we wanted to create some kind of counter culture, and the very first thing we did in the board room was build a scaffold and get one of the graffiti artists in.'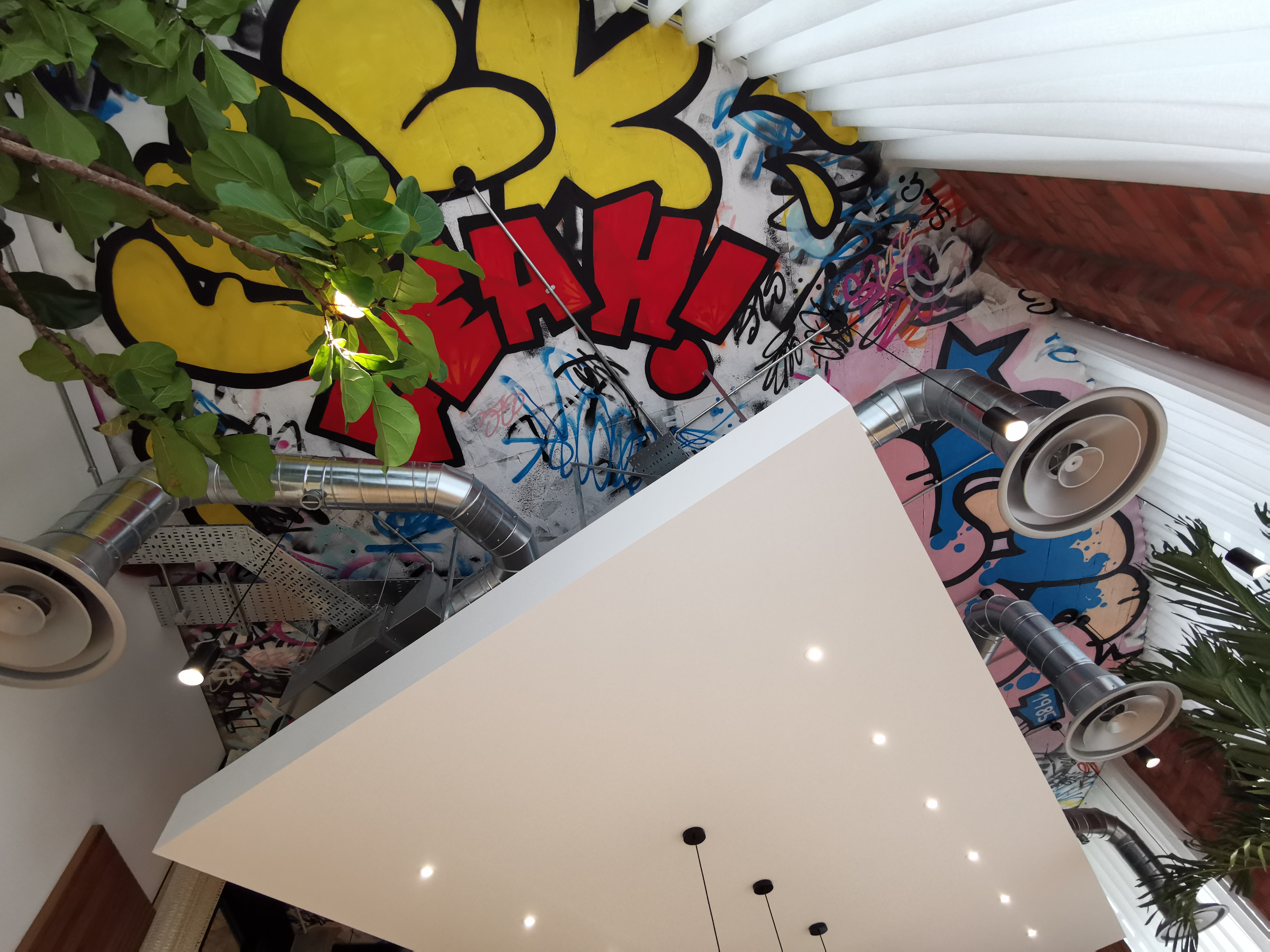 Alongside nods to Miles' parents, who started the business in 1985, the board room graffiti also features Miles' own graffiti tag, the company name, and an inspirational yet cheeky profanity which is visible from the road outside.
There's even a huge red cube in the centre of the office, which can be used by all staff for meetings, which, with its white furniture, really does make you feel like you've stepped into the 1960s.
---
For more information, contact SLG on (01242) 225720