Gloucestershire is brimming with wonderful people that have been doing incredible things for their community throughout the pandemic – and SoGlos is proud to be shining the spotlight on them in our #GlosHeroes campaign.
This May 2021, we're championing another 10 handpicked #GlosHeroes, from volunteer vaccinators to marathon-running medical staff.
Plus, each one of our #GlosHeroes will receive a treat from Brasserie Blanc in Cheltenham, to say a big 'thank you' for everything they're doing. Cheers to that!
---
About the sponsor – St. James's Place Wealth Management
St. James's Place Wealth Management is proud to be a #GlosHeroes sponsor. Based in Cirencester and trusted worldwide, St. James's Place offers an innovative investment management approach, as well as award-winning advice on a broad range of financial matters, from tax planning to retirement.
For more information about St. James's Place, visit sjp.co.uk.
---
About the sponsor – Gloucestershire County Council
#GlosHeroes is also proudly supported by Gloucestershire County Council which has been providing rapid Covid-19 testing to communities across the county; securing millions of pounds in funding for the care sector; and distributing millions of items of PPE, to help keep people living and working in Gloucestershire safe during the pandemic.
For more information about Gloucestershire County Council, visit gloucestershire.gov.uk.
---
1. John Summers
During the pandemic, John Summers has trained as a vaccination volunteer lead for St John's Ambulance, managing a team of 107 volunteers in Stroud and the Forest of Dean helping to distribute the Covid-19 vaccine.
He's also taken time off from his job at St. James's Place to volunteer at a hospital emergency department, which meant staying in isolation away from his family; has volunteered at the NHS Blood Transfusion Service in Gloucester; and donated his time to clean and restock ambulances at the St. John's Ambulance service in Staverton. His colleagues at St. James's Place certainly think John is a hero – and so do we!
---
2. Richard Goodwin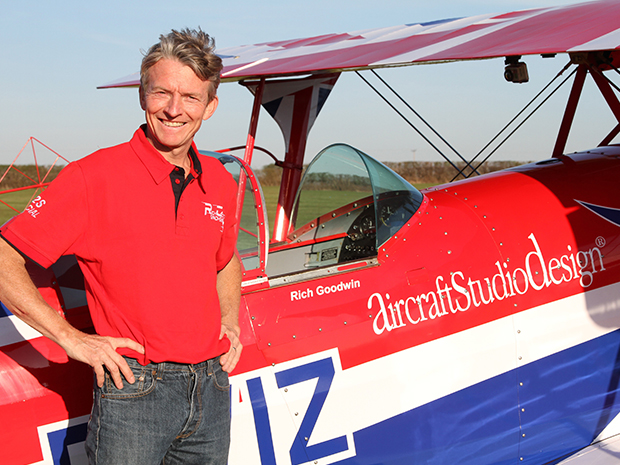 RAF pilot and commercial airline captain, Richard Goodwin, has been bringing smiles to people's faces throughout lockdown.
With commercial flights grounded, Richard has been using his biplane to draw giant smiling faces in the sky above Gloucestershire to brighten people's days – until he can start taking them on holiday again, of course.
---
3. Jadie Cotterell
HCA/Ophthalmic technician, Jadie Cotterell, has been working at Tetbury Hospital throughout the pandemic. Working directly with patients to help care for their eyes has meant spending her days in full protective equipment including a mask, visor and scrubs – but Jadie hasn't complained.
Instead, in April 2021, she swapped her PPE for running gear and ran the Shepperdine Marathon, raising over £1,800 for new medical equipment and achieving a personal best time. As an independent charity, Tetbury Hospital relies on its own fundraising to purchase new equipment, so Jadie's efforts have made a huge difference.
---
4. Claire Libby
With lockdown taking its toll on the mental health of many young people, Cheltenham-based Claire Libby set out to help. Her free app 'i am me' helps young people manage their mental health with everything from mood tracker tools to expert advice from GP's, psychologists, counsellors and even Samaritans.
She runs the app on her own and has made a huge effort to add loads of extra content and virtual sessions to help kids get through lockdown, all while home-schooling her two children too. She's even taking on the Cotswold Challenge in June 2021 to fundraise in order to keep the app free to use.
---
5. Ed Valentine
Dr Ed Valentine is the medical director for the Great Western Air Ambulance Charity. Ed has been supporting the GWAAC team throughout the pandemic, keeping them up to date with the latest safety guidelines; helping them adjust to wearing hot, uncomfortable PPE for long periods of time; and helping them cope with the emotional stress of the pandemic, all while providing emergency care to patients in need.
On top of that, Ed has also been working as an emergency medical consultant in local hospitals, treating people critically ill with Covid 19. The entire team at GWAAC wanted to nominate Ed as they think he deserves to be recognised for his incredible work – and team SoGlos agree!
---
6. Luke Gouyette
As well as working at Camp 4-2-11, where Luke is known for going above and beyond to make every child feel welcome, and regularly fundraising for local youngsters with disabilities and learning difficulties, throughout lockdown he has also been providing weekly sports activities for teenagers and young people in need.
Luke created free online fitness videos and set challenges to help parents keep children active at home, as well as running youth club sessions in art, sport and more when restrictions allowed.
---
7. Robert Stagg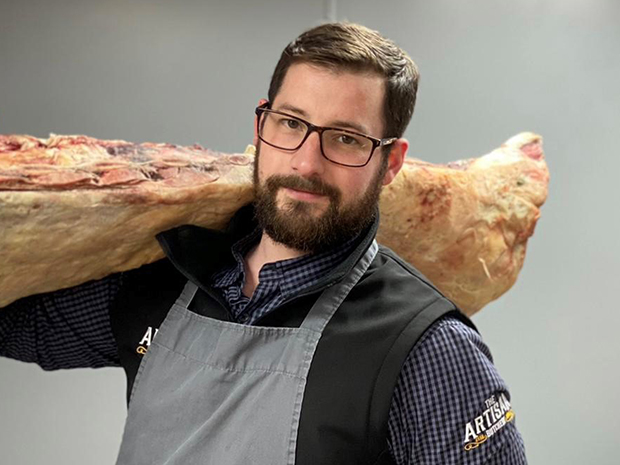 Butchery manager and head butcher of Artisan Foods in Newent, Robert Stagg has been doing fantastic work keeping people fed during lockdown. As well as launching a free food delivery service, Robert also had to deal with a flood the day before Christmas Eve, which saw him sleeping on the shop floor that night to ensure it could still open for customers to collect their Christmas orders.
Robert is still humble though – adamant that none of this would have been possible without the support of his team and shop owner Damien Berry. What a team!
---
8. Ann Grange
Adult social care worker, Ann Grange, has provided a lifeline to elderly and vulnerable members of her community during the pandemic.
As well as continuing her important work throughout, in her spare time she has cleaned, shopped and provided both household and personal care to friends, family and neighbours in need.
---
9. Justin Hudson
Despite his business, Butler's Venue Bar in Gloucester, being seriously affected by the pandemic, Justin Hudson decided to throw on a hi-vis jacket and use his premises to help his community get through it.
From distributing food parcels to students and low income families to providing books, pens, paper and pencils to home schooling children in need. Cheers Justin!
---
10. Hash Norat
As the smiling face of Gloucester Feed the Hungry, Hash Norat and his team of volunteers have been providing meals for those in need during the pandemic. Demand grew massively during 2020, as more Gloucester families faced homelessness and hunger, with the initiative having served up over 10,000 meals so far.
Hash has rallied the community behind the scheme, with sixth formers from the King's School Gloucester, Gloucester Rotary and local businesses all volunteering their time or donating food.
Hash also secured a generous donation from his employer, Unilever, which allowed him to deliver 12,000 ice creams to two Gloucestershire hospitals to keep the staff going during the toughest days of the pandemic. And he's not done yet – Hash is also doing a wing walk to raise funds to build a commemorative garden at Gloucester Royal Hospital.
---
If you know someone special who deserves to be recognised as one of our #GlosHeroes, please complete the nomination form.