The jobs market has gone through some significant changes in the last year and a half, so as the world gets back to work, it's more important than ever for businesses to make sure things like employment contracts are up to date.
SoGlos spoke to the employment law and business immigration team at Willans LLP solicitors in Cheltenham to get its advice on the legal side of the recruitment process – and what employers need to consider before making that job offer.
About the expert – Hayley Ainsworth from Willans LLP solicitors
Hayley Ainsworth is a solicitor who specialises in employment law and business immigration at Willans LLP solicitors in Cheltenham.
Its highly skilled team is ranked by prestigious national legal guides, Legal 500 and Chambers for its expertise in employment law, working with clients including multi-national companies, local businesses and not-for-profit organisations.
Employment law is a complicated subject. What are the top three things businesses should consider when hiring a new employee?
Firstly, is your recruitment process fair? Your obligations begin before an employment relationship even starts. It is unlawful for an employer to discriminate during the recruitment process, so you must make sure that your recruitment practices are fair, transparent and objective. You should have an up-to-date equality and diversity or equal opportunities policy governing your practices to prevent any bias in the recruitment process, too.
Secondly, are your contracts and handbooks up to date? Before your employee signs on the dotted line, you should check that your contracts and employee handbook are updated with any current law. An employment contract should contain at the very least the basic rights and obligations an employee has under law and, as of April 2021, employers must provide new employees with their contract on or before their first day of employment.
Thirdly, is your training programme up to date? Employers have a responsibility to keep their staff safe in the workplace, so health and safety training should be thorough and current.
With employment law constantly changing and evolving, particularly during the Covid-19 pandemic and furlough scheme, how often should businesses be updating their contracts?
Employment law changes very quickly, so we recommend regular reviews of all your employment documents, including any contracts and handbooks, preferably once a year.
Can anyone update a contract, or should it be a legal professional?
Any contract amendments should be checked by a legal professional to avoid exposure to tribunal proceedings down the line. You should also ensure that any changes are executed in the correct way to ensure that the changes are valid.
Why is it so important for businesses to keep contracts up to date?
If an employment contract isn't up to date, an employer is vulnerable to legal action. If legal entitlement to minimum wage, for example, has increased, and an employment contract doesn't reflect that, your employees could bring tribunal action and you could be faced with an expensive claim.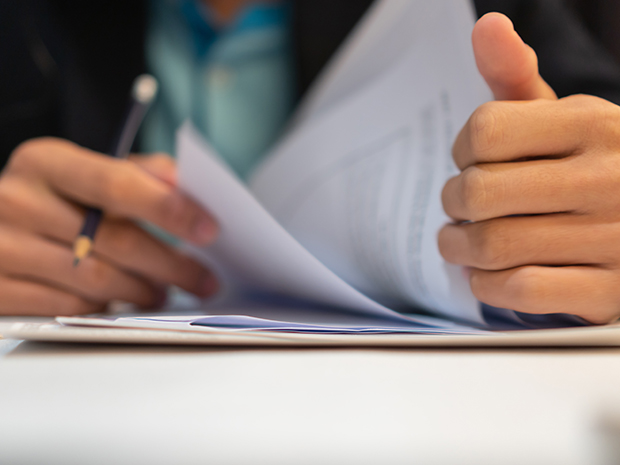 What about company policies such as grievance and disciplinary? How can companies ensure their policies are effective and legal?
Companies should always have a clear, detailed policy for grievance and disciplinary procedures. These should be separate to an employment contract to provide for flexibility. You should have your policies reviewed by a legal advisor, alongside any employment contracts to make sure everything is up to date.
What steps can employers take if they discover an employee is in breach of contract?
If you suspect that misconduct has occurred, you should always follow the procedure set out in your disciplinary policy. If you do not do this, you could be vulnerable to a claim for unfair, wrongful or constructive dismissal. If you are unsure what steps you should take, speak to a legal advisor.
What can businesses do if a new hire isn't working out?
Businesses should check whether a new hire is still in their probation period. If they are, in principle, if their performance is below par, you can terminate the employment in accordance with their probationary clause. However, employers should be cautious if the poor performance is due to a protected characteristic and should take legal advice if this is the case, as they could be at risk of a discrimination claim.
If employees are outside of their probationary period, best practice is to follow your appropriate policy regarding poor performance. If a business has exhausted all avenues under that policy, then they can look at terminating the employee's contract. Again, if their poor performance is due to a protected characteristic, employers should take legal advice.
How can businesses ensure their new employees have the right to work in the UK?
If you are employing someone who is not a UK national, you will need to ask them to provide evidence of their immigration status and their right to work. If they are an EU citizen who has been granted settled or pre-settled status, they should be able to provide digital evidence of this, which you can check online.
If they do not have settled status, they will need to provide you with evidence of their right to work by way of some other immigration status. This could be by you sponsoring them; them being a dependent of someone else who is being sponsored; or by them being here as a family member. It is therefore important that you obtain evidence of whichever immigration status or visa they have in place which gives them a right to work.
Undertaking this check gives employers a statutory excuse against liability for a civil penalty, so it is important you do so correctly and in accordance with the government code of practice.
Any offer of employment should be given subject to them providing evidence that they have the right to work in the UK.
How can Willans help employers stay on top of changes in employment law or deal with any legal issues?
Willans has a team of knowledgeable employment law and business immigration lawyers that can help with any query you may have. We can help your business ensure they have the right practices in place from start to finish, by drafting your standard contracts and providing a corresponding policy handbook.
We also provide advice regarding day-to-day employment issues, including advising on disciplinary, grievance or redundancy procedures. We are also experienced in employment litigation and can advise on potential and active tribunal proceedings.
Our business immigration specialists can advise on your right to work check obligations and assist you with making sponsorship applications for foreign nationals that you may wish to employ, too.