Fiona Hesford, also known as Sewgirl, is a designer from Worthing tasked with creating the now infamous Swindon Town dress worn by This Country star, Daisy May Cooper on the 2018 BAFTA red carpet.
Fiona caught up with SoGlos about what it was like to dress Miss Daisy…
---
How did the job to create a Swindon Town dress come about?
I must say my initial reaction was one of trepidation. But, when I found out it was for my friend Jane's niece, Daisy Cooper, well I just couldn't resist. The series was up for several awards and together they were chosen to present the best soap award, so to say that I was feeling the pressure would be an understatement, but equally I was over the moon to be involved in this amazing opportunity.
Talk us through the design process…
Daisy had recently found a gown which had inspired her to commission a dress made in the style of her character's favourite attire, a Swindon Town football club shirt… a genius idea!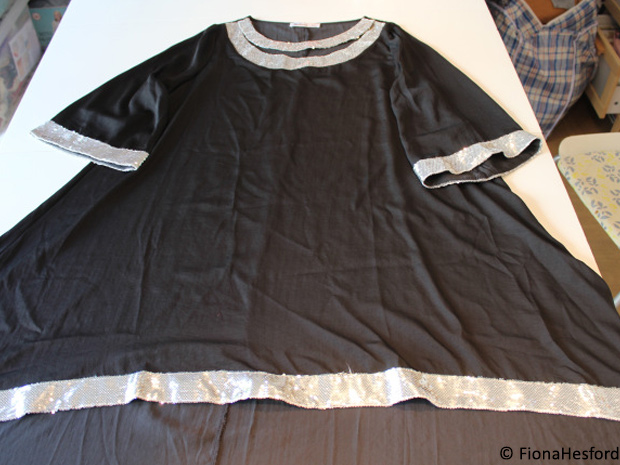 The trapeze shaped dress was made in a black silky fabric, edged with silver sequinned fabric all around the hem, neckline and cuffs. If copied in red fabric with white trim, it would accentuate the spirit of a football shirt, albeit a glamorous one!
Drafting a pattern from an existing dress is something I do quite often and as it fitted Daisy well, there weren't any adjustments to make, it seemed quite straight forward. To make things easier, I removed the sleeve of the original dress to make a pattern from it. After cutting out, and stitching up, the dress was ready for its first fitting.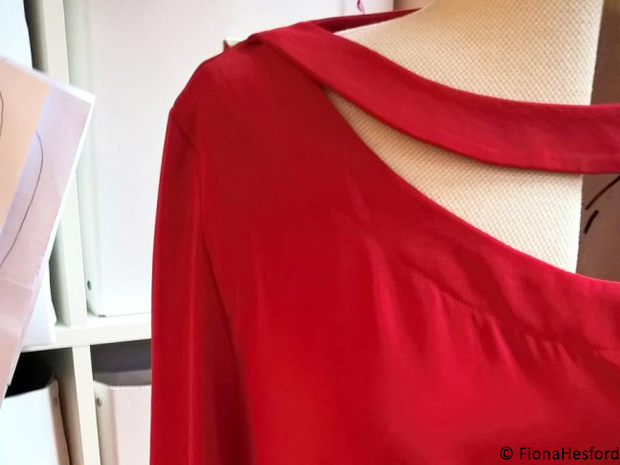 What about all that detail and the sequins?
At this stage, I'd just pinned on the sequin trim as we weren't too sure how much to use. I was worried that edging the entire hem risked the dress resembling a Father Xmas outfit!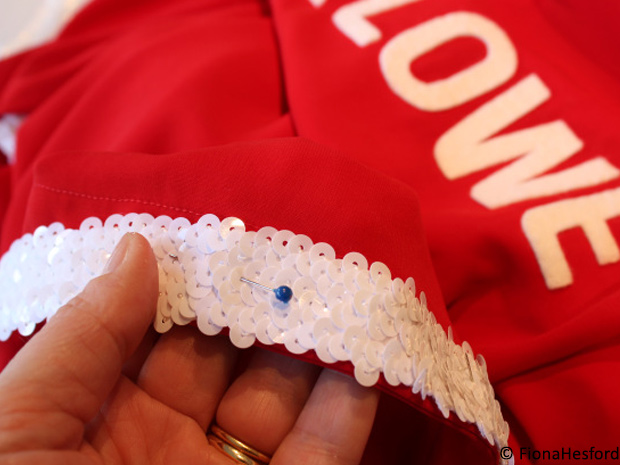 Lettering was traced off onto bonding web and felt which was pinned temporarily to the front and back.
My son Alfie is an avid football fan and graphic designer, so he found the perfect football typeface to use for the word 'Swindon' on the front and 'Mucklowe' on the back.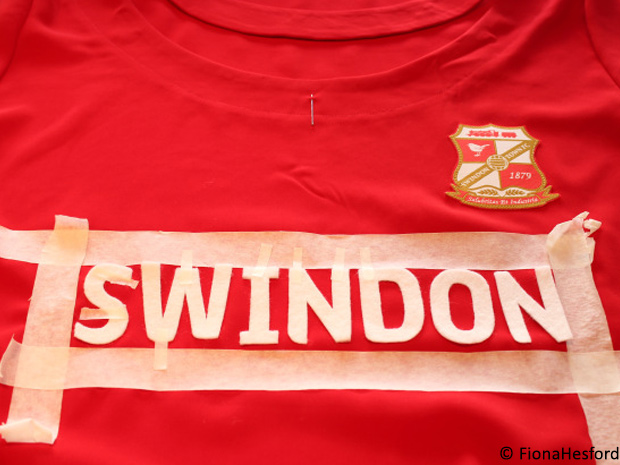 We had also retrieved a badge and the number 1 from a bought football shirt to give it an authentic feel. It was all coming together nicely.
Did you have any hiccups along the way?
The biggest hiccup was that the dress fell too short. At the fitting we decided to omit the sequin trim around the hemline, thus not having any weight to anchor it down, so after a bit of wangling, another 15cm or was added on, ensuring a nice border all around the edge that now skimmed just above the knee.
Daisy is quite tall at 5ft 9 and she would be wearing high heels so the extra length was definitely called for. Fortunately, the extra hem panel added a detail enhancing the style of the dress.
It looked amazing on the red carpet. Were you pleased with the result?
Charlie (aka Kurtan) came to pick up the dress with his mum as Daisy was on holiday which was a surreal experience having a celeb at your home, but he was totally adorable and their Mum was charming too. They loved the dress and I was delighted how it had come together.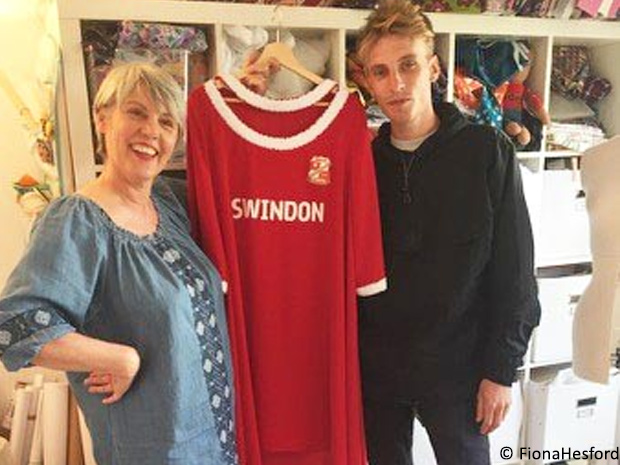 Daisy was over the moon with the finished article and they bought home two awards at the Baftas! It all went crazy on social media but I wasn't surprised. What a result!
---
For more information about Fiona Hesford visit sewgirl.co.uk directly.