Whether you want a comprehensive female health assessment or to investigate a specific issue relating to anything from your breasts to your pelvic floor, painful periods to peri-menopausal symptoms, the chance to get checked out without delay can not only provide peace of mind, but make treatment and recovery as swift as possible.
With more people opting for private healthcare post-pandemic, encouraged by minimum waiting lists, SoGlos spoke to the experts at Nuffield Health Hospital Cheltenham's gynaecology department to find out what prospective patients can expect if they decide to take this route.
---
About the expert – Nuffield Health Cheltenham Hospital
Nuffield Health's private hospital in Cheltenham promises first class treatment with minimum waiting lists. Offering everything from health assessments to surgery in state-of-the-art clinical facilities, as well as the latest diagnostic imaging facilities, including on-site MRI and CT scanning, areas of specialty include orthopaedics, cosmetic surgery, spinal services, sports injury, ENT, gynaecology and urology. For more information, visit nuffieldhealth.com.
---
What does 'women's health' cover at Nuffield Health Cheltenham Hospital?
We offer a full range of gynaecological services, covering everything from menstrual disorders, endometriosis and ovarian cysts, to fibroids, smear tests and polycystic ovary syndrome treatments, via bladder prolapse, pelvic floor dysfunction, urinary incontinence and fertility.
We also deal with breast lumps, breast cancer diagnosis and treatment and abnormalities of the breast. Plus, much more.
---
What ages do you treat in this department?
It depends which consultant you choose to see. Some consultants will see teenaged patients from 13, as well as adults.

---
Can patients choose to see a female doctor specifically?
Yes, of course. We have two female gynaecologists, two male gynaecologists and one urogynaecology consultant. We also have both male and female breast consultants.

---
Do you offer women's health checks? If so, what do they include and how much do they cost?
Yes. Costing around £379, a women's health assessment gives you an hour with your doctor, covers the following and includes time to discuss your results:
• Trium® – the Nuffield's online health risk assessment uses evidence-based clinical algorithms to tell you about your health
• Height and weight measurements
• Body Mass Index (BMI) calculation
• Urine analysis
• Blood glucose test for diabetes
• Cholesterol test
• Breast examination and guidance on self-examination
• Pelvic examination
• Cervical smear
• High vaginal swab (if clinically indicated)
• Full blood count to test for anaemia
• Mammography (where purchased for those aged 40 and over, if appropriate)

---
How worrying are painful periods?
Painful periods can be a sign of endometriosis, for which our consultants would undertake an investigation and offer the appropriate treatment, which can in turn benefit a patient's fertility.
---
What sort of investigative procedures are available?
An outpatient hysteroscopy allows the consultant to see what is in the cervix and take a biopsy, if needed.
A diagnostic laparoscopy will then be carried out to explore the abdomen if there any abnormalities.
This can check for any fibroids or polyps, which can be surgically removed if necessary.
---
Does Nuffield Health offer private contraceptive treatments?
We offer prescriptions for the contraceptive pill and IUD (coil).
---
How can you help women with issues related to the menopause?
We have gynaecologists with special interest in menopause and peri-menopausal problems and registered with the British Menopause Society.
---
What can your Rapid Access Breast Clinic do for people worried about cancer?
Our breast consultants will assess the patient with a clinical examination, imaging and tissue viability, if needed.
---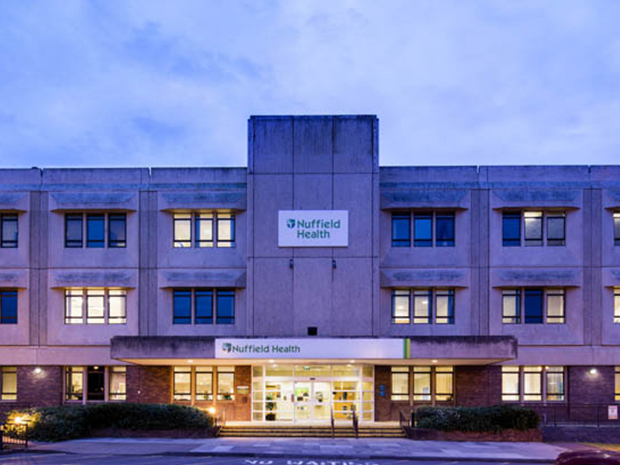 Do you need a referral from a GP to see someone at Nuffield Health Cheltenham Hospital?
A referral from your GP is not necessary, you can self-refer if you wish.
---
What are the benefits of going to Nuffield Health Cheltenham Hospital?
By coming to the Nuffield, you can ensure the best care and personalised service.
You will be able to pick the consultant you would like to see and stay under the same consultant throughout your treatment.
Although there is a small waiting list, we would be able to see you within a matter of weeks.
---

In partnership with Nuffield Health Cheltenham Hospital | nuffieldhealth.com