In a nutshell
Boasting peaceful Pittville surroundings, The Drawing Room restaurant is possibly Cheltenham's best kept secret. Housed inside the stunning Cotswold Grange Hotel, SoGlos discovered, to our delight, that it raises the bar on British dining – and trust us, the desserts are in another league completely.
---
The review
Cheltenham's hidden gem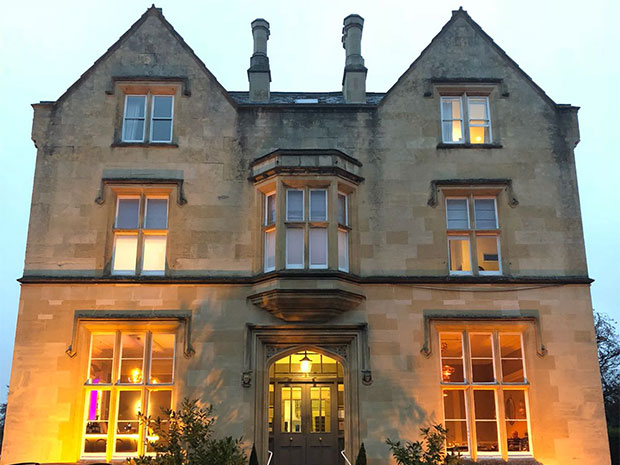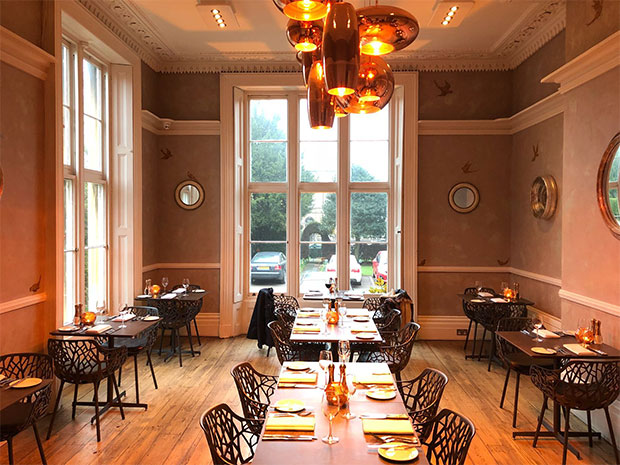 Impressive on arrival and delightful once inside, The Drawing Room benefits from both its setting, within a striking period building, and the Instagram-worthy interiors – the rose gold colours and illuminated bar were particular favourites.
Though it's located inside the Cotswold Grange Hotel, The Drawing Room sets itself apart as its own bar and restaurant. Perfect for non-residents to enjoy a post-work drink or delicious dinner, it far exceeds expectations – as we found out first-hand.
Settling down with a drink in the stylish bar, it was time for my husband and I to browse the menu – do we opt for the chicken and hazelnut terrine, rainbow trout ceviche, or sea bass with citrus quinoa? The only problem was deciding what to choose…
And good news for anyone with dietary requirements – as a vegan, I was catered for without question, with my own bespoke menu; not just one, but two very tempting options.
---
Perfectly presented and fabulous flavours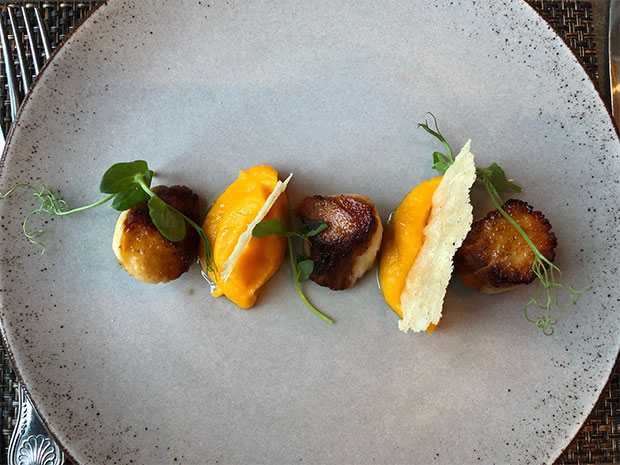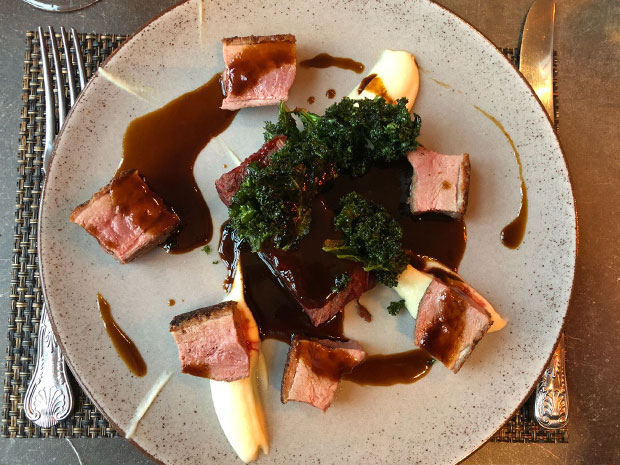 With the menu providing a bit too much delicious food for thought, it took a while to settle on our choices. After a toss-up between the final two, my husband chose the starter of pan-fried scallops with pumpkin and orange purée and a parmesan crisp. For main, he opted for the pan-roast duck breast with beetroot terrine, celeriac purée, crispy kale and jus.
For the vegan option I chose a starter of butternut squash salad with endive, radicchio, toasted pine nuts and pomegranate; followed by a main of five-bean chilli with homemade guacamole and sweet potato wedges.
Suffice to say we were both beyond delighted with our choices. The starters were simply exquisite; scallops cooked and crisped to perfection, and a salad that was light but bursting with unique flavours. We were off to an incredible start…
…And the mains continued to feed our culinary high. The chilli packed a fiery punch which was complemented by the homemade guacamole – the best I've ever tasted – and moreish sweet potato wedges. Meanwhile over in the meat corner, the duck was incredibly succulent and rich with flavour. And the only problem with the crispy kale was that we wanted more!
In fact, the meal was described by my husband as 'the best fine dining I've ever had'. So really, that says it all.
Finish on a sweet high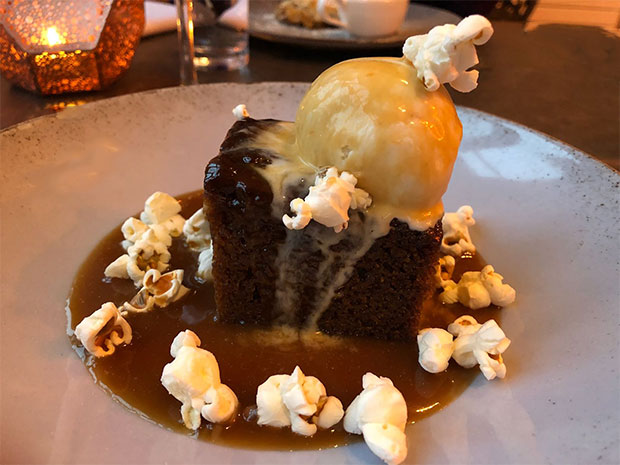 Suitably full but unable to resist the dessert menu, things got even sweeter with the third and final course.
Tempted by the lemon tart with raspberry sorbet, and the crème brûlée with honey-roasted fig, it was the irresistible sticky ginger cake that won out for my husband – accompanied by ice-cream, salted caramel popcorn and salted caramel sauce, it was the dessert of dreams.
And proving that vegan sweet treats are just as delicious, I was presented with an apple and cinnamon strudel; so good that I wasn't sharing, even when asked…
Plates clean and stomachs very full, it's fair to say that The Drawing Room's chef presented a meal which was nothing short of exceptional – and the best we've had in Cheltenham, bar none.
---
SoGlos loves
The Drawing Room is perfect for a special dinner or date night, but if you do want to extend your stay, you're in for a treat. SoGlos got a sneak peek inside the hotel's beautiful bedrooms – with their modern but characterful interiors, guests are in for a luxurious stay. Even better, they're great value and there are some dog friendly options too…
---
Top tip
Don't take our word for it. Test out the food for yourself; head chef Tim Townsend has been at The Drawing Room since October 2017, and his menu is one not to be missed.
While you're there, be sure to check out the bar for an aperitif; the cocktail menu is sure to tempt you, not to mention the wine selection and extensive choice of gins… go on, treat yourself.
---
What next?
For more information, see The Drawing Room, call (01242) 515119, or visit cotswoldgrangehotel.co.uk directly.
---
By Kathryn Purvis