In a nutshell
Combining cool modern décor with a fun and relaxed dining experience, The Fire Station in Cheltenham surprised us with its excellent Sunday lunch offering. A perfect mix of high-quality produce and superb customer service made this family-friendly bar and restaurant a fire station we'd be happy to call upon time and time again.
---
The review
Emergency call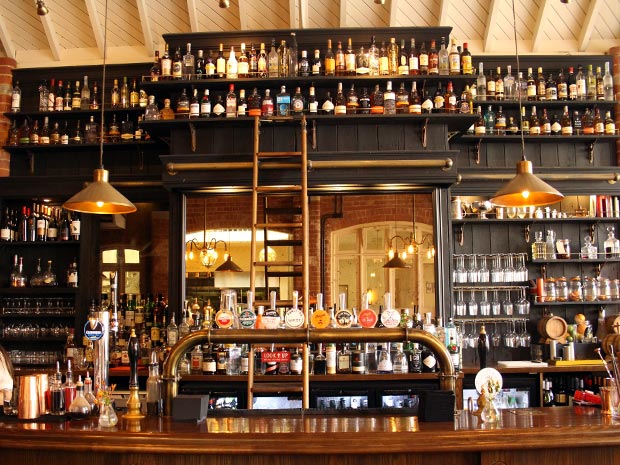 When SoGlos got the call to say The Fire Station had some last-minute availability to let us try their Sunday lunch menu, we were equal parts excited and hesitant. As someone who adores a roast dinner, I've always been quite reluctant to eat one anywhere other than home, thus eliminating the risk of disappointment – after all, no one quite makes roasties like your Mum!
But this venue, tucked away in St James' Square and best known as a quirky cocktail bar, has completely blown apart my preconceptions of what a pub Sunday lunch can be.
We were welcomed into the light and airy atrium, with its spiral staircase and period features, harking back to the building's roots as an actual fire station, 110 years previously.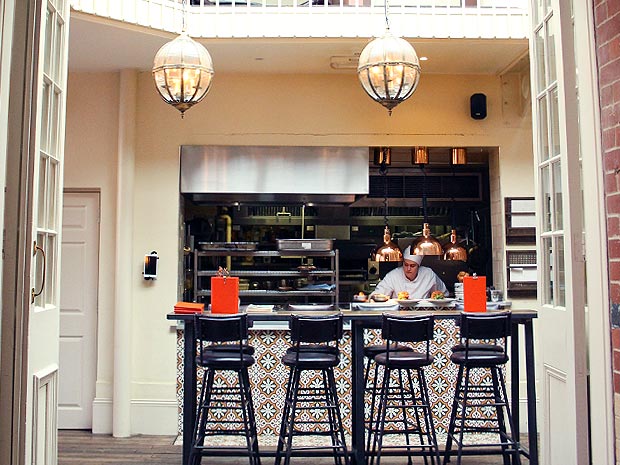 The Fire Station's eating areas varied from sociable tables surrounded by tall bar stools, family-friendly seating with enough room for a high chair, and snug corners, ideal for date night.
The bar's modern blend of industrial lighting, period brickwork and its centrepiece wooden bar created an effortlessly cool daytime atmosphere which we were comfortable bringing our toddler into. But, combined with an incredibly well-stocked bar and expertly mixed drinks, this versatile venue is easily transformed into a vibrant evening spot as night falls.
---
Firing on all cylinders
Striving for the title of #BestRoastInCheltenham, The Fire Station offered an eclectic range of high quality meat dishes including Slow roast Waveney Valley pork belly with apple sauce; Rare roast 28-day Aberdeen Angus sirloin with horseradish cream; Roast chicken supreme with confit leg croquette; and Spinach and chestnut mushroom Wellington. We opted for the pork and beef options, with a scaled down version of the chicken dish for our two-year-old, which was easily accommodated by The Fire Station's friendly waiting staff.
Each dish was served with a huge, fluffy Yorkshire pudding and a glazed roasted carrot. Alongside this were serving bowls filled with sliced greens, peas and kale that was buttery and salted to perfection; delicious beef gravy; and a mountain of crunchy-on-the-outside yet fluffy-on-the-inside roast potatoes – the holy grail!
I loved that the whole meal wasn't completely plated up in the kitchen. This gave us a real 'home-style' feel of sharing around the dinner table, something I didn't expect from a restaurant roast. In terms of flavour, the pork belly dish was tender and cooked beautifully; our son's chicken was 'yum' which truly is high praise from a person who can say fewer than 20 words; and the generous cut of beef was incredibly flavoursome, despite being closer to well-done than the rare advertised on the menu.
---
Going out in a blaze of glory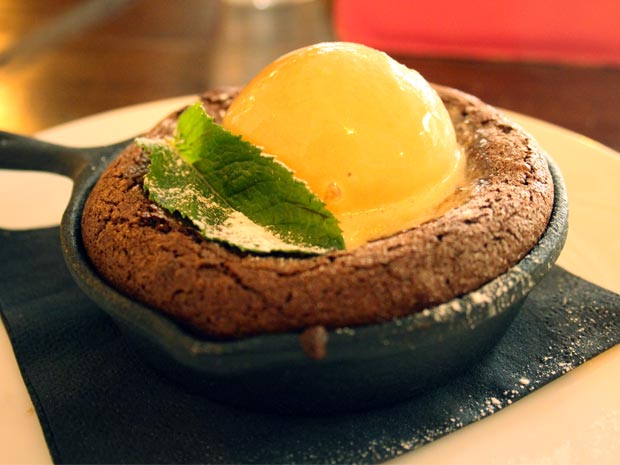 Despite being full-to-bursting thanks to The Fire Station's generous helpings, we couldn't help but try out the dessert menu which was filled with tempting choices.
Opting for the hot chocolate pudding with salted caramel ice cream; and a meringue served with cream, raspberries and a passionfruit coulis, we managed to squeeze in a second course, but didn't need to eat again for the rest of the day!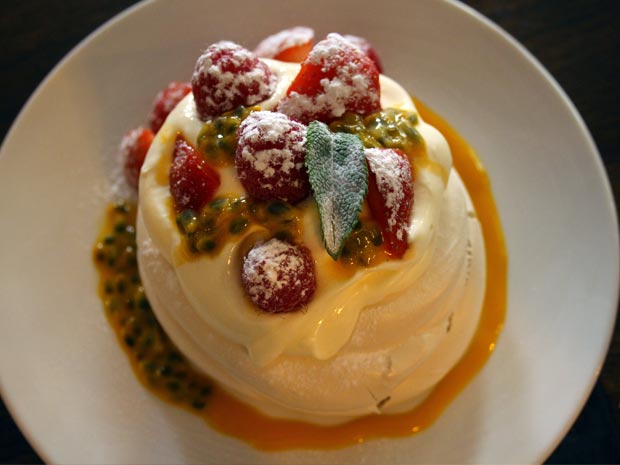 The hot chocolate pudding was absolutely incredible, the salt of the caramel ice cream cut through the rich chocolate pudding and the mix of hot and cold worked beautifully together. The meringue was chewy and delightfully refreshing when combined with the tart passionfruit and raspberry garnish; although an accompaniment of pouring cream or ice cream would have really enhanced this dish, making it the perfect summer dessert.
---
SoGlos loves
Staff at The Fire Station recommended that we try the Cauliflower Cheese as an extra alongside our Sunday lunch. The dish is big enough for two or three people to share and was an education in what cauliflower cheese should taste like!
Cheesy but not overpowering, crunchy but not underdone and delightfully moreish; We don't even eat cauliflower with our roasts at home, but after trying The Fire Station's version we'll definitely be introducing it to our repertoire. Make sure you give it a try!
---
Top tip
If Sunday dinner isn't your thing, The Fire Station offers an amazing Bottomless Brunch menu every Saturday and Sunday between 10am and 4pm.
Starting at £30 for two courses and £35 for three courses, guests can enjoy starters including Hummus, dukka and flat bread; Salt and pepper squid with lime, chilli and aioli or Nduja spicy sausage croquettes. Mains span Shakshuka baked eggs with spiced tomatoes and peppers, labneh and sourdough; Avocado smash with lemon, chilli, poached eggs and sourdough toast; full English breakfast and Cheeseburger with gem lettuce, tomato, pickled and house sauce. Desserts range from Banana bread, sticky toffee pudding and vanilla ice cream; pineapple carpaccio, coconut, lime and chilli; and the incredible hot chocolate pudding with salted caramel ice cream.
All of this delicious food is topped up with two-hours of bottomless Prosecco, Bellinis, Mimosas and a Bloody Mary. Perfect for blowing away the cobwebs!
---
What next?
For more information, see The Fire Station, call (01242) 809135 or visit thefirestationcheltenham.co.uk directly.