Providing a light-hearted look at life in a Cotswold spa town, during the races, an annual race week bingo card has been released.
Highlighting humorous sights to keep an eye out for around Cheltenham during Cheltenham Festival, this year's satirical list comes with a tongue-in-cheek health warning, advising readers not to use the bingo card as the basis of a drinking game.
The 2018 bingo card includes things like 'seeing somewhere that doesn't sell breakfast suddenly selling breakfast', 'seeing a shop covered in green (bonus points for a shamrock)' and 'seeing someone wearing tweed for the first and only time this year.'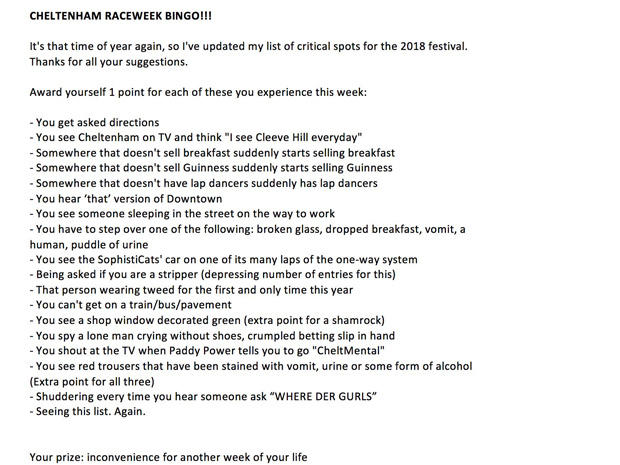 Andrew Lansley, who creates the bingo card list each year, told SoGlos: 'The idea for race week bingo came a few years ago when I was a councillor and was discussing the pros and cons of the Festival for our town with some friends. I posted a light-hearted list of some of the common experiences we shared from being life-long Cheltonians, but then I got loads of funny messages from friends with their own race week observations.
'I had no idea it would become a popular thing! I guess it just struck a chord with people around town, and the experiences I've shared with friends seem to be a familiar story across our town.'
Mr Lansley, who is also a Popular Music tutor at the University of Gloucestershire and performs with the band Thrill Collins, explained how he comes up with new suggestions for the bingo card: 'For the last three years it's been shared to a much wider audience, so when it comes around to race week I take a look at all the responses from previous years and try and work out the most popular ones.'