Set to showcase paintings and sculptures from a host of leading UK galleries, the second Fresh: Art Fair will return to the iconic setting of Cheltenham Racecourse from Friday 27 to Sunday 29 April 2018.
The contemporary art fair was co-founded by father-daughter duo, Anthony and Ellie Wardle; Anthony boasting a lifetime in marketing and advertising, and Ellie working in the contemporary gallery world, establishing her own art empire, Cheltenham's Paragon Gallery in 2013.
Discussing the inspiration behind the launch of Fresh: Art Fair, what visitors can expect, and what they're excited for at this year's event, Anthony and Ellie give SoGlos an insight into the inclusive art showcase.
---
Anthony Wardle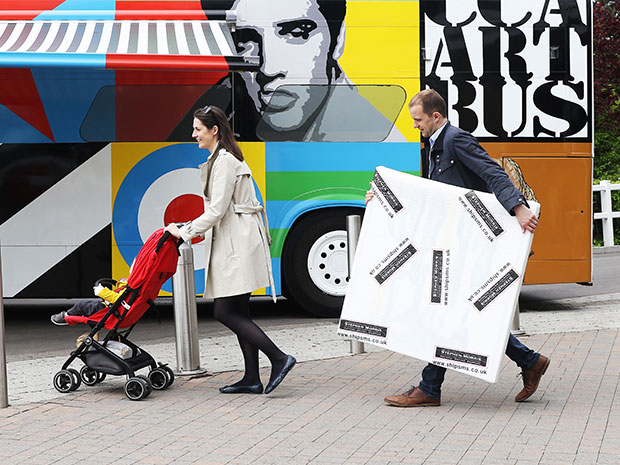 Can you tell us a little bit about your background in the art world?
Very little… marketing is more my department. But I used to work with Charles Saatchi when I was in advertising and our offices were festooned with his collection. I was also one of the organisers of what was once the Bath Contemporary art fair …way back.
What inspired you to start Fresh: Art Fair?
The marketing man in me. I saw a huge gap in the Cotswolds and indeed most of the West of England, where there simply was no large scale high quality art fair.
How would you describe the event, for those that aren't familiar with the concept?
In our case, an art fair brings together 48 leading contemporary art galleries from all over the country at Cheltenham Racecourse for three days.
It's a great way for Galleries to reach new customers but, more important, it's a fantastic way for time-poor art lovers to see some 5,000 paintings and sculptures in one place, with maybe a glass of wine in their hands, and buy something they love.
And before you ask, there's no racing …it's all about art.
What range of artwork will there be at Fresh: Art Fair?
As curator, this is very much Ellie's responsibility. From my point of view, we aim to offer enormous choice across most genres and media at prices that offer something for all budgets. Original prints and paintings, sculpture, glass and ceramics from £100 to £50,000.
Personally, what are you most looking forward to for this year's event?
We're launching a new outdoor Sculpture Park on the grass outside the Centaur Building. There'll be 70 works by around 15 sculptors in bronze, steel, stone and wood. It's taken a lot of organising so I'm really looking forward to seeing how it turns out.
And finally, what are your hopes for future Fresh: Art Fairs, in Cheltenham and beyond…
This is only our second fair but we do have ambitions. If 2018 is as successful as we hope, we plan to continue each year at Cheltenham with new work and new ideas, but also launch at new venues in other gaps around the country.
---
Ellie Wardle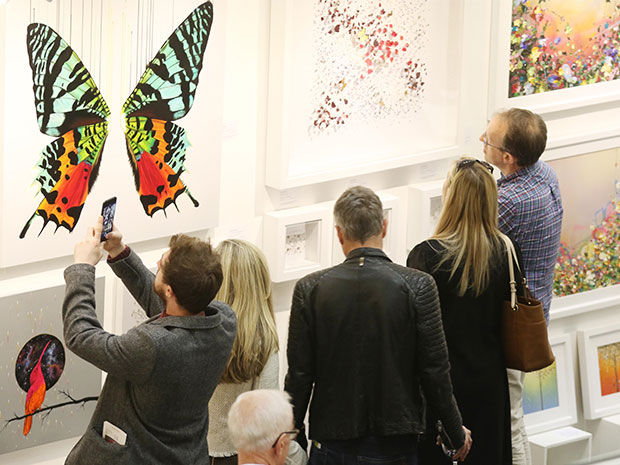 What is your background in art?
Well I used to paint but there's no time for that any more. I had a slightly unusual career choice after university, to become a professional horsewoman or get a serious job. I ended up working in an art gallery. That was 14 years ago… I now have my own Paragon Gallery in Montpellier Street, Cheltenham.
What made you want to start Fresh: Art Fair, along with running a gallery?
As a gallery, we exhibit at art fairs. Most galleries do. They pay dearly for their stands and it's a big risk. We began to see that exhibitors didn't always get a fair deal. There are two skills you need to run an art fair… curating and marketing… and we had them both. Add that to a gap in the market and it had to make sense.
How would you describe Fresh: Art Fair and what can visitors expect?
Fantastic art, a brilliant venue, an amazing buzz. There were 4,300 visitors over three days last year and they bought a lot of art. It was exciting. It's quite a big fair, much bigger than people seemed to expect and the quality of art is hard to beat. There'll be lots to see, artists working live, expert talks and bigger and better cafés.
Are there any artists you're particularly looking forward to seeing?
That's difficult. I see a lot of artists… about 500 approach Paragon Gallery each year and we'll have work from about 400 artists at Fresh.
If I had to single anyone out it would be Lucianne Lassalle (The Bowie Gallery). Lucianne is a wonderful sculptor in bronze and will again be demonstrating her work to our visitors, which she does with enormous charm and endless patience. Altogether, there'll be seven painters and sculptors working at the fair for people to watch and talk to.
Are there any galleries you'd love to have at Fresh: Art Fair?
We have 48 of the best UK Galleries and one from Dublin. Just take a look on our website. There are another 30 or more with their names down for 2019. There are plenty more out there but we really feel that what we have is as good as it gets.
And finally, what do you most enjoy about Fresh: Art Fair?
Hearing visitors say 'wow' when they first walk through the doors.
---
For more information see Fresh: Art Fair, call (01242) 224734, or visit freshartfair.net directly.