An award-winning business on the edge of the Forest of Dean and Gloucester, Severn & Wye Smokery opened the ultimate food and drink destination in 2017, with The Barn encompassing a restaurant, bar, fish market, deli, gift shop and café.
Getting an insight into its local artisan produce, impressive food and drink menus, incredible fish counter and the most popular dishes on the menu, SoGlos speaks to The Barn's dedicated team.
---
Cheryl Holes – shop manager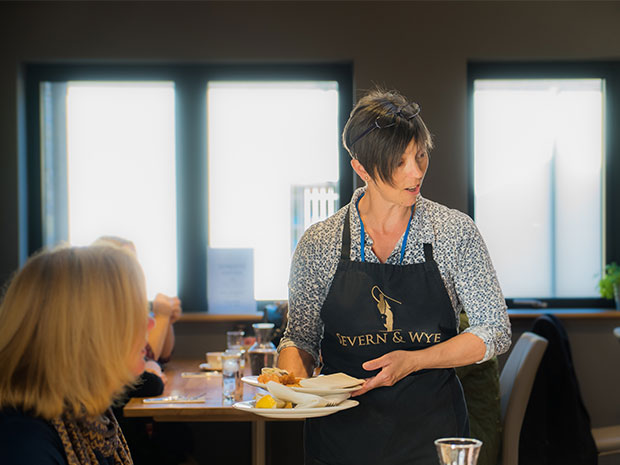 What kind of shopping experience can visitors look forward to at The Barn?
Visitors can look forward to a very warm welcome from all the team. We offer a vast selection of goods, specialising of course, in our own range of smoked fish, along with meats, cheeses and fresh fish. We have a huge choice of fresh fish delivered daily from various fish markets including Brixham and the Shetlands.
We have a wonderful array of individual artisan goods from our local suppliers and a new gift section. Customers can browse, shop and take advantage of the café for a quick coffee or a relaxed informal lunch, or alternatively pop upstairs to the restaurant.
Above all we have friendly, knowledgeable staff, but what really sets us apart is our genuine desire to help and connect with all our customers old and new.
You sell top quality produce; how do you decide what to stock?
We look at regular bestsellers, trending items and the potential introduction of new and varied products. Of course, we have seasonal choices with Easter and Christmas being the two most notable dates in the calendar and we invite local suppliers to wow us with their produce.
Why do you think it's important to champion local suppliers?
We have a continuing commitment to supporting our local suppliers, they really do have some fantastic artisan goods to offer. Gloucestershire boasts some of the finest producers in the country and we are very proud to be in a position to showcase and promote their stock. With our own local knowledge, we are able to direct customers to the right product.
Can you tell us about the range of food and drink goods you offer?
We're an artisan producer. We select the very best ingredients which we smoke in the time-honoured traditions. However, we are not just a smokery –we have a large national and international cheese counter, a selection of interesting local goods, and a deli counter which is stocked with delicacies made by our team of chefs.
Is there a range/ type of product that's particularly popular at the moment?
Most of our customers know us for our fresh fish and smoked salmon, and that is by far our most popular product created in-house. Sushi is becoming very popular of late and we have seen a definite increase in demand for our top grade fresh fish used in the preparation of these dishes.
From the feedback we have received since opening The Barn our customers appreciate the varied and diverse selections that we are now providing, not only in our wet fish area but across the shop as a whole.
And finally, are there any brands you'd like to stock?
There are no particular brands that come to mind immediately but we welcome and actively invite as many local suppliers to develop our range and bring an added flavour or two to The Barn.
---
Norbert Szalai – fishmonger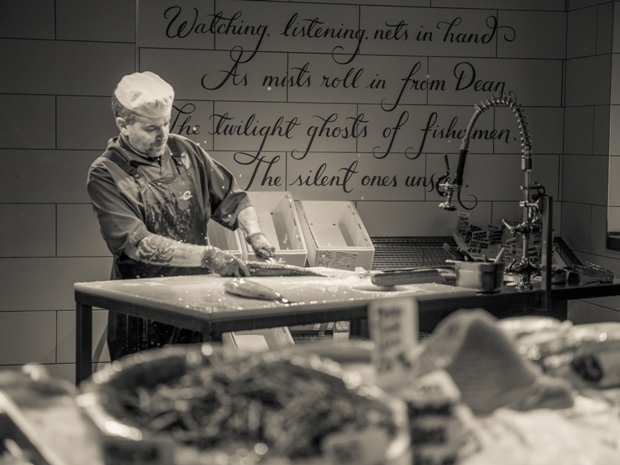 Can you tell us about the range of fish and seafood on offer at Severn & Wye?
At Severn & Wye we offer a wide range of fish from British coastal waters and from abroad. White fishes from the Shetlands including cod, hake, monkfish, haddock, halibut plus king scallops and mussels.
We also source top quality prime fish from Brixham, such as, turbot, wild sea bass, skate wings, lemon sole, Dover Sole, Cornish sardines and herring. They also supply our brown crab, cockles and clams. In season we also offer fresh elvers, wild salmon and sea trout.
How do you ensure that your produce is top quality?
To ensure that the quality of the fish is always the best possible, we only buy from quality sources – predominantly from day boats Monday to Saturday, and store it under fresh ice in a fish refrigerator just above 0 degree Celsius.
What is the most important thing when it comes to preparing (cutting, filleting etc) fish?
You have to keep your knife close to the bone, following the contours of the fish to remove the fillets perfectly. We also adhere to strict food safety practices to avoid cross contamination.
Do you have a favourite fish to prepare?
One of my favourite fish to prepare is sea bass but I also like filleting all kinds of flat fish.
How do you advise visitors when they're browsing the fish counter?
On our fish counter we have section where keep smoked fish, shellfish, fishmonger's specials, whole fishes and fillets. I usually advise the customers to choose their fish by sections, a little bit from everywhere.
And finally, what is your favourite dish at The Barn's restaurant?
My favourite dish in The Barn is beer battered cod with homemade mushy peas, tartar sauce and chunky chips.
---
Jerome Pidoux – restaurant manager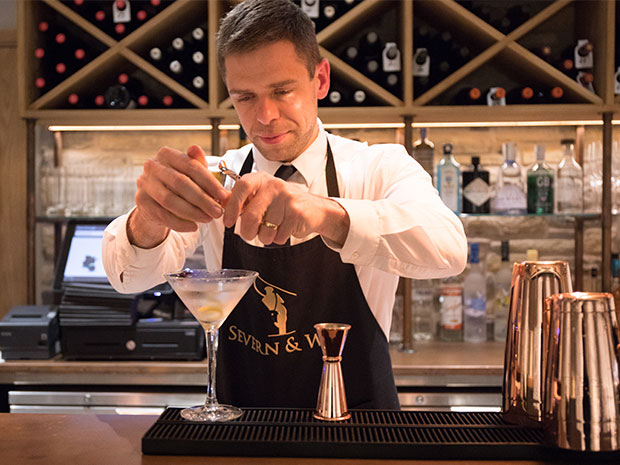 How would you describe the dining experience at the restaurant?
The restaurant is unique with a fantastic design. The style of service is informal and relaxed but professional. The menus are focused on fish and we have many dishes that can be shared. We have a wide variety of cocktails, wines and spirits.
How did you create the wine list and what was the inspiration behind it?
We wanted to create a wine list that is very diverse in regards of countries and regions. We have chosen a selection that is balanced in terms of what our customers could choose – from smooth, elegant wines to powerful wines to match the dishes and their tastes.
What's on the cocktail menu?
We have a selection of classics plus a few of my own creations. In the near future we would like to offer some cocktail masterclasses with tastings, demonstrations and the chance to recreate them at home.
What is your favourite thing about the food at your restaurant?
The quality of the product and how it is cooked – My first boss Paul Bocuse who owns three Michelin stars since over 40 years said to me, 'Une cuisine simple sera toujours la meilleur cuisine' – it means a simple cuisine will always be the best cuisine.
And finally, do you have a favourite meal on the menu?
Well, it is difficult to say as all of our dishes are amazing! However I believe that our VAR Salmon is phenomenal; you cannot get better anywhere else, you must taste it to understand it!
---
Mike Benjamin – head chef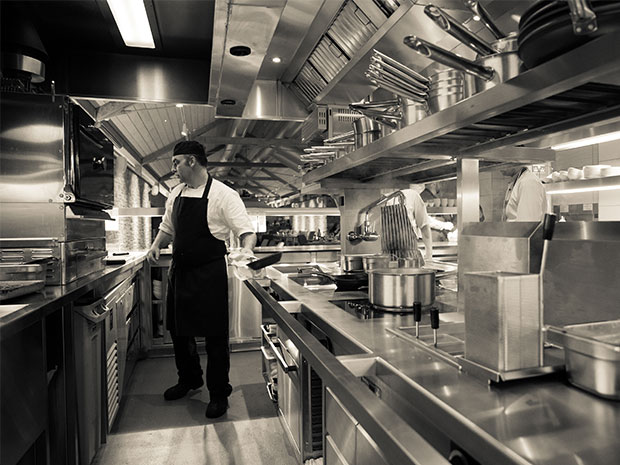 Can you tell us a little bit about your day-to-day role at Severn & Wye?
Every day is different which is what I enjoy.
What can of food can diners look forward to at the restaurant?
Very good, locally sourced seasonal ingredients which are simply prepared and cooked to give diners the best and freshest fish to the table. Also, all the smoked products come straight from the smokery and into the kitchen.
What's your philosophy when it comes to preparing food?
Let the main ingredient do the talking, and do not try to overcomplicate the dishes.
What aspect is most important when it comes to cooking and preparing fish dishes?
Freshness is the main ingredient to preparing fish dishes.
Is there anything on your menu that's particularly popular?
Some of the most popular items on the menu are the shellfish dishes, as there aren't many restaurants locally that have the selection that is available at Seven & Wye.
And finally, what meal off the menu would you recommend?
I would recommend the shellfish platter with chips and Asian slaw salad.
---
For more information call (01452) 760191 or visit severnandwye.co.uk directly.