In partnership with Hooray Recruitment | hoorayworks.co.uk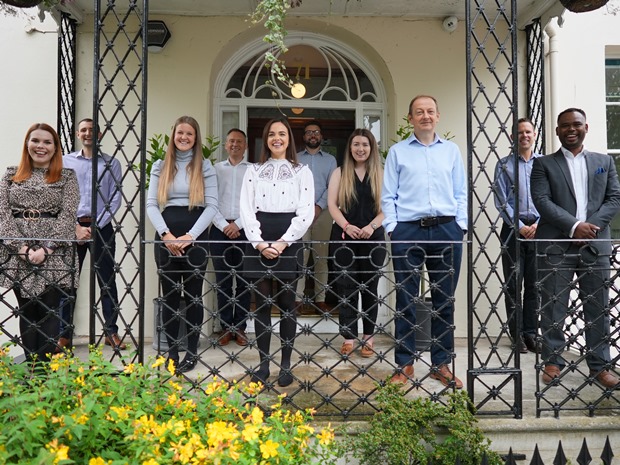 Cheltenham-based independent recruitment agency, Hooray, has an ethical approach to recruitment and covers the whole of Gloucestershire.
Hooray specialises in recruiting professionals in engineering, FMCG, health and social care, education, manufacturing, professional services and technology and has just launched a division dedicated to sourcing staff for senior roles.
From succession plans and appointments at two local law firms, to the former boss of ASOS becoming the chairman of a Cheltenham entrepreneur's latest venture, SoGlos takes a look at the key business appointments in Gloucestershire for June 2022.
---
Amy Leivers, Kirstie Carr, Lucy McCallum, Camella Cephas, Robert Selwood and Silas Miller – WSP Solicitors
With six invested directors appointed in June 2022, it's all change at one of Gloucestershire's best-known law firms, WSP Solicitors, which has offices in Stroud, Gloucester and Dursley.
The appointments include current WSP directors, head of commercial property, Amy Leivers; head of private client, Kirstie Carr; and Lucy McCallum, head of residential property; as well as associate solicitor in the childcare division, Camella Cephas; deputy head of private client, Robert Selwood; and marketing manager, Silas Miller.
The appointments are part of a succession plan actioned by managing director, Judi Bonham, and commercial director, Peter Mardon – aiming to transitioning ownership of the firm into new hands by 2026.
Bonham said: 'We have been thinking about the future of our business and how best to leave it in safe hands for the benefit of our loyal and valued clients and employees, so, despite offers from other law firms, we preferred continuity and have assembled a strong team that we feel are perfect to take WSP into the future and best serve our clients and community.'
The succession project will run over the next four years as the six new invested directors take on greater responsibilities in the business and the local community.
---
Sandy Hore-Ruthven – Severn Wye Energy Agency
The board of trustees at Severn Wye Energy Agency has announced that Sandy Hore-Ruthven, former head of the Creative Youth Network, will be joining the charity as chief executive officer in July 2022.
Hore-Ruthven brings a wealth of executive and non-executive experience across the charity and voluntary sectors, and a track record of partnering with a broad range of local authorities and organisations.
He was also a founder member of the Bristol Mayor's 'One City' board, initiating its plans to reach Net Zero by 2030 and working with business, charities, communities and local authorities to tackle a range of other environmental issues.
---
Nick Beighton – Secret Sales
Nick Beighton, former ASOS chief executive, has become the new chairman of Secret Sales, marking a return to the online fashion sector.
His appointment is regarded as a coup for the platform, bought by Gloucestershire retail entrepreneur, Chris Griffin, and business partner, Matt Purt, two years ago. In the last 12 months, Secret Sales has achieved a sales growth of more than 150 per cent.
Beighton left ASOS last year and joins Secret Sales as the firm begins ambitious international expansion plans.
---
Lucy Morrison – Hedges Law
Lucy Morrison has taken the reins from Nicola Poole as Cheltenham-based Hedges Law's new managing director, as part of a long-term succession plan and restructure, which has resulted an all-female board.
Morrison, who lives in the Cotswolds, is a described as a highly experienced commercial lawyer with a Cambridge degree, and previously led the largest legal training and development company in the country.
She becomes board director of culture and innovation at the firm, which is an employee-owned trust. Karen Edwards, who has over 18 years' experience in law, continues as operations director.
---
Wade Elliott – Cheltenham Town FC
Former Birmingham City and Bristol City midfielder, Wade Elliott, has been named as Cheltenham Town FC's new coach after spending the last two seasons at the club.
The 43-year-old has agreed a two-year contract, moving up to the role after the departure of Michael Duff to Barnsley.
Also formerly of AFC Bournemouth and Burnley FC, Elliott is a UEFA pro licence coach. He was brought to Cheltenham Town by Duff after working with the under-23 teams at Bristol City and Stoke City.
---
James Strickland – Hercules Site Services
Gloucestershire businessman, James Strickland, has announced that he is starting a new position as mergers and acquisitions consultant at Cotswold Hercules Site Services – which provides services to the construction and civil engineering sectors.
Strickland was part of the team that grew and sold Passionate About People to Staffline Group in 2018. More recently, he has been pouring his energy into Cheltenham-headquartered Neptune Rum, a business he bought with his long-standing business partner Raymond Pugh in 2020.
---
Gary Leitch – FOLK2FOLK
FOLK2FOLK, a specialist in secured lending for UK regional SMEs, has appointed experienced finance executive, Gary Leitch, as its new chief operating officer.
The firm describes Leitch as a highly experienced and respected financial services leader with a reputation for delivery, particularly for businesses looking to make a significant change.
He has 34 years of experience in the retail, SME and corporate markets, as well as extensive asset finance experience across a series of senior appointments, including on the board at Lombard and Paragon Bank.
---
Dr Julie Urquhart – Forestry Commission
Dr Julie Urquhart, associate professor in environmental social science at the University of Gloucestershire, has been named on an advisory body to a government department responsible for the management of forests in England.
Dr Urquhart, who works within the Countryside and Community Research Institute (CCRI) based at the university, has been appointed to the Forestry Commission's expert committee on forest science (ECFS).
Working with Forestry England and Forestry Research, the Forestry Commission is the government department responsible for protecting, expanding and promoting the sustainable management of woodlands.
---
Andrew Newland – Snowflake
Andrew Newland has started a new position, supporting central government business development at Snowflake.
Snowflake delivers the Data Cloud—a global network allowing thousands of organisations to 'mobilise data with near-unlimited scale and performance'.
Newland was formerly with IT services and consultancy, SCC, and is a former deputy chairman of governors at St Edward's School in Cheltenham.
---
Ian Mean – celebrated in the Queen's honours list
Ian Mean, vice chairman of the Gloucestershire Local Enterprise Partnership, GFirst LEP, and Business West's director for Gloucestershire, has been appointed an MBE in the Queen's Birthday Honours.
Mean was honoured for his services to the community of Gloucestershire, where he is also a director of the Forest of Dean Economic Partnership and an honorary vice president of Gloucestershire College.
For the last seven years, he has also been chairman of Gloucestershire Hospitals Organ Donation Committee and regional chairman for South Central Division of NHSBT organ donation committees, which includes 10 hospital trusts from Gloucestershire to the Isle of Wight.
---
The Reverend Dr Rebecca Lloyd – Gloucester Cathedral
The Reverend Dr Rebecca Lloyd has been formally invited by The Right Reverend Rachel Treweek, Bishop of Gloucester, to become Gloucester Cathedral's new canon chancellor and director of learning and participation.
Reverend Dr Lloyd will be a full-time member of Gloucester Cathedral's clergy, sharing in priestly ministry and regularly leading worship, as well as shaping its new learning and participation team, with special oversight of its important education and social responsibility work.