Business and civic leaders in Gloucestershire have paid tribute to Cheltenham BID director, Kevan Blackadder, who died this week following a short illness.
Mr Blackadder served as both the editor of the Gloucestershire Echo newspaper, as Cheltenham town centre manager and then director of its business improvement district (BID) and was well-respected across Gloucestershire and beyond.
He was passionate about helping Cheltenham town centre improve and thrive, supporting hundreds of businesses and helping establish events now enjoyed by thousands of residents and visitors annually.
Chair of Cheltenham BID's board, Alex Rose, said: 'Cheltenham has lost one of its biggest pillars. Kevan worked tirelessly for the benefit of the town and was a friend to so many.
'He was the driving force of so many of Cheltenham and the BID's successes. Even during his illness, he was still working and keeping up to speed. I and the BID team will miss him greatly.'
Operations manager of Cheltenham BID, Belinda Hunt, said: 'Kevan was such fun to work with. He always saw the positive side of a situation and no matter how difficult the circumstances, he always managed to help put things in perspective.
'His passion for Cheltenham was infectious and you couldn't help but be swept along by his enthusiasm, with the businesses interests always at the heart of everything he did as BID director. I feel very fortunate to have worked with him as he helped the BID team to grow as people.'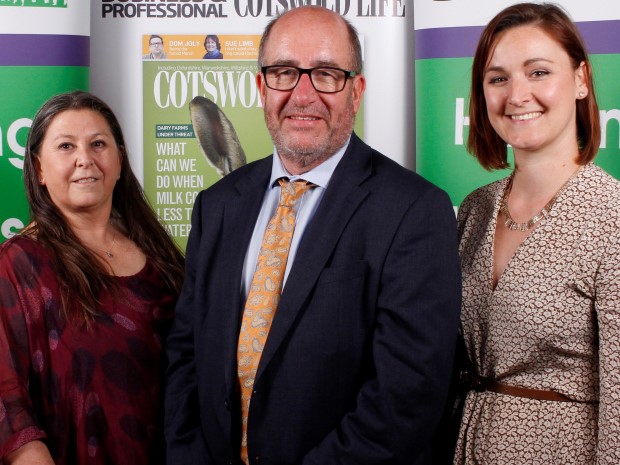 Kevan Blackadder with BID colleagues Belinda Hunt and Maria Allebone
Cllr Rowena Hay, leader at Cheltenham Borough Council, also said: 'We are saddened to hear of the sudden passing of Kevan Blackadder.
'Kevan was very well known in Cheltenham. He was a key voice and ambassador in representing businesses and championing the town and wider Gloucestershire, in his role as director at the Business Improvement District and prior to that as editor of the Gloucestershire Echo.
'He will be sadly missed as a respected colleague and friend to many. Kevan's passing will be a huge loss to the town. Our thoughts are with Kevan's family at this time.'
Director of Under The Prom and Coco nightclubs in Cheltenham, Philip Jordan, said: 'He and Liz are great people. He did so much for the town and had such an impact on Cheltenham in the last few years.
'On a personal level he helped me a lot and was always there for me. He deserved so much more.'
Chief executive officer at GFirst LEP, David Owen, said: 'Everyone at GFirst LEP was very upset to hear the sad news about Kevan. He was a great ambassador for Cheltenham, for the LEP and indeed the whole county.
'He was a very proactive and dynamic member of our Retail & High Street Business Group and he will be sorely missed. Rest in peace Kevan.'
Sam Holliday, FSB development manager for Gloucestershire, as well as a former editor of the Bath Chronicle newspaper, said: 'We were editors of very similar papers at the same time and we would share our experiences and we always had a laugh.
'Then when I left, moved to Gloucestershire and joined the FSB here, I discovered Kevan was now in the business world as well.
'He had the same kind of commitment to business as he had to newspapers and obviously cared deeply about Cheltenham. He was a decent, honest, lovely guy who did what he did with passion.'
Pete Allison of County Business Shows, said: 'I can't quite believe it. Kev was an incredible ambassador, supporter and mentor for so many projects I've been involved with from Greenbelt and Wychwood through Cheltenham Motorsports and The Sustainable MotorExpo to the very genesis of Gloucestershire Business Show.'
Mr Blackadder, who celebrated turning 60 last year, began his career as a reporter working for his home-town newspaper, the Whitehaven News in Cumbria; he then moved to the Bristol Post, before eventually settling in Gloucestershire with his wife, Liz, where he became editor of the Gloucestershire Echo.
In 2015, Kevan became manager of the Cheltenham Business Partnership, which sought to bring businesses and organisations together for the benefit of the town.
Then in 2016 he moved into his role as director of Cheltenham BID and worked tirelessly to support businesses and improve the town centre.
In his five years as director, Cheltenham BID took ownership of the town's Christmas light switch-on and markets, building the event each year and paving the way for more festive offerings for residents – including an ice rink which is expected in 2021.
Mr Blackadder helped establish Light Up Cheltenham, Cheltenham's Boutique Sale and Cheltenham's Chilli Fiesta plus the Cheltenham Festivals …Around Town initiatives, which offer free activities for Cheltenham's residents and visitors.
Cheltenham BID has also been responsible for town centre initiatives such as Tidy Up Cheltenham and Cheltenham in Bloom which have both been credited with improving the town centre.
Despite settling in Bishops Cleeve, Mr Blackadder never forgot his roots, passionately following Carlisle United Football Club throughout his life. He also enjoyed keeping active both at his local gym and walking.
In summer last year he took a step back from his role within Cheltenham BID due to illness, but avidly followed Cheltenham BID's work and continued to support where he could.
Kevan is survived by his wife Liz.
By Andrew Merrell
---
Follow SoGlos on LinkedIn and sign-up to the weekly SoGlos business newsletter for the very latest Gloucestershire business news stories.