When the pandemic finally brought an end to a beleaguered Debenhams there was concern what this meant for Gloucester, with the department store a crucial part of the city centre's retail offering.
And with the landmark building abutting the multi-million pound city council-led regeneration of King's Square, there were fears the new-look quarter would be overslooked by a crumbling eyesore.
But those concerns have been wiped away, with the University of Gloucestershire declaring itself the new owner of the 1930s Art Deco building.
How much it paid for the five-storey building or how much it will invest has not been revealed, but it is happy to talk about what it plans to do with the 20,000 square metres of space.
Stephen Marston, vice-chancellor at the university, said: 'By repurposing this iconic building into a new hub for learning, we can make a major contribution to creating a better future for our community.
'We have ambitious plans for growth in our student numbers and the range of higher education courses we offer.
'The restoration of this iconic building will enable us to create the additional space we need for additional students and staff in a location with excellent transport links, new student accommodation, and local services in a phased way, while boosting the city centre economy.
'This is all part of the wider ambition, working with partners to bring new life and vibrancy to the high street.'
The potential positive knock-on for the high street was echoed by Peter White, manager of nearby King's Walk Shopping Centre, which is currently undergoing investment of its own and has other exciting plans up its sleeve.
'This is more great news for Gloucester. With the King's Square redevelopment on track, investment we are making in King's Walk, it all bodes well for the city and for footfall when we begin to re-open properly again post lockdown,' said Mr White.
Kieron Bates, the chairman for Gloucester BID, said: 'This is a welcome addition to complement all the work that is taking place in King's Square. Most importantly, it will be used and bring more people into the city.'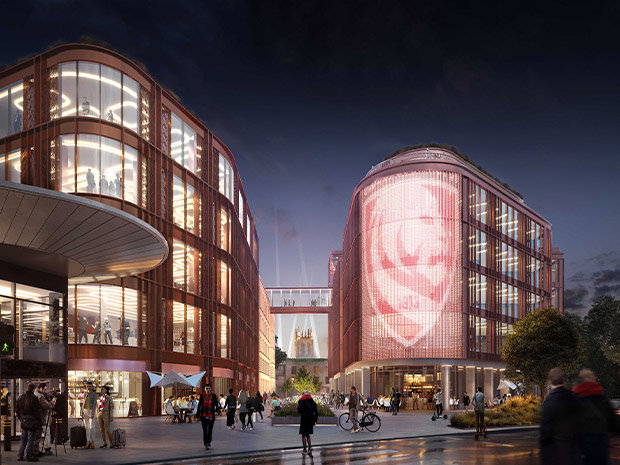 Pictured: An artist's impression of The Forum, the final transformation of Kings Quarter, of which King's Square is a major part
Councillor Richard Cook, leader of Gloucester City Council, which owns King's Square and has led its redevelopment, said: 'This is fantastic news which not only guarantees the future of this much-loved building, but also sees it become a hive of activity and learning.'
The Forum, he said, would add to the mix by bringing in 'specialised digital and technology companies creating a thousand new jobs'.
'Combined with the transport hub and the refurbishment of the train station that is set to begin this year, our long-standing vision to regenerate and revitalise this part of the city is well on the way to becoming a reality,' said Mr Cook.
Peter Langley-Smith, development director at Reef Estates Ltd, which is leading the King's Quarter development for the city council, said he was delighted by the news.
Richard Graham, MP for Gloucester, also called the move 'great good news' for Gloucester.
Jeremy Hilton, Liberal Democrat city councillor, also called the acquisition 'good news'.
A vibrant campus here will bring life back to the city centre. I am delighted that they are going to retain, restore and repurpose this magnificent 1930's building.'
The University intends to 'fully refurbish' the former department store to create 'attractive, modern spaces for teaching and learning for students and staff, accommodating the University's ambitious plans to expand the scale and range of its higher education programmes'.
Its 'rapidly expanding' nursing and allied health courses are among the options being explored.
It will also look at 'working with local partners' to allocate part of the ground floor space for dual-use facilities for the community and the university, offering city-centre access for the public to services.
The university said it hoped phase one of the project could open as early as September 2023.
Read more: An innovative new music venue is coming to Gloucester's King's Square
Read more: Architects offer tantalising glimpse of the future for Gloucester's Debenhams building
Read more: Gloucester's former Debenhams building could be 'under offer'
By Andrew Merrell
---
Follow SoGlos on LinkedIn and sign-up to the weekly SoGlos business newsletter for the very latest Gloucestershire business news stories.