In a nutshell
For fuss-free, flavoursome food and a lively, laidback atmosphere, Bar & Wok is the place to go in Cheltenham. Expect service with a smile, plates piled high with Chinese delights, and to leave with a very happy – and full – belly.
---
The review
Take a seat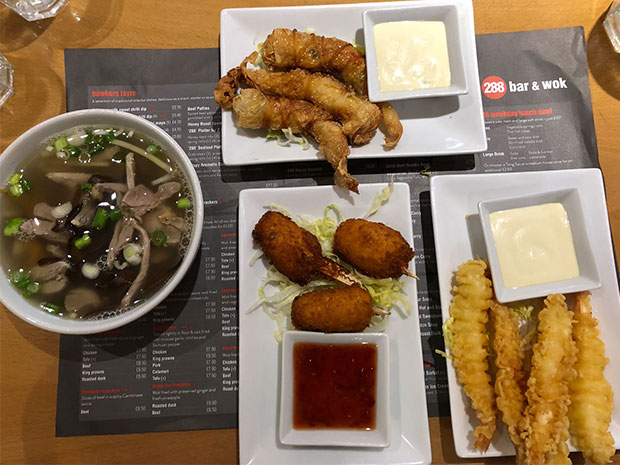 A local favourite thanks to its bustling atmosphere, great value and, most importantly, delicious Chinese dishes, Bar & Wok remains one of Cheltenham's best-loved independent restaurants.
With its reputation cemented by winning the highly commended award at the SoGlos Gloucestershire Lifestyle Awards 2018, we were excited to tuck into the eatery's amazing Asian delights, turning up on a sunny summer's evening with stomachs rumbling.
The ever-friendly staff are always happy to help when choosing from the extensive menu, and this occasion was no exception. Whether you want to know how spicy something is, alter a dish for dietary requirements, or get a recommendation – you're in safe hands!
Having feasted at Bar & Wok a fair few times, it's fair to say that we have some firm favourites on the menu (the spring rolls and vegetable dumplings are always a treat); this was the chance to enjoy tried-and-tested dishes, as well as some exciting new plates.
---
Tuck in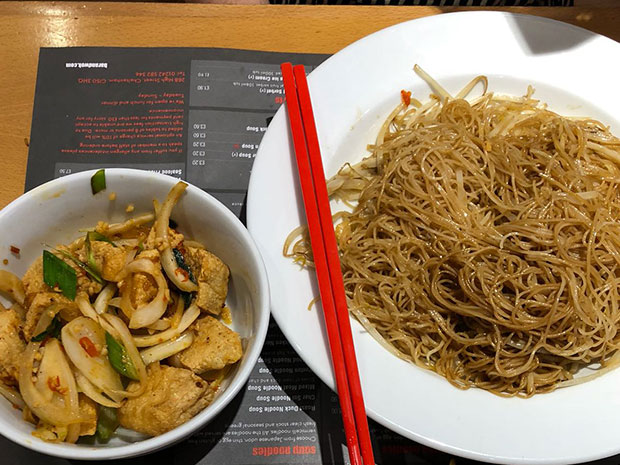 There's so much choice on Bar & Wok's menu that the only problem is narrowing down what to have. After some deliberating, we went for starters of vegetable tofu wraps, crab claws, tempura king prawns, and shredded roast duck soup.
Both the tempura king prawns and tofu wraps were a great start to dinner; served with a wasabi mayo, the starters were light and delicious – the perfect way to whet our appetites!
The crab claws were a definite highlight, bursting with flavour and given a zing thanks to the accompanying sweet chilli sauce. And whilst it was a hot day, the duck soup went down a treat, filled with tender meat and a rich broth.
---
Loosen your belt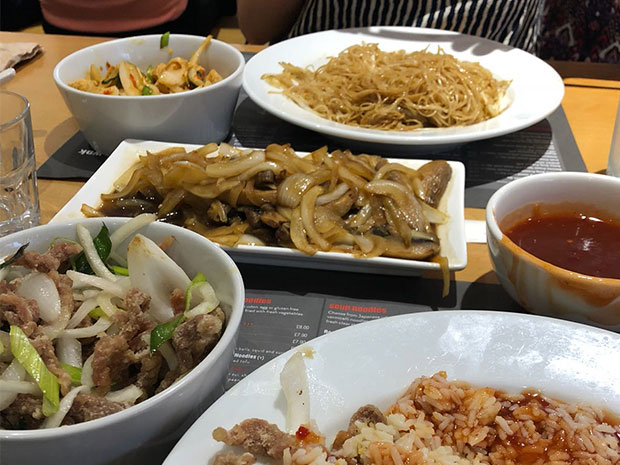 For the main event, it was the big plates that tempted us; encompassing a wide variety of wok-fried dishes served with rice or noodles, we chose the garlic pepper tofu, and the shredded crispy beef with spicy Cantonese sauce.
Out of the main meals, it was the garlic pepper tofu that won out; fried with garlic, chillies and Sichuan pepper, the dish had a lovely little kick and was incredibly moreish. And thanks to the waitress's advice, the amount of spice was perfect.
Our eyes were a little bit bigger than our stomachs, so although we did a good job of polishing off our meals, there definitely wasn't room for dessert!
---
SoGlos loves
Big portions at a reasonable price – Bar & Wok ticks all the boxes for great dining. And for even better value, take advantage of its special weekday lunch deal or evening deal on Sundays, providing all the more reason to pay a visit to this popular Cheltenham restaurant.
---
Top tip
Bar & Wok's portions are definitely hearty, so it's the perfect place to go with friends and share different dishes. But if you do find, as we did, that your eyes are bigger than your belly, there's good news, too; Bar & Wok allows you to take your leftovers home, so that nothing goes to waste.
---
What next?
For more information, see Bar and Wok, call (01242) 582346, or visit barandwok.com directly.