Who is Toni?
When the SoGlos team arrived at Toni's Kitchen, a contemporary Italian restaurant from the team behind Gloucestershire's infamous pizzeria, Fat Toni's, we did not expect such a decadent offering of food.
The bespoke tasting menu was passionately created by head chef Jason Domenico Orsi, known by some as 'Toni', a name chosen to pay homage his family's roots.
After being welcomed into the restaurant, which has seen the former Bisley House pub transformed into an establishment with a contemporary yet homely feel, we began the evening by viewing the outdoor space. With a number of tables set up for alfresco dining, the tranquil garden provides a wonderful suntrap for evening diners during the summer months.
Back inside the restaurant, we were shown to our table where flutes of elderflower prosecco – known as a Hugo, were served to us; a lovely, refreshing start to what would become an evening of quality food.
---
Antipasto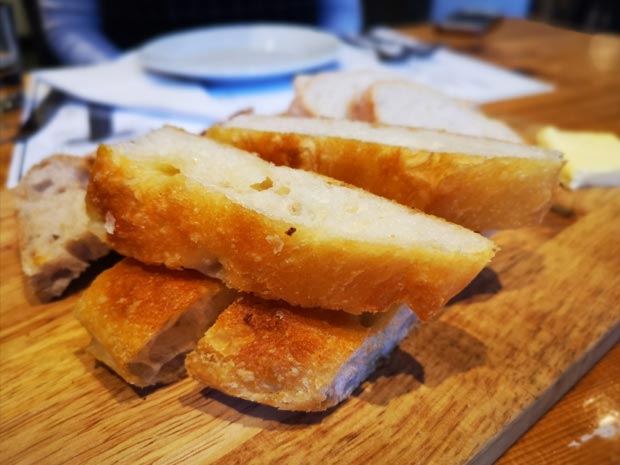 Starting with a selection of bread, handmade by the family, and available to buy at the nearby Fat Toni's Pizzeria and Bakery in Five Valleys shopping centre, we couldn't get enough of the olive oil and balsamic vinegar, which had a sweet taste that perfectly complemented the saltiness of the dough.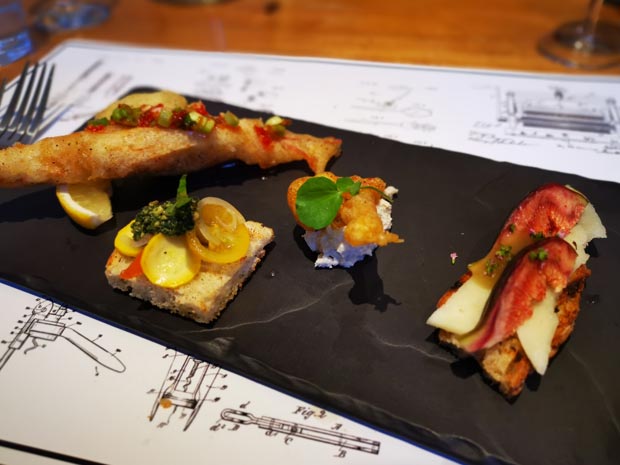 Next came a selection of antipasto 'mini' tasters, served on a slate board. We didn't know where to start – perhaps with the gorgeously herby garden heritage tomato crostini, or tempura prawn with sweet chilli sauce? Or maybe the pecorino and garden fig, followed by the spiced cauliflower wing with butterbean hummus?
The truth is, no matter what we opted to delve into first, I was pleasantly surprised to find that all samples seemed to accompany each other in the most agreeable way.
---
Primi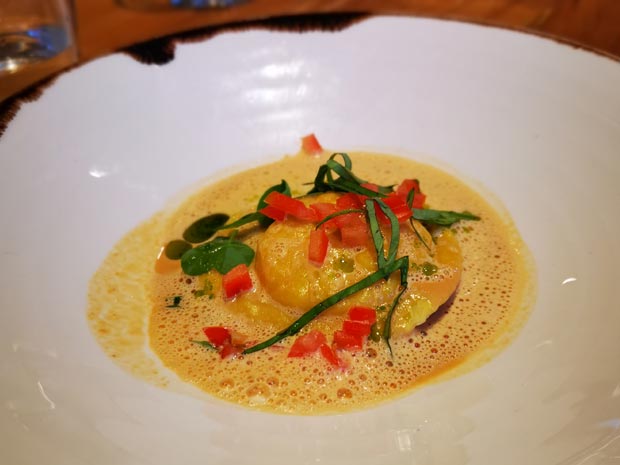 Although I already felt as though starters had been and gone, we were next served two offerings from the Primi menu and, of course, I wasn't going to refuse such decorative dishes.
Starting with the crab and salmon ravioli – complete with shellfish cappuccino, the dish was alive with seafood-y goodness. I was assured that the vegetarian option of burrata ravioli was just as tasty, enhanced by its rustic garden tomato sauce.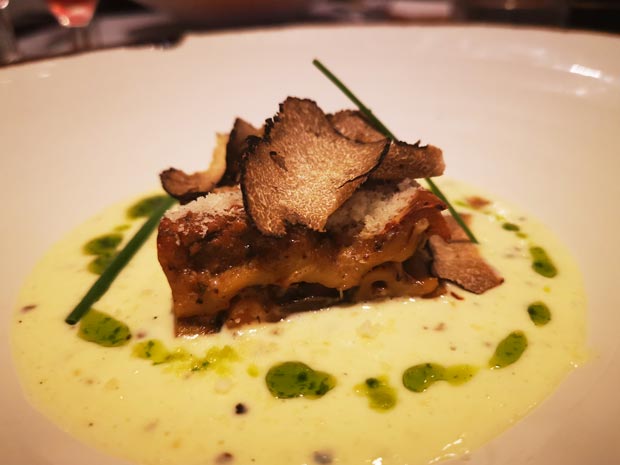 Secondly, a wild mushroom and truffle vincisgrassi with parmesan cream was placed before us, its earthy tones complemented by the rich, cheesy sauce. This truly was an education in how truffle should be served.
---
Secondi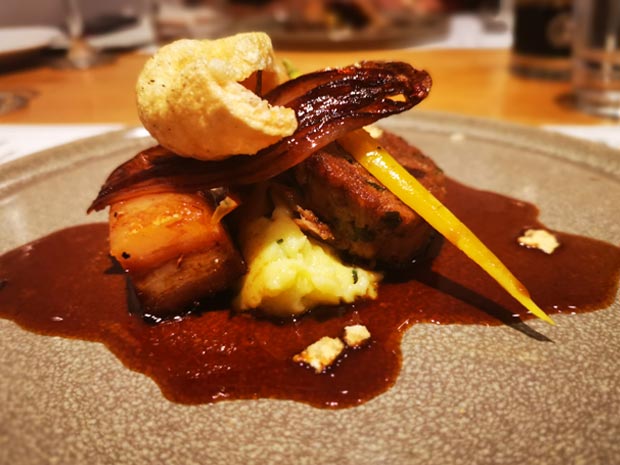 The (first!) main course was braised pork shoulder and pork belly with sage mash for the meat-eaters, and garden veg risotto with cranberry vinegar shallots for me – the pescatarian of the group.
The team described the pork shoulder as tender and 'melt-in-the-mouth', with the pork belly offering a flavourful, salty note into the mix. Served on a bed of 'the buttery-est mash ever', the meat was topped with shallots and crispy crackling, which so thin and delicate the team couldn't quite believe what it was!
My dish was equally as impressive. The sweetness of the cranberries worked in harmony with the courgette flower and rich, creamy risotto. I don't think I spoke until my plate was cleared; it's safe to say that one will be difficult to top.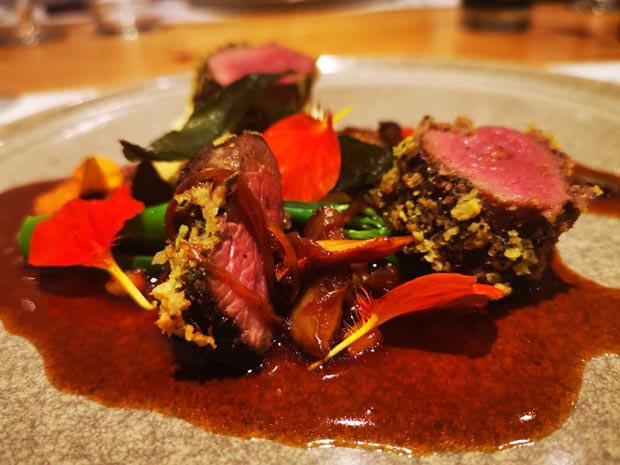 After a short, much-needed break, our second main arrived. The carnivores at the table were served herb-crusted venison loin with herb polenta and forestiere sauce, while I was presented garden herb pesto tagliatelle – an option I definitely would have chosen without hesitation.
Through muffled 'mmm's and 'ahhhs', the team described the venison as an aromatic explosion of flavours. The peppery crust highlighted the fragrant mash, which was topped by edible nasturtium petals. Beautifully pink and seasoned to perfection, the meat was stunningly presented – a true feast for the eyes.
With pesto made with herbs plucked from the nearby kitchen garden, my tagliatelle dish exceeded all expectations. The nuttiness from the pine nuts paired with the crispy sage was amazing, and you just can't beat hand-made pasta.
---
Dolci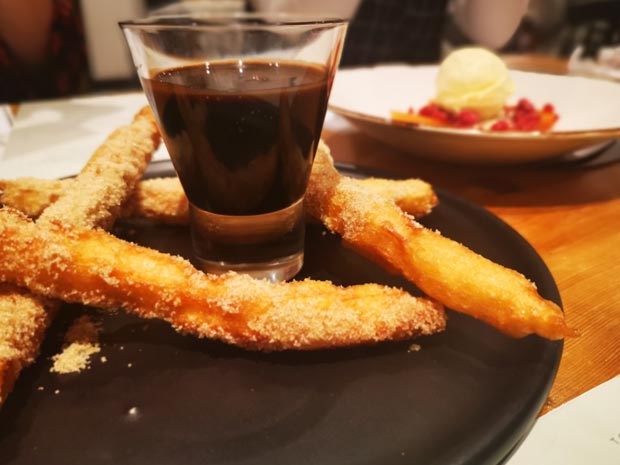 Now came the course most favoured by us all – dessert. Somehow finding enough room for three more dishes, we couldn't get over how delicious everything was, and, if our stomachs had let us, we could've tucked in all night.
We began with thyme roasted peaches with lemongrass ice-cream, a refreshing 'palette cleanser' that was perfectly sweet, without being sharp.
I had to stifle a squeal of excitement when the vegan churros were placed down – the warm, dark chocolate dipping sauce delighted the chocoholics of the group and, although coated in brown sugar, the churros weren't too sweet.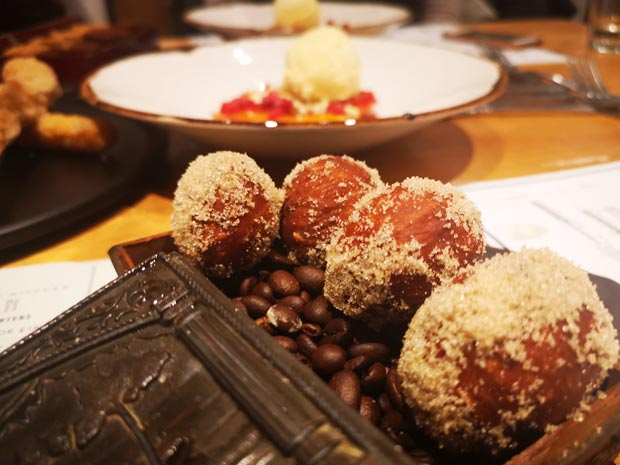 Finally, the petit fours were served to us in vintage chocolate boxes filled with coffee beans. The selection of chocolate 'nemesis' truffles; Bombolini Italian street doughnuts; and mineralised salt fudge meant that, again, we were spoilt for choice. The truffles were rich and gooey with a dusting of cocoa – a dessert in their own right. Covered in a coating of sugar, the doughnuts had a lovely hint of cinnamon and the salty beads of fudge were bound together with a gorgeously sticky caramel.
---
SoGlos loves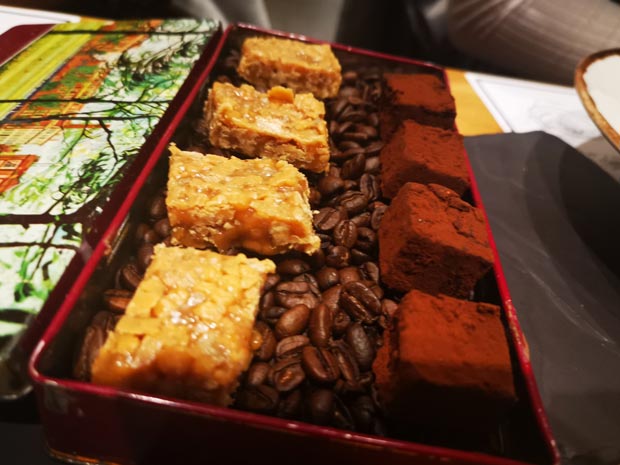 Toni's Kitchen creates Italian-style dishes with a French refinement, working with fresh, quality ingredients. The ever-changing main and vegan menus incorporate vegetables locally-grown in the kitchen's garden, from garden heritage tomatoes and yellow courgettes, through to delicious herbs and edible flowers. The chef's passion is reflected in the quality of each dish, combining the love of family heritage and passion for food innovation.
We can't wait to discover what 'Toni' and his team come up with next.
---
Book now
For more information see Toni's Kitchen , call (01453) 751328 or visit toniskitchen.co.uk directly.
---
By Amy Wright