In a nutshell
The future of conservation in the heart of Gloucestershire. Slimbridge, much like the ecology in its landscape, is constantly evolving to become more than just a wetland centre. Combining seasonal trails, interactive wildlife talks and fun activities for little ones, a day out at Slimbridge really does offer something for the whole family.
---
The review
For toddlers
Having last visited Slimbridge when I was at school some 25-years ago, my memories of this heritage Gloucestershire attraction were somewhat removed from the family friendly day-out that's on offer today!
After winning the Family Day Out of the Year award in the 2018 SoGlos Gloucestershire Lifestyle Awards the venue is one that's been on my to-visit list for quite some time.
After parking in the large free car park, we made our way into Slimbridge's visitor centre, picked up a bag of grain for £1.50 and made our way out to feed the birds. My two-year-old enjoyed getting close to the very tame geese, moorhens and ducks which wandered along the paths; some would even peck from your hand, which was a lovely experience!
What struck me was how easy the entire grounds were to navigate. Whether you're using a pram or a wheelchair, the whole of Slimbridge is marked out with well landscaped paths, ramps and bridges. There were very few areas that were inaccessible on wheels – a big plus.
Perhaps our favourite part of the day was a trip to Welly Boot Land. This year-round attraction in the centre of Slimbridge is an amazing addition to the centre. Allowing children to don their wellies or strip down to their swimmers in hotter weather, kids can splash in fountains, chase the flowing rivers and build a dam. Having visited on a warm Wednesday, this was the ideal place to cool off from the summer sun.
We ventured into Toad Hall, housed inside the main visitor centre, which comprised of an educational amphibian area, where guests can get up-close and personal with frogs, toads and even poisonous newts! The staff giving talks in this area were incredibly knowledgeable and friendly, taking questions and allowing guests to hold the animals in their hands, which was simply fascinating.
Toad hall is also home to a small soft play area, ideally sized for babies and young toddlers. In addition, the surrounding area included games like froggy connect four and colouring – a great addition if the weather should turn!
---
For families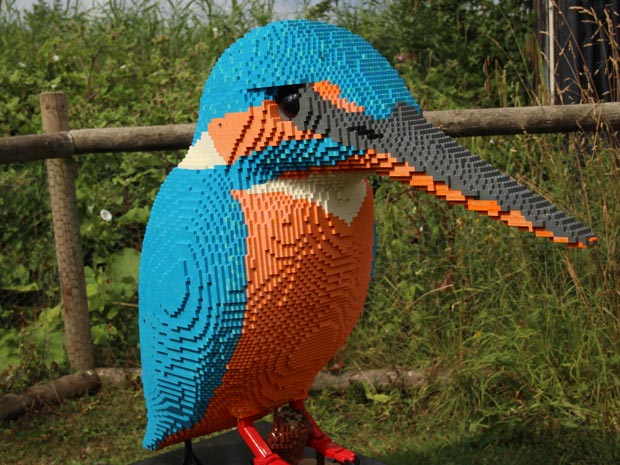 This summer, children can enjoy tracking down 14 giant LEGO brick animals at Slimbridge. Returning in 2018 with more sculptures than ever before, these incredible brick animals include Sam the short-eared owl, Walter the water vole and Skye the stork, amongst others. Upon entry, children are given a check sheet to see if they can discover them all. Each structure also gives information about how many bricks and how many hours they took to build.
If you've got children who adore LEGO, they can even get involved in special LEGO workshops happening at Slimbridge throughout the summer. Children can compete against each other in LEGO building competitions and create a model owl to take home.
At the very back of the centre lies an adventure playground and ice-cream kiosk which was surrounded by picnic benches, ideal for enjoying a lunchtime break.
Alongside the playground was the Canoe Safari, where children over the age of three can grab a paddle and cruise along a kilometre of water looking for water voles, dragon flies and ducks. There is an additional charge for this activity, but at £7 for an hour's hire for up to three people, it won't break the bank.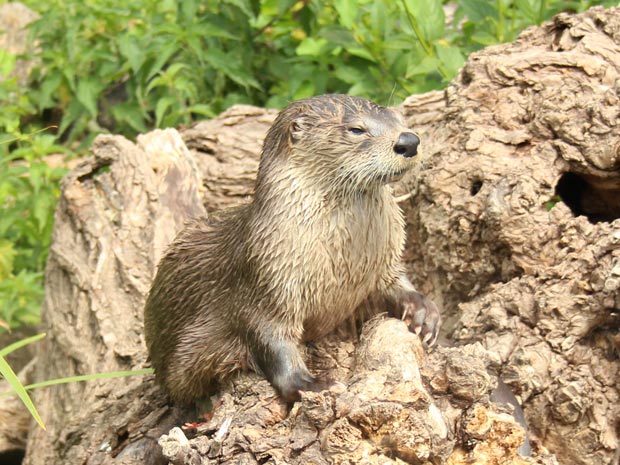 We returned to the otter enclosure at 3pm to enjoy an otter feeding display and talk. Entertaining and informative, we loved finding out more about Slimbridge's resident otters, and watching them swim and frolic together. They were even kind enough to pose for a few photos!
---
For adults
Spending the day at Slimbridge with an active toddler meant that we gave some of the bird hides a wide berth. However, if you're in an adult group, or have children old enough to be calm and quiet, the hides are lovely spaces to spend time.
Offering a charming view of the wetlands, hides provide the opportunity to see wildlife acting naturally in habitats, similar to those you'd expect to see in the wild. And if bird watching is your thing, it's also worth taking a visit to Slimbridge's In Focus optics shop, where you can get advice on the best kind of binoculars, telescopes and accessories.
We journeyed back to the visitor centre and took a trip to the top of the Severn View Sloane Observation Tower. Providing a 360-degree panoramic view of the entire site, guests can either take the stairs or a lift to the top of this viewing platform. Don't miss this – it really is a phenomenal view.
Aside from the attractions within Slimbridge, it's worth mentioning that the site is a beautifully landscaped throughout. On a sunny day, the grounds were simply a lovely place to spend time. Peppered with benches to rest your legs or sit and take in the wildlife, the layout of Slimbridge encourages visitors to take on a slower pace of life. It's a welcome change from the hubbub of real life.
After all that exploring, we'd worked up quite an appetite, so made our way to the Kingfisher Kitchen. Located inside the main visitor centre, the café is a light and airy space, with high ceilings, modern décor and a huge wall of windows overlooking the Caribbean flamingos.
We enjoyed light lunches of fish and chips, and a pork and stuffing baguette, which were generous and tasty. For dessert we tried two rather aptly named ice-cream sundaes, Muddy Puddle and Pink Flamingo; both of which were the ultimate indulgence!
---
SoGlos loves
Known as the birthplace of modern conservation, Slimbridge is an ever-expanding site, which refuses to stand still when it comes to improvements for the wetlands it supports.
As such, we were impressed to see works underway for the Slimbridge 2020 project. Thanks to Heritage Lottery Funding, a £6million development will see 12 new visitor attractions open by 2020.
The most notable is the Living Wetland Theatre, a theatre inside an aviary where guests can see birds flying free around them. We can't wait to be able to experience this.
---
Top tip
If you plan to visit more than once over a 12-month period, consider investing in one of Slimbridge's annual passes.
One of the best value annual passes in the county, families can pay monthly or annually and enjoy unlimited trips to the centre for around £88 per year. There are also passes for individuals and couples.
---
What next?
For more information, see Slimbridge Wetland Centre, call (01453) 891900 or visit wwt.org.uk/wetland-centres/slimbridge directly.